There are lots (and lots and lots) of options for takeout and delivery in Pittsburgh for dinner… but what about when you're craving something special earlier in the day?
These 10 restaurants are serving lunch for takeout and to go, from piled-high sandwiches to tacos and burritos.
Two Sisters Vietnamese Kitchen
East Liberty
Two Sisters Vietnamese Kitchen is open Tuesdays through Sundays starting at 11:00 a.m., serving their delicious house-made pho for takeout. They've rolled out a new menu, with Pho options including beef, chicken, seafood and vegan, plus rice dishes, noodle bowls, summer rolls and cabbage salad. Call 412-404-2760 to order. (216 N. Highland Avenue)
Hapa Hawaiian Grill
Downtown
Downtown's Hapa Hawaiian Grill is serving their Hawaiian cuisine (plated specials like Ahi Tuna, Mahi Mahi, Coconut Shrimp, Hawaiian BBQ Chicken and Teriyaki Beef) on Tuesdays through Saturdays starting at 11:00 a.m. They also offer an Ohana Feast, which feeds three to four people and includes three proteins, rice and three sides. Order by calling 412-742-4359 for pickup, or through Grub Hub and Uber Eats for delivery. (1134 Fifth Avenue)
Square Cafe
Regent Square
Not only can you get breakfast bites (including some killer pancakes!) for takeout at Square Cafe in Regent Square daily starting at 7:00 a.m., but they also have lots of lunch options, including burgers, chicken sandwiches, veggie wraps and salads. Call 412-244-8002 or order online. (1137 South Braddock Avenue)
Cinderlands
Strip District
Cinderlands Warehouse in the Strip District is offering curbside pickup and delivery for both food and beer. They're open Mondays through Saturdays starting at noon, and their lunch menu includes favorites like chopped salad, chicken clubs, fried chicken sandwiches, flatbreads and burgers. Order online or call 412-209-1575. (2601 Smallman Street)
Carson Street Deli & Craft Beer Bar
East Liberty
You can order fantastic hand-made sandwiches from Carson Street Deli every day of the week for lunch (and they have beer to go, too). Our favorites include the Carson Street Reuben, the Big Porker (with pulled pork and cole slaw), and the Balboa, made with sopressata, genoa salami, prosciutto, spicy capicola, salami and provolone. Order online or call 412-381-5335. (1507 East Carson Street)
Stack'd
Oakland
Stack'd in Oakland is now open for takeout and delivery starting at 11:30 a.m. every day. Their full menu is available, featuring tasty bites like fried pickles, pierogies, chicken tenders, soup, salad and build-your-own burgers. Call 412-681-1800 or order online for pickup, or use Grub Hub or Postmates for delivery. (3716 Forbes Avenue)
Condado Tacos
Downtown
Open daily at 11:00 a.m., Condado Tacos downtown is serving build-your-own tacos, nachos, chips and dip, along with taco boxes, for pickup. They also have 'taco suggestions,' including three new options, the Braised + Confused (beef brisket, jicama + cabbage slaw, pickled red onions, queso fresco and chipotle creama), the Cali Green (with guacamole and ground beef) and the Sweet Heat (with braised beef brisket, smoked cheddar, pineapple salsa and habanero-mango sauce). Order online. (971 Liberty Avenue)
Chicken Latino
Strip District
Enjoy authentic Peruvian cuisine from Chicken Latino starting at 11:00 a.m. every day. They're serving their full menu for takeout, with specialties like sweet fried plantains, Peruvian-style rotisserie chicken, rice and beans, crispy yuca, and more. Order by calling 412-246-0974. (155 21st Street)
Eddie Merlot's 
Downtown
Steakhouse Eddie Merlot's is now offering curbside pickup for lunch and dinner. On the menu, you'll find salads, sandwiches (including their prime burger and French dip), soup, and steak entrees. They're also offering an in-house butcher shop, with cuts of beef and seafood to go. Call 412-235-7676 to order. (444 Liberty Avenue)
Mayfly Market
North Side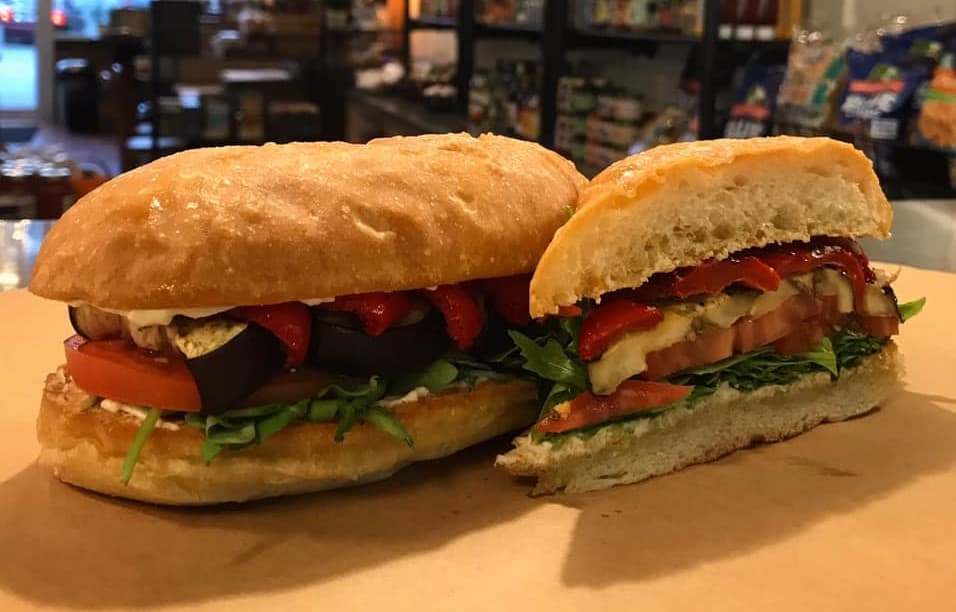 Mayfly Market is open for pre-order and pickup Mondays through Fridays from noon to 5:00 p.m. Their deli options include sandwiches (including turkey, chili-marinated shitake mushroom, and house-made roast beef), soups, salads, and homemade sides, like potato salad, cole slaw, and Chipotle macaroni. Call 412-322-1300 to place an order. (1327 Arch Street)
Looking for even more takeout options? Check out our massive list, and follow #TakeOutPGH on Instagram for the latest updates.