Since the moratorium on dine-in services in Pennsylvania restaurants was instituted last month, we've been rounding up some fantastic places to get takeout and delivery in Pittsburgh. From our massive (and regularly-updating) list organized by neighborhood to our weekly picks ( here, here, here and here), if you want to let someone else cook tonight, you've got a ton of options.
This week, we thought we'd share some of the restaurants that are doing big family-style meals, trays and large platters – just pick up, reheat, and serve at your leisure.
Baby Loves Tacos
Millvale
Baby Loves Tacos has been offering Build-Your-Own-Taco Kits, with a choice of protein, plus all the fixings you need to make enough tacos to feed two to three people. Prices start at $30. They also have soup, salads and sides on their to-go menu. Keep an eye on their social media pages for updates on when pre-order is open for each day.
Bella Frutteto
Wexford
You can order many of Bella Frutteto's pasta dishes by the half-pan size, including Penne pasta with a choice of sauce, Chicken Parmesan, Chicken Marsala and Lasagna. All carry-out meal packages also include a salad, bread and dipping oil, and feeds a family of four or five. They also have their seasonal Turkey Lasagna special right now, with turkey breast, mashed potatoes, and sage gravy. Call 724-940-7777 to order.
Cafe 412
West End
Cafe 412 has family-style trays available for pre-order for pickup only. Options include Pasta Trays (stuffed shells, marina pasta, meatballs), Meat Trays (Chicken Parmesan, Sliced Roast Beef, Baked Chicken, Cheeseburgers, Stuffed Chicken) and sides (like Mac & Cheese, pasta salad, green beans, and mini potato pancakes). 24-hour notice is required, and orders can be placed by calling 412-458-1875.
Cafe Raymond
Strip District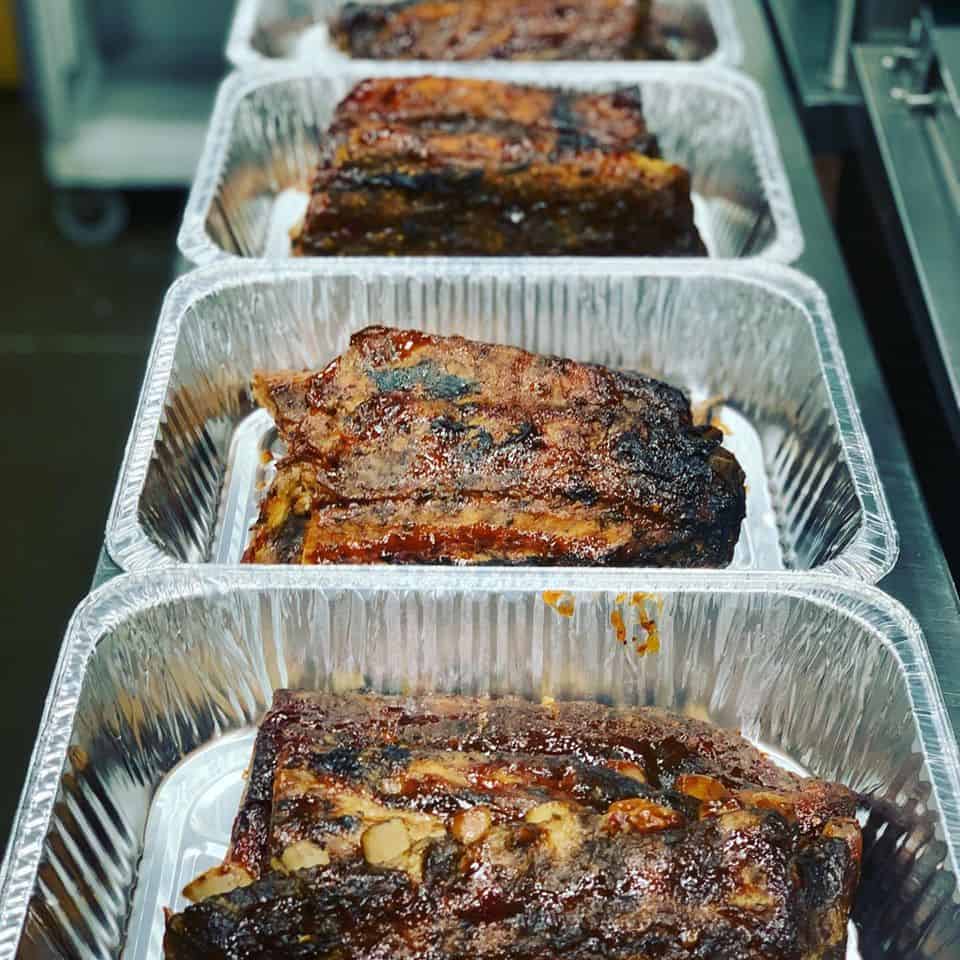 Every week, Cafe Raymond in the Strip District is offering family-style specials that serve four people. Check their Facebook page for the latest updates, but past specials have included Chicken Romano meatballs with pasta and spring ramp pesto, Marinated flank steak with mushroom risotto, and Italian squash lasagna. They're also offering their regular menu for takeout. Call 412-281-4670 or order online. (2009 Penn Avenue)
Casbah
Shadyside
Not only does Casbah have a regularly-portioned entrees and meals for takeout or delivery through GrubHub, they also have a selection of takeout dinner options for four, including Meatballs, Orecchiette, Ricotta Cavatelli, Short Rib Ravioli, and fried chicken from sister restaurant Kaya. All options include side dishes, salad and focaccia. Call 412-661-5656 to order.
Cinderlands
Strip District
In addition to their regular menu, Cinderlands also offers a selection of family-style meal trays to go, including Marinated Chicken (which comes with Anson Mill grits, Beans & Greens, Pimento cheese and cornbread), 3 Burgers with wings, house salad and poutine, Pot Roast (with cauliflower puree, honey-glazed root vegetables and mini potato rolls) and Tofu Stir Fry. Prices range from $40 to $45. Oh, and they have beer, too. Order here.
Dented Keg Brewing Company
Cranberry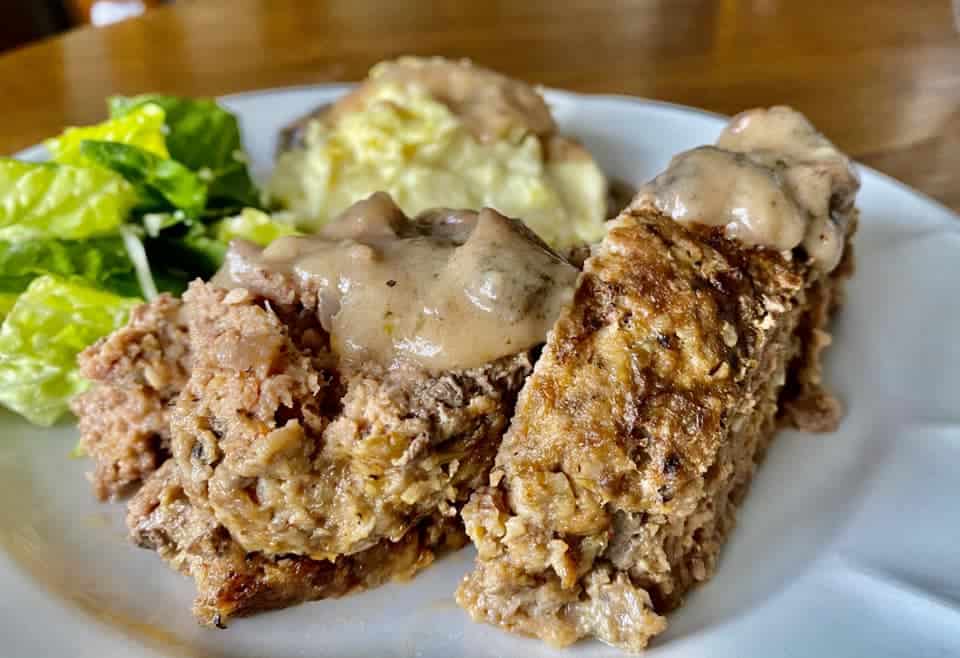 The Dented Keg Brewing Company has an array of family-style meals available right now, including Lasagna ($35), which comes with a Caesar salad and garlic bread, Tacos ($30), Meatloaf ($35), and Pizza ($35 for two pies, plus an order of wings). They also have an additional takeout menu with individual options, and lots of beer and cider to go. Call 724-591-5511 to order.
DiAnoia's
Strip District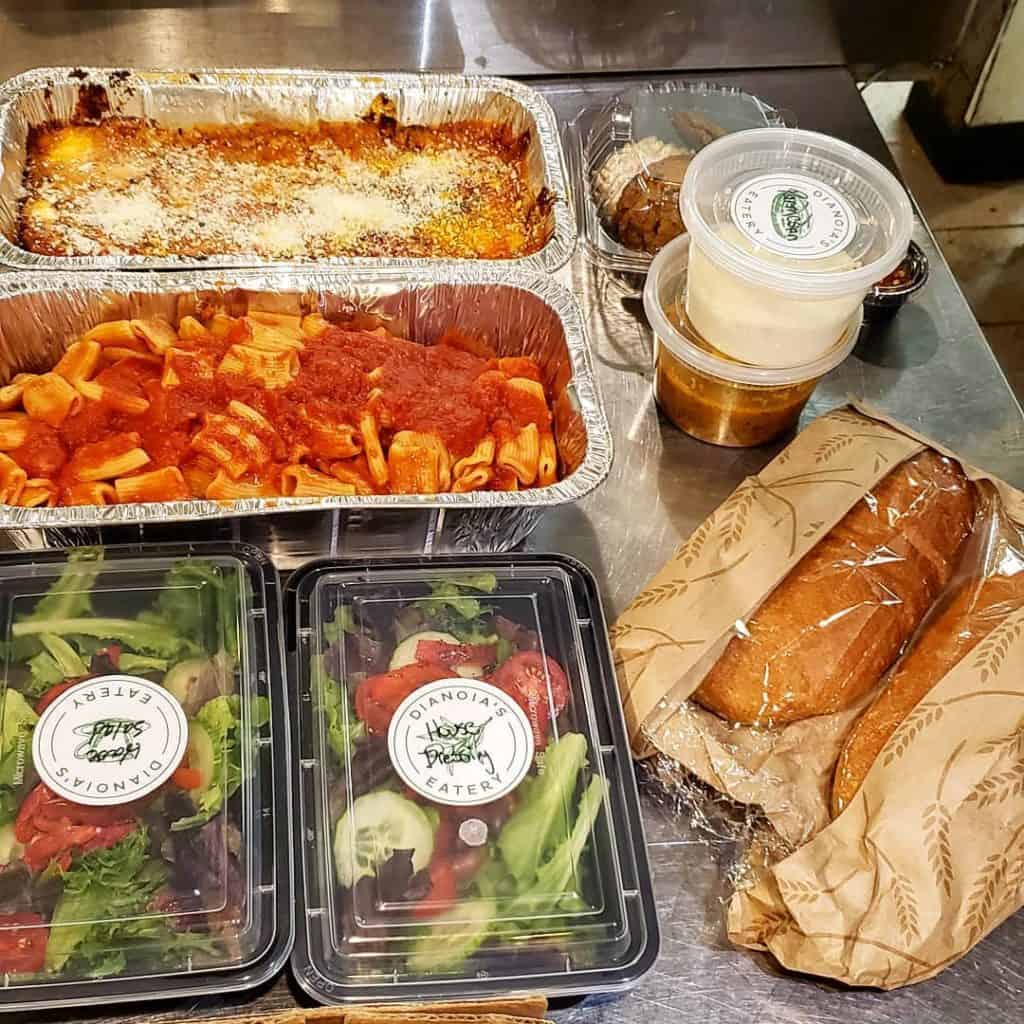 Each of DiAnoia's family-style meals serve four hungry people and include an entree, a large house salad, house-baked bread, and assorted Italian cookies for dessert. Options include Eggplant Parmesan ($50), Chicken Parmesan ($50) and Lasagna Bolognese ($50). Order here.
Il Pizzaiolo
Mt. Lebanon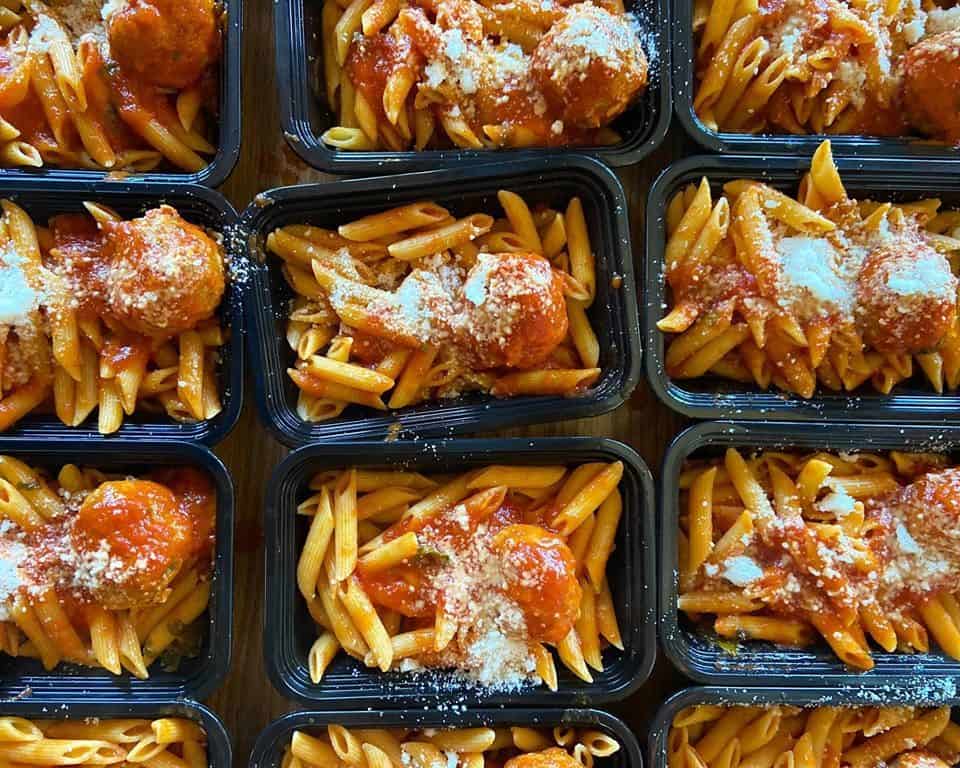 In addition to their regular takeout menu filled with pizza and Italian specialties, Mt. Lebanon's Il Pizzaiolo is also offering 10×12 trays to go, which serve six to eight people each. Options include Italian Salad ($35), Eggplant Parmigiana ($40), Chicken Milanese ($50) and a selection of pastas, like Penne Rosa, Rigatoni Bolognese, and Cavatelli Sausage & Rapini. The full menu is available here, and you can order by calling 412-344-4123.
Joseph Tambellini Restaurant
Highland Park
Highland Park's Joseph Tambellini Restaurant has shifted to pickup-only, and offers a nightly-changing menu of family-style options of Italian favorites, like Chicken or Veal Parmesan, Romano, Piccata, or Marsala, 12-Layer Lasagna and Eggplant Parmesan, all coming with pasta and a salad for $25 per person. Call 412-665-9000 to order.
Muddy Waters Oyster Bar
East Liberty
Muddy Waters' Family Dinners are available for pickup and delivery. Each meal is $35, and includes a starter (sweet potato corn bread with apple butter or buttermilk biscuits with butter), a main dish (choose either a bucket of fried chicken, Jambalaya with chicken and shrimp, Seafood Gumbo, two Po'Boys, or Gator and Sausage Gumbo), and two sides (cheddar grits, braised greens, or salad). Order here, or call 412-361-0555.
Pino's
Point Breeze
Pino's in Point Breeze is open Tuesday through Sunday for takeout and delivery only. They're offering a number of different family-style meal options, including a $30 family meal with a cheese pizza, salad, pasta, and an order of Italian fries. They also have Home Meal Replacement Dinners, with pans of dishes like Eggplant Rollatini, Slow-Roasted Italian Roast Beef, Smoked Berkshire Pork Loin and Vegetable Lasagna, with prices starting at $25. And, they also have Chef's Special Family Meals, which includes a pan of pasta, two salads, and a half loaf of Asiago Garlic Bread, all for $85. Call 412-361-1336 to order.
Pitaland
Brookline
Family trays are available for pickup from Pitaland, the Mediterranean bakery, grocery and cafe in Brookline, with options for small or large trays. Menu items to choose from include Stuffed Grape Leaves, Mujadra, Lubia, Kufta & Potatoes, Baked Kibbee, Sleek, Rice Pilaf and more. They also have spreads and sides, too. Order by calling (412) 531-5040.
Rico's
Ross Township
Rico's is operating under limited hours Monday through Saturday from noon to 5:00 p.m., offering takeout. Family meals are available every Friday and Saturday, and the menu is posted on their Facebook page. Options have included Fried Lemon Sole & Shrimp, Filet Mignon, Chicken Milanese and Veal Lorenzo. Each entree comes with salad, penne marinara and vegetables, and serves four. Call 412-931-1989 to place an order.
Ritter's Diner
Shadyside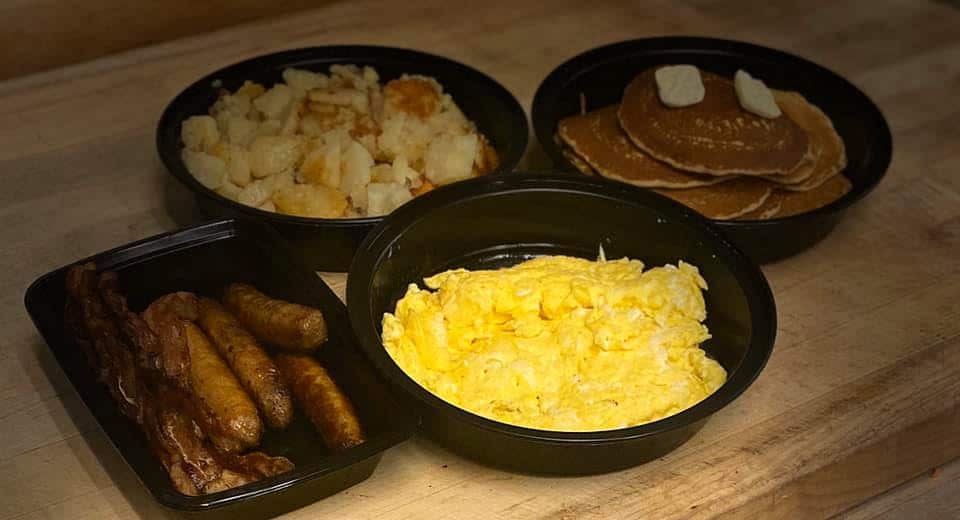 Ritter's Diner has a full family-style dinner menu available, with options like Chicken Parmesan, Pork Parmesan, Ricotta Cavatelli, Meatloaf, Greek Chicken and Macaroni, Fried Chicken and soups and sides. Each dinner feeds four to six. They also have family-style breakfast packs, with eggs, bacon, sausage and home fries for $25. Call 412-682-4852 to order.
Scoglio of Greentree
Greentree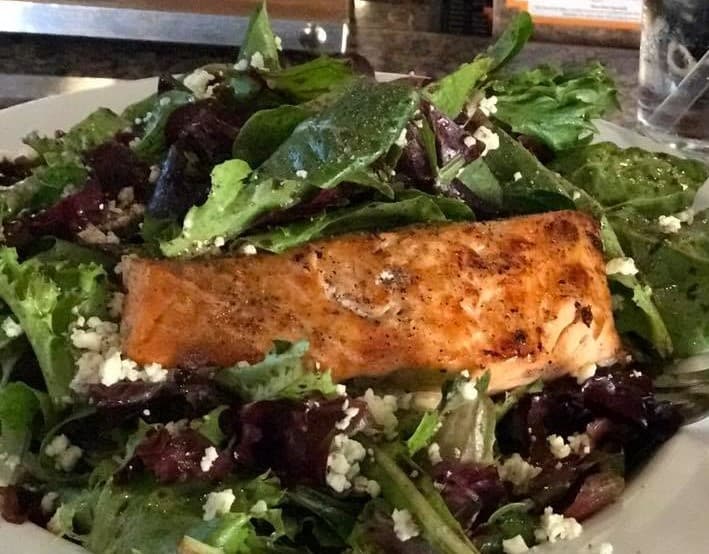 Scoglio has a temporary menu of family-style take-home Italian favorites, including Chicken Marsala ($45), Chicken Romano ($45), Broiled Boston Scrod ($75), Chicken Parmigianna ($45) and Eggplant Parmigianna ($35). All entrees feed four to six people, and include a salad and pasta. Other pasta options are also available, and wines are available by the bottle to go. Call ahead at 412-921-1062 to order.
Sprezzutura
Millvale
Sprezzutura is offering comfort food, family-style. They have a menu of trays available for pickup Wednesday through Sunday, with options that include Spaghetti & Meatballs ($50), Vegetable Lasagna ($60) and vegetarian Stuffed Shells ($50). Each pan serves eight to 10. They also offer family meals for four, which include salad, bread and biscotti. Call 412-266-4424 to place an order.
Spoonwood Brewing
South Hills
Spoonwood Brewing in the South Hills has Take-and-Heat BBQ meals to go every Sunday. They have smoked pork, chicken, turkey, brisket or ribs, served with Mac & Cheese, mashed potatoes, corn bread and buns for $40. And they have growlers, too! Call 412-833-0333 or order online.
Stagioni
South Side
Stagioni is now offering takeout Wednesday through Sunday with a special menu available. In addition to spreads and soups, they also have entrees available as individual or family-style portions. Options include Sausage and Rapini Ragu Rigatoni ($60), Rigatoni with Tuna Sauce ($60), Baked Rigatoni ($60), Braised Meatballs with lemon ricotta ($50), and Eggplant Parmesan ($50). (2104 East Carson Street)