We really love brunch in Pittsburgh, and we have a lot of fantastic options right now – from restaurants serving decadently sweet treats like Fruity Pebble French Toast and Crème Brulée Waffles, to classic standbys like Crab Cake Eggs Benedict and bagel sandwiches. If you're looking for a list of where to go for a mid-day weekend meal, these essential brunch restaurants have you covered.
Sally Ann's
Downtown
While breakfast is served during the week at Sally Ann's, Richard DeShantz's downtown daytime restaurant and café, the weekends are all about brunch. Sally Ann's brunch menu include small plates like Avocado Toast (topped with pickled carrots), and a 'Boujeé' Hash Brown, which comes with a soft boiled egg and smoked trout roe. Sandwiches (crispy chicken, a burger, and an out-of-this world Bacon, Egg & Cheese option) and larger plates, including a Barbacoa Benedict and French Toast with bourbon caramel apples round out the menu. And, they have lots of brunch cocktails (and a full coffee bar) to choose from, too.
Sally Ann's (136 6th Street)
Alta Via
O'Hara Township
Alta Via's brand-new brunch program is a stunner. Now available every Sunday from 11:00 a.m. to 2:45 p.m. (in addition to their regular dinner menu), you can find breakfast-inspired options like the Short Rib Scramble, served with marinated cherry tomato relish and garlic mascarpone, a Mushroom & Buffalo Ricotta Omelet, and house-made Cacio e Pepe biscuits, which come with a slightly sweet fig and balsamic butter.
Alta Via (46 Fox Chapel Road)
Alta Via Pizzeria
Bakery Square
Alta Via's sister restaurant, Alta Via Pizzeria, has also recently gotten into the brunch game, serving up breakfast sandwiches, avocado toasts, and sandwiches, and must-try brunch pizza, topped with egg, cheese, sausage, caramelized onions, mushrooms and hot honey. Brunch cocktails and house-made Zeppole (!) round out the menu, which is available on Sundays from 11:30 a.m. to 3:00 p.m.
Alta Via Pizzeria (169 Bakery Square Blvd.
Ritual House
Downtown
The newly-opened Ritual House, located in the Union Trust Building downtown, has already become downtown brunch destination – and the best place to go to get some truly fantastic Instagram shots. Their extensive brunch menu, served Saturdays and Sundays from 10:00 a.m. to 2:30 p.m., features creative confections, like the aforementioned Fruity Pebble French Toast, plus decadent pancake options, like Lemon Meringue and Red Velvet Chocolate Chip. Savory dishes include a breakfast burrito, fried chicken & waffles, and the Pittsburgh classic Turkey Devonshire. A full lineup of brunch cocktails and sparkling cocktails are also available, along with buckets of prosecco ($75) and Champagne ($110), if you're feeling extra-celebratory.
Ritual House (524 William Penn Place)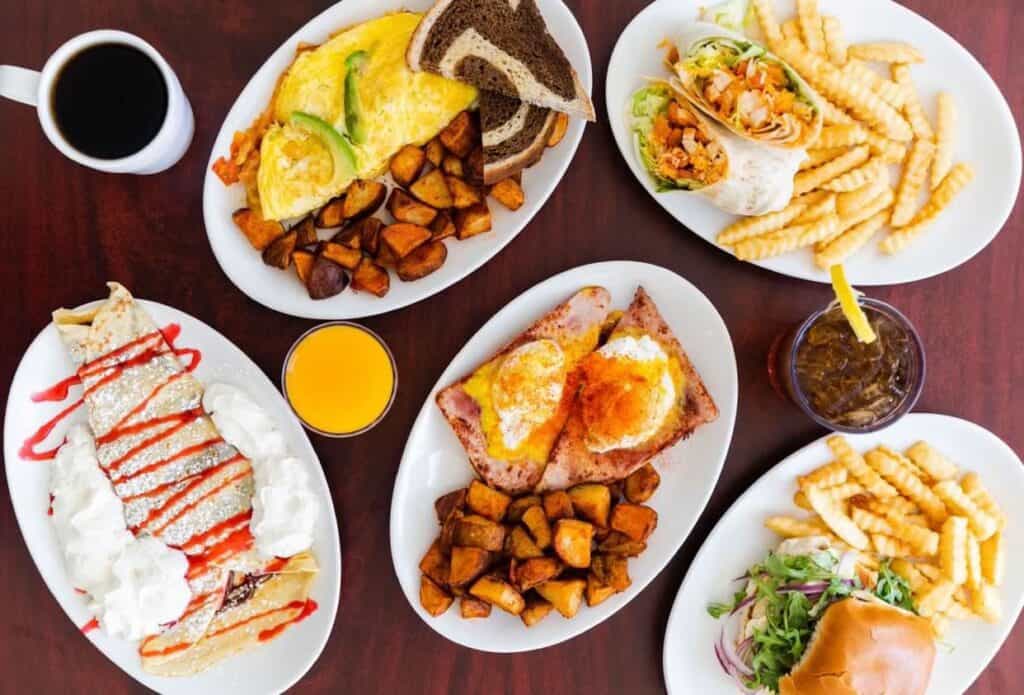 Simone's
Mt. Lebanon
Breakfast, brunch, and lunch are served all day at Simone's in Mt. Lebanon. The cute little café serves everything from stacks of pancakes to Eggs Benedict, and breakfast burritos. The brunch menu includes a selection of burgers, wraps and sandwiches, they have sweet and savory crepes, too. Make note that Simone's is also a BYOB, so feel free to bring your own bottle of bubbles for mimosas!
Simone's (665 Washington Road)
The Speckled Egg
Downtown
There's a lot to love at The Speckled Egg, located inside the Union Trust building downtown. The restaurant serves breakfast all day during the week, and on Saturdays and Sundays (from 8:00 a.m. to 3:00 p.m., brunch is on the menu. Our favorite Buttermilk Poppy Seed Pancakes make a great main course, but they also offer everything from Fried Chicken Biscuits to loaded toasts (the Loxed & Loaded, with house-cured lox and herb cream cheese, is a standout). If you're looking for something sweet, you can't go wrong with the Brown Butter French Toast, served with a strawberry cardamom jam, and Pennsylvania maple syrup from Paul Family Farm's.
The Speckled Egg (501 Grant Street)
Local Provisions
O'Hara Township
Since opening last fall, Local Provisions has settled into its neighborhood nicely, offering a one-stop shop for all day dining, with coffee and pastries in the morning, and lunch and dinner (and bar drinks) available throughout the day and in the evening. Brunch is available on Saturdays and Sundays from 10:00 a.m. to 1:00 p.m., featuring items like their LP Breakfast Sandwich, served on a Mediterra Challah bun, Banana + Blueberry Stuffed French Toast, and Biscuits & Gravy. Save room for their "Pittsburgh Pretzel Salad" doughnut holes, a sweet concoction with pretzel crumb, strawberry jam and vanilla custard.
Local Provisions (111 Freeport Road)
Bonfire
South Side
Chef Chris Bonfili's Bonfire is always a safe bet for a great meal, but their brunch (available Saturdays and Sundays from 11:00 a.m. to 3:00 p.m.), is a particularly good bet. The Rosemary Ham & Swiss Eggs Benedict, Chicken Huevos Ranchero, and S'mores Pancakes are house favorites, along with seasonal options, like a Grilled Ramp Frittata, served with bacon jam. The Brunch Burger (currently, it features kim chi, chili crunch and a fried egg), is also worth a look.
Bonfire (2100 East Carson Street)
Carmi Soul Food
South Side
Every Saturday and Sunday from 11:00 a.m. to 3:00 p.m., enjoy a soul food brunch at Carmi Soul Food. The restaurant offers their take on southern favorites, like Sweet Potato Waffles (also available with fried chicken), creamy Lobster Mac & Cheese, Blackened Catfish, and Shrimp & Grits. A selection of omelets, biscuits and salads rounds out the menu, along with brunch cocktails, including a fruit-infused mimosa and rum-filled strawberry limeaid.
Carmi Soul Food (1825 E. Carson Street)
The Nook
Lawrenceville
Serving breakfast and brunch seven days a week, The Nook offers an extensive menu filled with classics like Eggs Benedict and avocado toast, and more adventurous options, like the 'Green Thing,' pancakes topped with pistachio paste and banana, and a jalapeno Ranch pulled pork sandwich. The Nook also offers a full lineup of sweet and savory waffles, and boozy brunch cocktails.
The Nook (3811 Butler Street)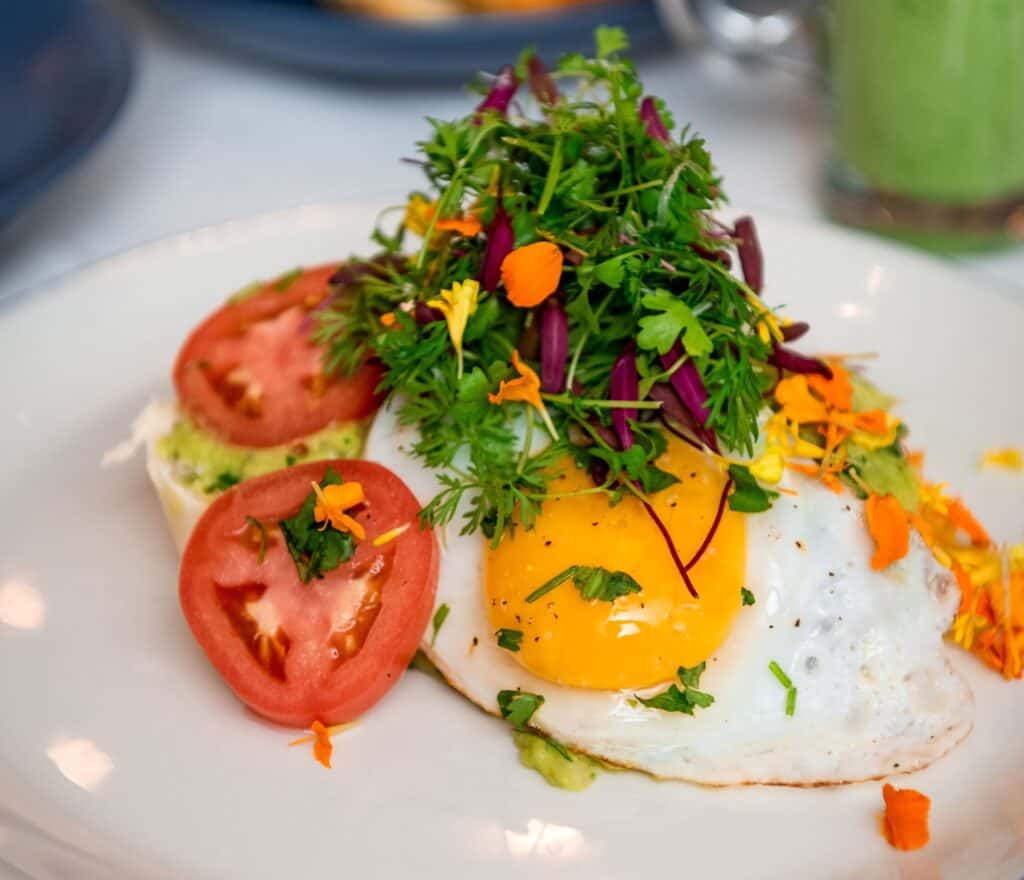 Christian James
Downtown
Christian James, one of Pittsburgh's newest restaurant offerings, is located in the Joinery Hotel, and serves breakfast and brunch daily, starting at 7:00 a.m. Menu standouts include Avocado Toast with a poached egg, a Dutch Pancake topped with berries and lemon curd, and a BLT served on their very own house-made Challah bread.
Christian James (453 Boulevard of the Allies)
Cinderlands
Multiple Locations
Sunday brunch at Cinderlands Warehouse in the Strip District is available from 10:30 a.m. to 2:00 p.m., and at Cinderlands Foederhouse in Lawrenceville, you can get brunch on Saturdays and Sundays from 10:30 a.m to 2:00 p.m. The menus are slightly different at each location, but include tasty treats like fried French Toast bites to bagel sandwiches, with bacon, egg and cheese. Cinderlands has a stellar pastry program, with croissants, cronuts and grilled bread serving as sides. Brunch cocktails, along with their full lineup of Cinderlands brews, is also always available.
Cinderlands (multiple locations)
Frances
Shadyside
Salads, burgers, and sandwiches make up the bulk of the brunch menu at Frances, in addition to larger platters, including a classic Lox & Bagel dish, croissant sandwiches, Chicken & Waffles, and Challah French Toast, served with served with spiced apples and whipped cream. Brunch is available every Saturday and Sunday from noon to 4:00 p.m.
Frances (728 Copeland Street)
Did we miss your favorite brunch spot? Let us know in the comments!