Love Thanksgiving dinner? So do we. That's why we love all of of the Thanksgiving-inspired dishes that are arriving on Pittsburgh restaurant menus this time of year, but turkey burgers with all the fixings, to Thanksgiving sandwiches, loaded with cranberry sauce.
Know of any other great Thanksgiving dishes available right now? Let us know in our comments!
Coop De Ville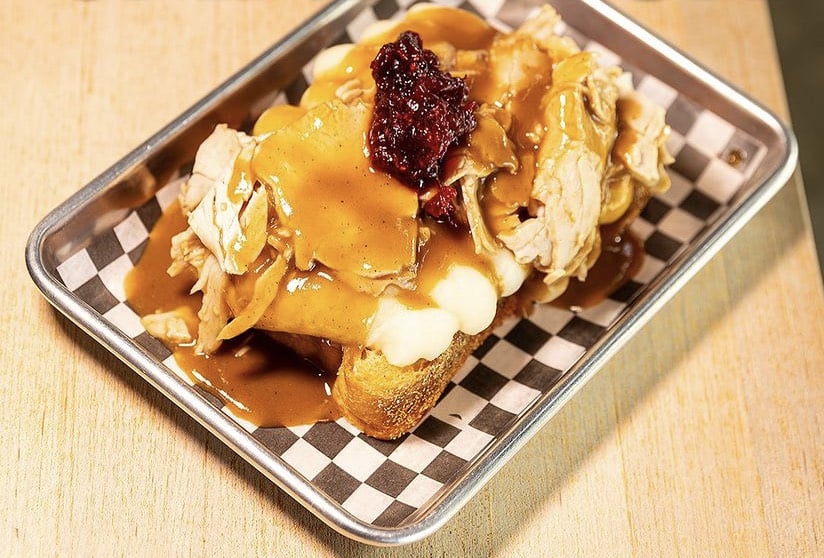 Coop De Ville's open-faced Thanksgiving sandwich gives you a little taste of home in every bite. The hot turkey sandwich features roasted turkey, gravy, and homemade mashed potatoes, along with a spoonful of cranberry sauce, on a thick slice of bread. It's available every Monday through Friday, after 5:00 p.m., through Thanksgiving.
Coop De Ville (2305 Smallman Street)
Mediterra Café
Elevate your Thanksgiving sandwich experience at Mediterra Cafe, which is offering their take on the option, complete with house-brined roasted turkey, stuffing, cranberry mayonnaise, apple cider gravy, kale and cabbage slaw, and yogurt dressing, all served on heartland grain. Available now at all three of their locations.
Mediterra Café (multiple locations)
Beaver Bagel Company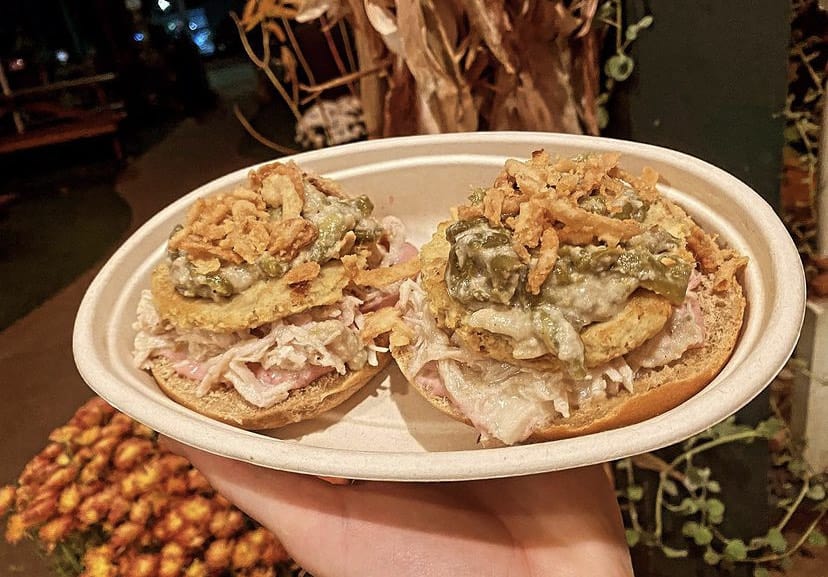 Get yourself to Beaver Bagel Company for a killer Thanksgiving lunch. This year, the bagel shop is offering an open-faced 'Gobbler' sandwich, with cranberry mayo, roasted turkey and gravy, a stuffing patty, green bean casserole, crispy fried onions, and a house-made sweet potato bagel – and it's available all month long.
Mad Mex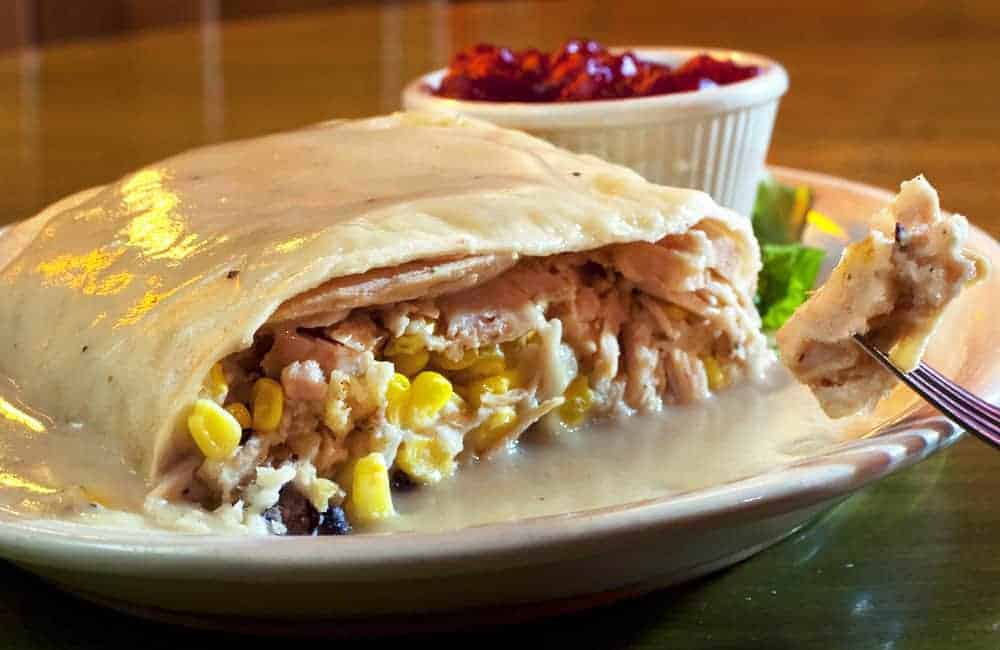 It's the ultimate Pittsburgh Thanksgiving food: The Gobblerito at Mad Mex. Available at all of their locations from now through Thanksgiving, this massive burrito is stuffed with turkey, mashed black bean potatoes, stuffing and corn. Then, it's all drenched in gravy, and served with a side of cranberry sauce.
Mad Mex (multiple locations)
Sly Fox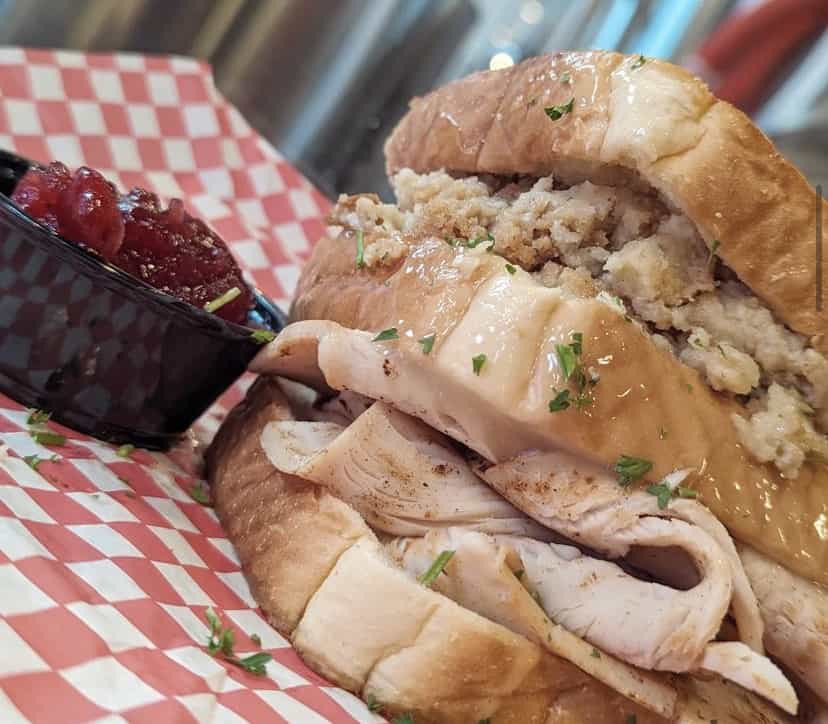 Both the downtown and South Side locations of Sly Fox will have The Cornucopia, a sandwich piled high with shaved turkey and cornbread stuffing, and a gravy-soaked "moist-maker" slice of bread in the middle (cranberry sauce comes on the side). Get it throughout the month of November.
Sly Fox (multiple locations)
Burgatory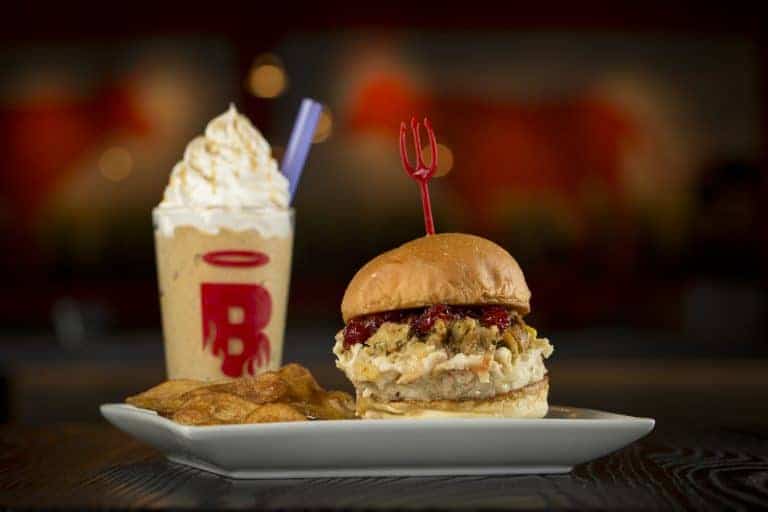 The much-loved Thanksgiving Burger is back at Burgatory Bar! Get the all-natural turkey burger, topped with melted Farmhouse cheddar cheese, mashed potatoes, stuffing bread pudding, corn gravy, and cranberry jam (and served on a Brioche bun) from now through the end of November. And make it a meal with their popular Pumpkin Pie Shake, made with bits of house-made pumpkin pie, vanilla bean ice cream, and caramel sauce.
Burgatory (various locations)
Emporio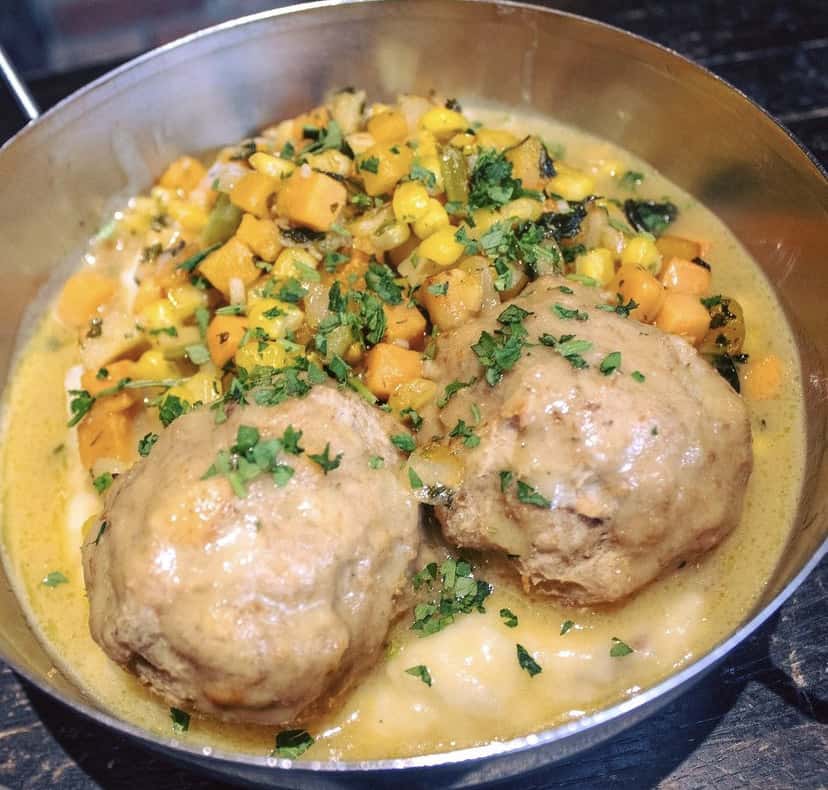 Every November, Emporio's meatball-of-the-month takes on Thanksgiving. The Thanksgiving Ball is a turkey meatball with stuffing, a special seasoning blend, and topped with chicken gravy. It's served in a bowl with mashed potatoes, sweet corn, and vegetables, and is only available until the end of the month.
Emporio: A Meatball Joint (942 Penn Avenue)
D's Six Pax & Dogz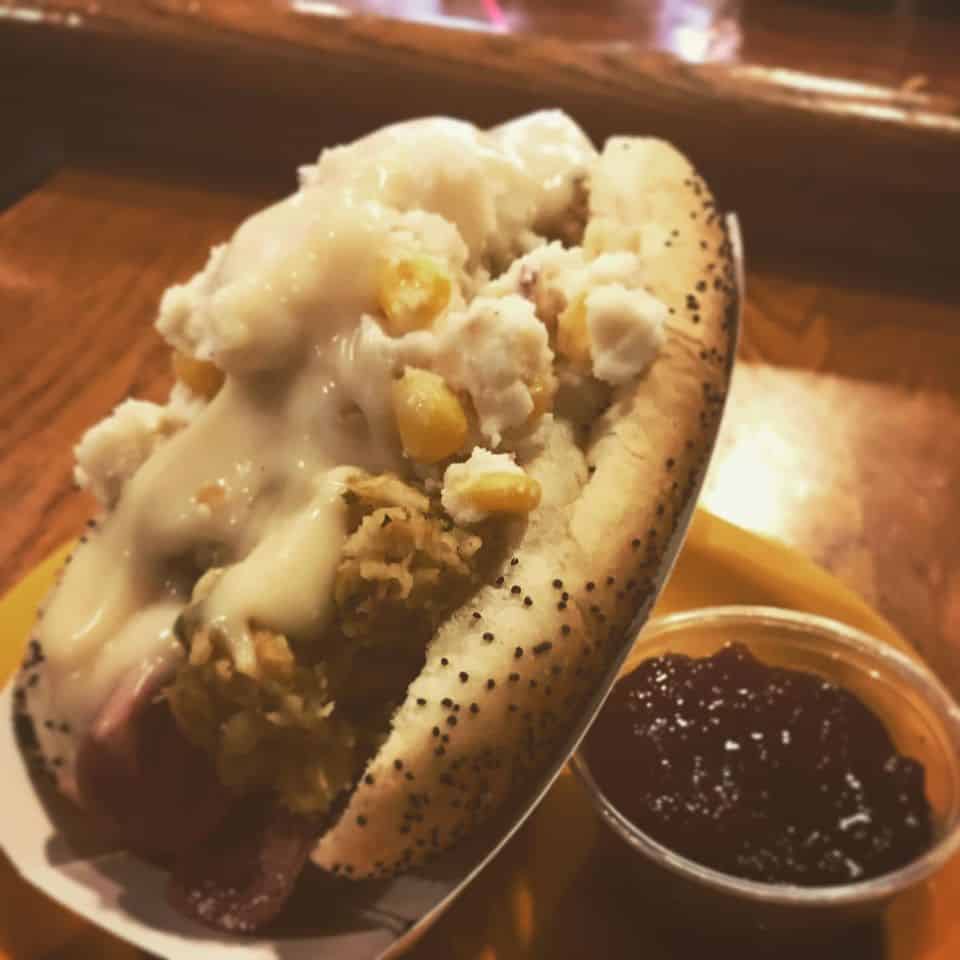 D's Six Pax & Dogz is famous for their "Franksgiving" dog. Every November, you can order a massive turkey dog, piled high with stuffing, mashed potatoes, gravy, corn and a side of cranberry sauce. Now, it's also available with a vegetarian option.
D's Six Pack and Dogz (1118 S. Braddock Avenue)
GetGo

It's one of their most popular special sandwiches of the year: GetGo's The Pilgrim is on the menu right now. The sub is stuffed with roast turkey, slices of white cheddar cheese, cranberry sauce, and turkey gravy. And the best part? It's served on their stuffing-flavored bread.
getGo (various locations)
The Yard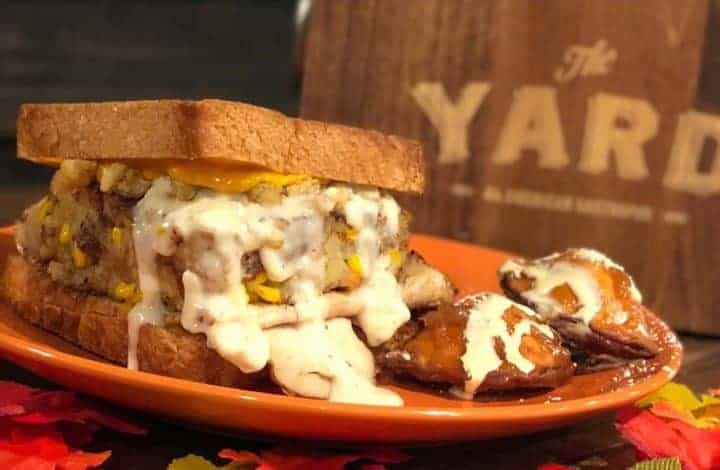 The Yard's Thanksgiving offering is their popular Turk'ed Up Grilled Cheese Sandwich. This ooey-gooey dish is stuffed with roasted turkey, stuffing, mashed potatoes, corn, gravy, and cheddar cheese, and made with two pieces of Texas toast. And, they're served with a side of cranberry-stuffed pierogies. You can get the dish from now through the end of November.
The Yard (multiple locations)
Nox's Tavern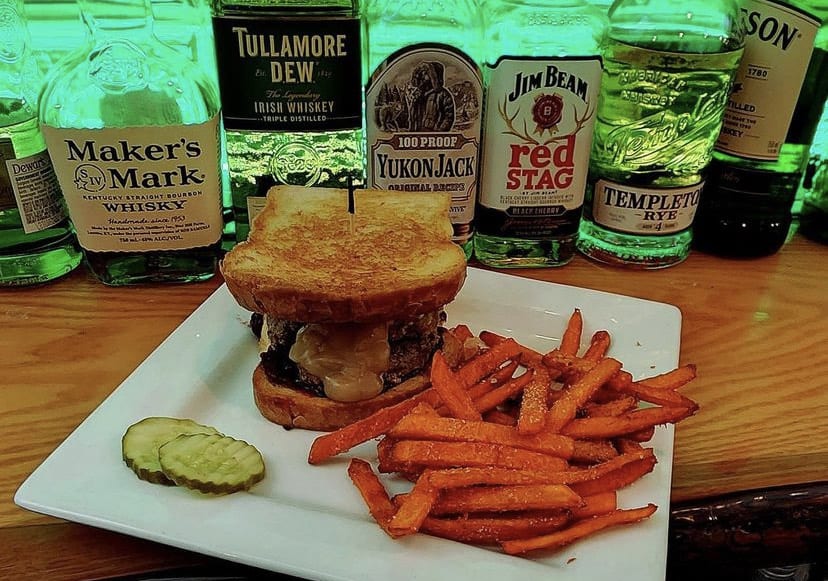 Nox's Tavern in Blawnox has a full lineup of Thanksgiving-inspired foods, including the Thank Roll (an egg roll stuffed with mashed potatoes, stuffing and corn, and served with cranberry and gravy), Bourbon Cranberry wings, and 'The Gobble' burger, one of their famous steamed burgers, topped with stuffing, gravy, asiago cheese, and slaterhered with bourbon cranberry sauce.
Nox's Tavern (720 Blaw Avenue)
DiAnoia's Eatery
DiAnoia's Eatery will offer two Thanksgiving lunch specials on Tuesday and Wednesday of Thanksgiving week: A hot turkey sandwich with gravy, melted provolone, and cranberry sauce, and green bean casserole with crispy onions. Also, November 22 will be the last day of the season to get their popular pumpkin gnocchi bowl.
DiAnoia's Eatery (2549 Penn Avenue)