We have brunch on the brain.
That's why we've pulled together the ultimate Pittsburgh brunch bucket list.
From crab legs to breakfast pizza, we have laid out all of the extravagant brunch dishes worth seeking out in Pittsburgh!
If you visit any of these spots, we want to see! Tag us in your pictures with @goodfoodpgh and #goodfoodpgh.
The Ultimate Pittsburgh Brunch Bucket List:
Chips & Ice Cream at Floor 2
This downtown hotspot has an entire "sweet" section of their brunch menu, featuring items like Cinnamon Rolls and French Toast. However, the star of the show is their "Chips & Ice Cream," comprised of vanilla ice cream coated in caramel and potato chips.
Floor 2 (510 Market Street)
Sallie's Snack at Wise County Biscuits
We're not shy about our love of Wise County Biscuits, Pittsburgh's Appalachia-inspired biscuit company. Their entire menu is scrummy, but one of our absolute favorites is "Sallie's Snack," which is comprised of homemade biscuit topped with pimento cheese, fried egg, and chow chow.
Hot Mess at El Lugar
This popular brunch option from El Lugar is a total mess – but completely worth it! The "Hot Mess" features potatoes, green chile stew with tortilla chips, cotija, and mole poblano, topped with a dippy egg.
El Lugar (200 Children's Way)
Khachapuri at Brick Shop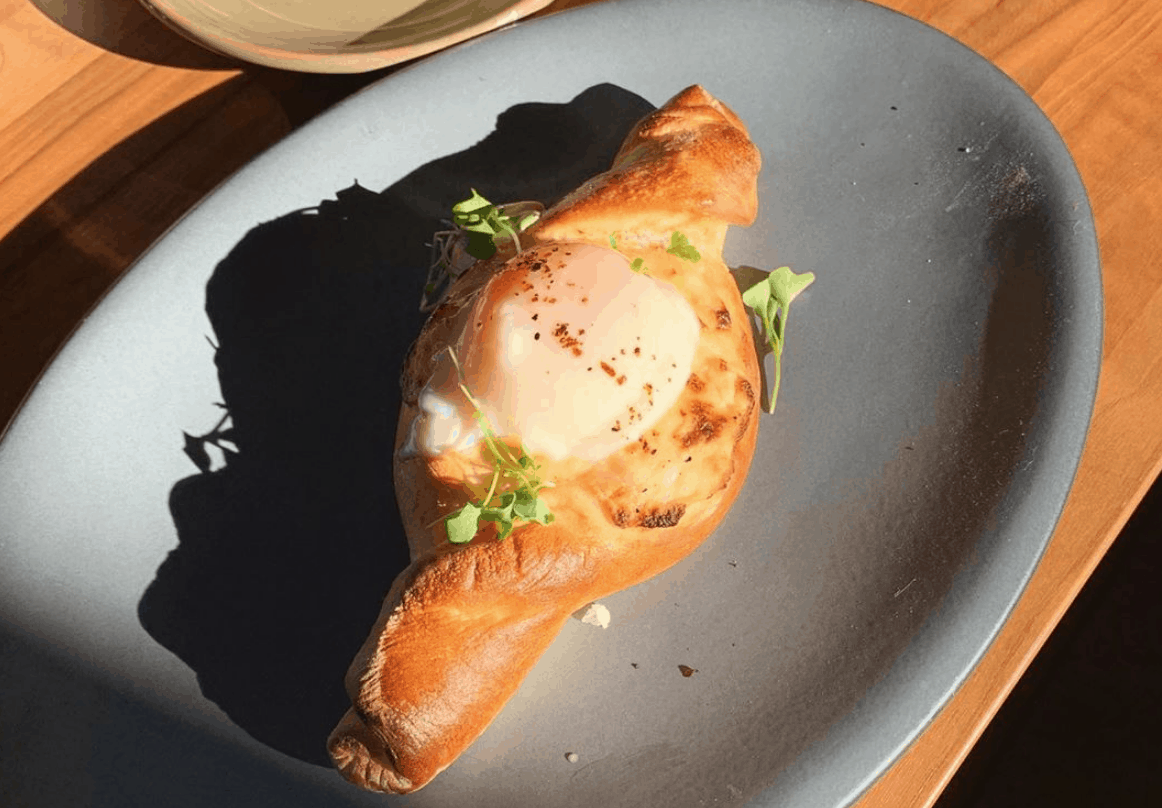 Now open on the ground floor of the TRYP Hotel in Lawrenceville is Brick Shop, Central & Eastern European restaurant. One of the items featured on the breakfast menu is Khachapuri, or "Georgian Pizza," consisting of bread filled with cheese, butter, and egg. Need we explain why this is delicious?
Brick Shop (177 40th St)
Goat Cheese & Honey Toast at Bitter Ends Garden & Luncheonette
As per usual, Bitter Ends Garden has hit it out of the park. This tasty dish is so simple, but very delicious. It's the perfect morning combination of savory and sweet.
Bitter Ends Garden & Luncheonette (4613 Liberty Ave)
Shrimp & Grits at Carmi Soul Food
Carmi, located on East Carson Street in the South Side, puts on a great brunch every weekend, including pitchers of Soulmosas and Bloody Marys. The entire menu is fabulous, but don't miss dishes like the Lobster Mac, Catfish Brunch, Shrimp & Grits, and more!
Carmi Soul Food (1825 E Carson St)
Pancakes at The Lot at Edgewater
We understand there is some stiff competition in Pittsburgh for the crown of "best pancakes," so we're just going to say that we promise you won't be disappointed with the buttery pancakes at The Lot at Edgewater, a new diner in Oakmont.
The Lot at Edgewater (145 Allegheny Ave)
Mimosa Carafe at Local Bar + Kitchen
What is brunch without mimosas? Local Bar + Kitchen offers gigantic carafes of mimosas at their weekend brunch. These delicious mimosas are only $8 per carafe!
Local Bar + Kitchen (1515 E Carson St)
Pittsburgh Salad at The Whitfield
There are few dishes quite as classic Pittsburgh as a Pittsburgh salad (salad topped with french fries, duh). The Whitfield in East Liberty offers a Pittsburgh salad with tender buttermilk fried chicken and tangy dressing.
The Whitfield (120 S Whitfield St)
Lobster and Waffles at Palazzo 1837 Ristorante
There's a lot fun to be had at Palazzo's Sunday brunch, including live music, bottomless mimosas, and a Bloody Mary bar. One menu item not to be overlooked is their Lobster and Waffle. The owner of Palazzo discovered how to make waffles while visiting relatives in Belgium when he was 19, and has been perfecting the recipe in the years since. The waffles are cooked on an authentic Belgian iron, which was imported to the states, and then topped with succulent lobster.
Palazzo 1837 Ristorante (1445 Washington Road)
Breakfast Burritos from Pittsburgh Burrito Bus
The Pittsburgh Burrito Bus serves breakfast burritos from their converted WV Wagon all over town! Don't miss the chance to try these Southern California-inspired burritos whenever you can – follow them on social media to see where they'll be next!
Polenta Pizza at Threadbare Cider
Cider and pizza? Yes please! We love the brunch menu at Threadbare Cider, which offers breakfast pizzas including the "Threadbare Hash," with potato, red onion, sage, breakfast sausage, mozzarella, sunny side up egg, and the Japanese-inspired "Okonomikayi," with cabbage, mozzarella, scrambled egg, shiitake aioli, sweet soy, and katsuobushi. All pies are offered on their classic sourdough crust, or gluten-free polenta.
Threadbare Cider and Mead (1291 Spring Garden Ave)
Breakfast Sandwiches at Pear and the Pickle
This tiny cafe in Troy Hill has mastered the classic breakfast sandwich. When you're looking for a hearty, no-frills breakfast sammie, make your way up Rialto Street to The Pear and Pickle. In addition to their breakfast sandwiches (which are served all day), they also offer a menu of "hot sandwiches" (featuring Boars Head meats), and Stumptown Coffee.
Pear and the Pickle (1800 Rialto St)
Over-the-top Donuts at Just Good Donuts
There are donuts, and then there are Just Good Donuts. This extravagant donut shop on the South Side of Pittsburgh takes donuts to the next level. Topped with everything from Oreos to cereal and bacon, there is a donut on the menu for everyone's palette.
Just Good Donuts will be at BrunchBurgh.
Just Good Donuts (1830 E Carson St)
Pastries at Madeleine Bakery & Bistro
We have to admit these hovers the thin line between dessert and breakfast. But when paired with a coffee, pastries from Madeleine are the perfect sweet treat to start your day. Keep an eye on their social media for an update on their rotating pastry options.
Madeleine Bakery & Bistro (609 S Trenton Ave)
Did we forget your favorite? Don't fret! Please leave it in the comments below!