Whether it's a new restaurant or a new menu, there are plenty of new brunch options to try right now in Pittsburgh.
Lola's Eatery
Lawrenceville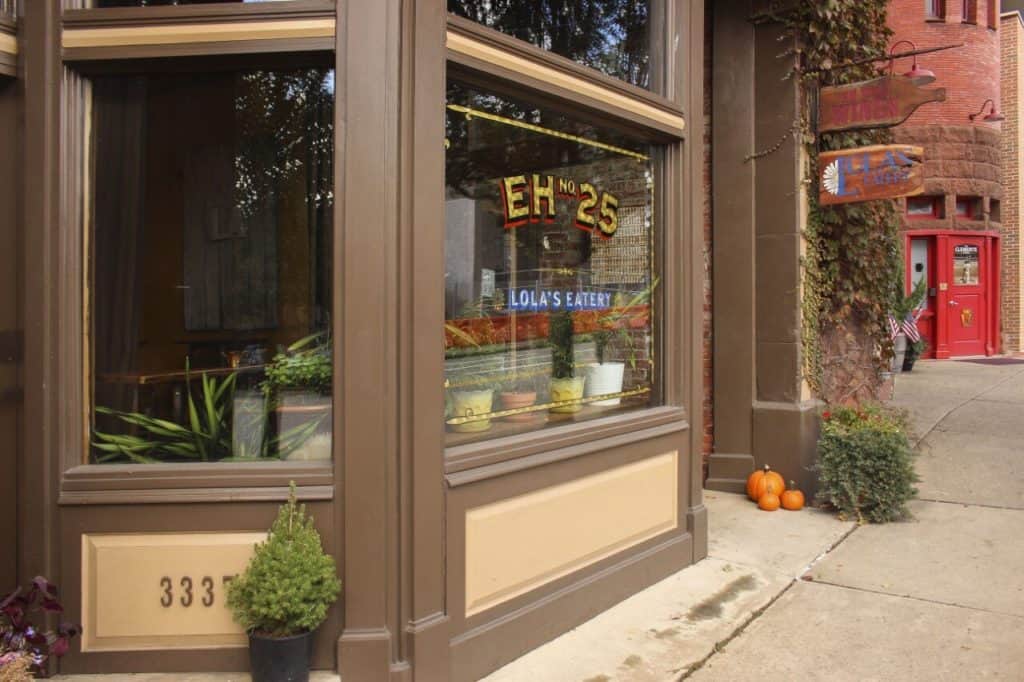 A new brunch spot has arrived in Lawrenceville, and we couldn't be happier about it. Lola's Eatery quietly opened this week, serving Filipino and Mexican-inspired breakfast and brunch dishes, like Breakfast Noodles (with sauteed mushrooms, crispy kale, bacon and Nitamago Egg), Huevos Rancheros, and a chipped ham Eggs Benedict served on a Calabrian chili muffin. They also offer house-made baked goods, including croissants, cinnamon rolls and bagels.
Lola's Eatery (3337 Penn Avenue)
Mary's Vine
Rankin
This recently-opened wine lounge in a former Croatian church in Rankin not only offers more than 350 bottles of wine and more than 70 glasses for guests to try, they've also just launched a new brunch program. Every Sunday, look for dishes like Candied Pecan Chicken & Waffles, Salmon Eggs Benedict and Duck Confit Fritata.
Mary's Vine (211 Kenmawr Avenue, Rankin)
Farmer x Baker
Aspinwall
The super-cool Farmer x Baker cafe at The Aspinwall Riverfront Park opened this summer, serving fresh-baked breads, sandwiches and locally-grown veggie dishes out of a shipping container right on the riverfront. Now that the weather has turned cooler, the cafe has moved operations indoors to the park building for November and December, serving brunch every Saturday and Sunday from 9:00 a.m. to 2:00 p.m. The menu changes weekly, but dishes include breakfast sandwiches with local eggs and heritage pork, Veggie Muffuletta, and Breakfast Arepas.
Farmer x Baker (285 River Avenue, Aspinwall)
Alta Via
O'Hara Township
After months of only serving (honestly, fantastic) lunch and dinner, big Burrito's Alta Via is now offering Sunday brunch. And, if you can get a reservation… go. The menu starts with Italian-inspired antipasti options, like Cacio e Pepe Biscuits and Proscuitto with fig and apples, and then moves onto heartier brunch fare, like their Italian Eggs Benedict (English muffins, rosemary ham, prosecco Hollandaise, broccoli pesto and served with crispy Parmesan potatoes), Lemon Ricotta Pancakes, and Truffled Scrambled Eggs. There are also house-made pasta options, seasonal salads and decadent desserts.
Alta Via (46 Fox Chapel Road)
Supper on Penn
Strip District
Supper on Penn moved from a restaurant concept at the Federal Galley to its own stand-alone brick-and-mortar in the Strip District, serving lunch and dinner daily, and brunch on Sundays. The menu changes regularly (thanks to their 'always-local' ethos), but you'll find dishes like a fantastic Egg BLT, French Toast with plum compote, Breakfast Poutine with duck fat fries and sausage gravy, a Breakfast Bowl with cheddar grits, confit pork belly, and a buttermilk biscuit, and house-made quiches.
Supper on Penn (1211 Penn Avenue)
Pigeon Bagels
Squirrel Hill
Since opening this summer, Pigeon Bagels in Squirrel Hill has been serving up some of the best bagels in Pittsburgh. Head there on a weekend morning for an awesome bagel brunch, featuring their house-made bagels (available in seven varieties, including Plain, Garlic Seasalt, Everything, Poppy and Pumpernickel), a variety of cream cheeses and spreads, or their full menu of bagel sandwiches, like Classic Lox with onions, capers and herb cream cheese, or Hummus, with avocado, radish and greens. They're also offering other baked goods, like cinnamon rolls and challah.
Pigeon Bagels (5613 Hobart Street)
Smallman Galley
Strip District
There's two new restaurant concepts to try at the Smallman Galley in the Strip District. Phill Milton has just opened his new barbecue concept, The Smoke Pitt, and on the weekends, they're serving dishes like Pulled Pork Hash (with candied bacon!), a Brisket Benedict, Sweet Potato Waffles with pecan butter and a Smoked Pork Belly BLT, made with a 'dippy' egg. And at the newly-opened Steel City Subs, brunch options include healthier fare, like smoothie bowls, breakfast bowls (made with riced cauliflower and greens), and gluten-free pancakes.
Smallman Galley (54 21st Street)
Brick Shop
Lawrenceville
Brick Shop in Lawrenceville's TRYP Hotel serves breakfast and brunch daily, offering a menu of Central and Eastern European-inspired dishes, including Cinnamon Babka French Toast, Khachapuri (a bread boat stuffed with Farmers cheese, poached eggs and cultured butter), and Borscht Toast, topped with beet 'tartare,' red onion, sour cream, and dill on black bread.
Brick Shop (177 40th Street)
Pittsburgh Bottleshop
Bridgeville
Though they've been open for more than a decade in Bridgeville, the Pittsburgh Bottleshop is now under new ownership, and they've recently launched a new brunch program. They have stick-to-your-ribs options, like Chicken & Waffles, Savory French Toast (served with fried pastrami), and a massive 'Hangover Bowl,' made with tots, ham, bacon, sausage, sausage gravy and scrambled eggs.
Pittsburgh Bottleshop (1597 Washington Pike)
Gluten Free Goat
Bloomfield
Gluten Free Goat recently made some changes to their business, and began to focus more on their wholesale business, effectively shutting down their retail location during the week. But, they've continued to operate their gluten-free cafe on the weekends, serving brunch on Saturdays and Sundays from 10:00 a.m. to 4:00 p.m. Menu items include gluten-free bagels, a vegan meatball sub, doughnuts and more.
Gluten Free Goat (4905 Penn Avenue)
Looking for even more brunch places to try? Here's our list of the hottest brunch spots of this past summer.