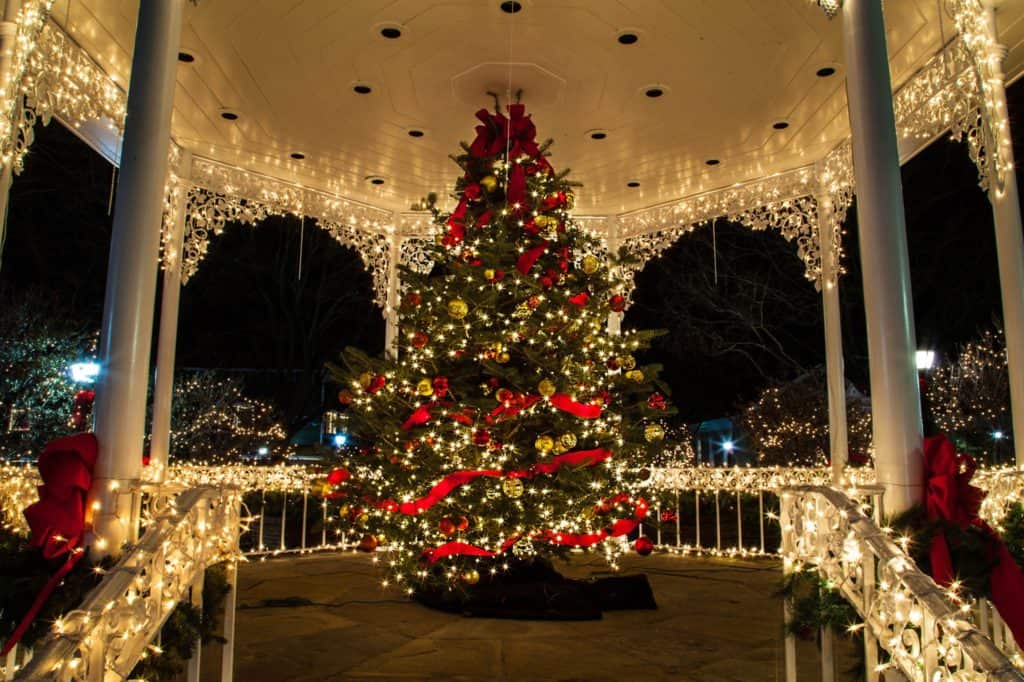 'Tis the season to be busy!
It's officially the holiday season in Pittsburgh (again!?), and to help you celebrate, we've rounded up over 50 holiday events and festivals to put on your calendar.
From craft markets and house tours to visits with Santa, here is everything you don't want to miss this year. Be sure to bookmark this page and use it as a reference throughout the holiday season. We'll keep updating it as we find more festivals.
If you visit any of these events, we want to see! Please tag #goodfoodpgh and @goodfoodpgh.
The Best Holiday Events in Western PA 2019:
Phipps Conservatory Holiday Magic
Daily, November 29 – January 12
It's time for Phipps winter flower show and light garden! The annual event is a Pittsburgh tradition. Tickets are required in advance. The flower show opens at 9:30 A.M. and the winter light portion begins at 5:00 P.M.
Shadrack's Christmas Wonderland's Light Show
Daily, November 15 – January 5
Drive through a two-mile route filled with hundreds of thousands of brilliant LED lights harmoniously synchronization to holiday music.
Bloomfield Saturday Winter Market
Various Saturdays, November – March
The winter edition of the Bloomfield Saturday Market is back! Bundle up and head to 5050 Liberty Ave to shop local produce, food, and more.
Double Date Friday's at The Melting Pot
Friday, November 15 – 29
During Fridays in November, three-course dinners for two are BOGO at the Melting Pot. The first couple is $90 and the second couple is free. Reservations are encouraged.
Let It Glow
Sunday, November 17
The Waterfront's annual celebration will have live music, children's activities, holiday characters, tree lighting, carolers, and more.
Holiday Tours of Clayton
Thursday, November 21 – January 5
Holiday tours of Frick's Point Breeze mansion begin on November 21st. The home will be lavishly decorated to re-imagine a Gilded Age Christmas. More than 90% of the furniture and artifacts on display are original.
Greater Pittsburgh Arts & Crafts Holiday Spectacular
Friday, November 22 – 24
It's the return of one of the area's biggest Christmas craft festivals, held at the Monroeville Convention Center, and featuring over over 300 indoor booths of arts & crafts. There will also be food and pictures with Santa & Mrs. Claus.
City of Pittsburgh Gingerbread Competition
Friday, November 22 – Early January
Hundreds of gingerbread houses created by local individuals, families, organizations, students will be on display from Light Up Night inside the City-County Building.
Comcast Light Up Night® 2019
Friday, November 22
A sign of the holidays in Pittsburgh! This years Light Up Night will be held on Friday, November 22. Expect multiple stages of entertainment, tree lightings, fireworks, food, and even appearances by Daniel Tiger.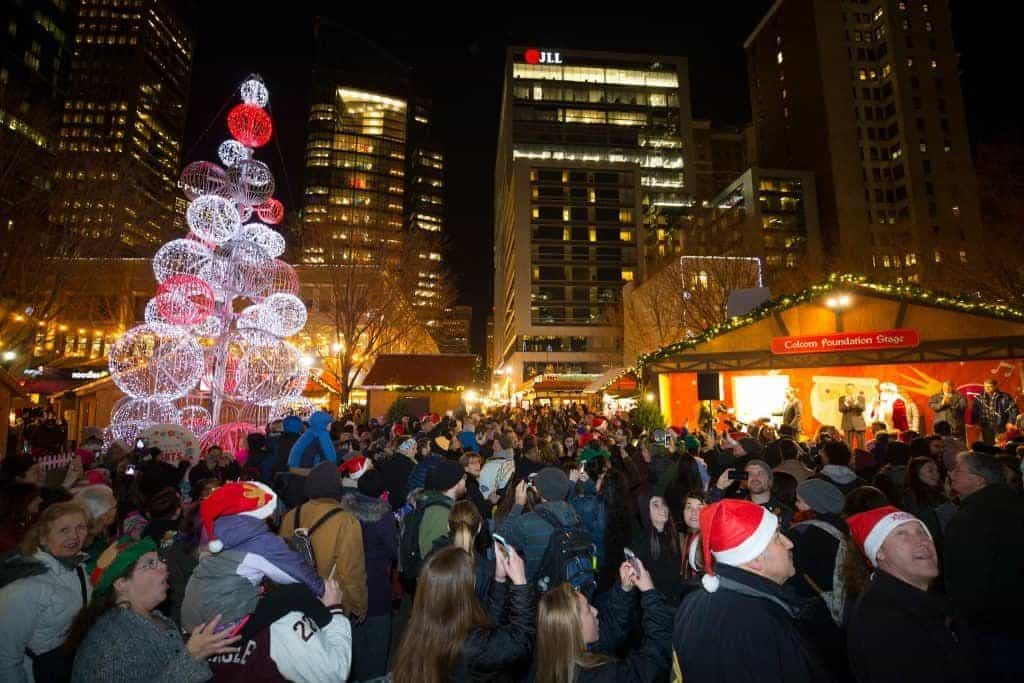 Kennywood Holiday Lights
Friday, Saturday, and Sunday nights November 22 – December 22, Nightly December 26-30
Kennywood is decorating for the holidays. The rides and buildings will be decked out in millions of multicolored lights. There will also be light shows at the lagoon and Rudolph in the theater.
Thanksgiving Pop Up Market at the Bloomfield Saturday Market
Saturday, November 23
Many vendors will gather for a special Thanksgiving market, including: Two Acre Farm, Sol Patch, Rooted Ice Cream, Gryphons Tea, Sam Market, Real Fungi, and more.
Lumaze Interactive Light Show
Saturday, November 23 – January 4
Lumaze is an indoor light festival with seasonal food and beverages, light gardens, entertainment, and so much more. There will also be more than 30 vendors from the I Made It! Market at their vendor market. More information can be found online.
Oakmont Hometown Christmas Parade
Saturday, November 23
In the past this event has featured a Christmas Tree Lighting Ceremony, Oakmont Bakery Cookies, Pictures with Santa Santa, Food Vendors, Chinese Auction, 50/50 Drawing, and more.
Frozen Skate Party with Anna and Elsa clock
Saturday, November 23
At this Frozen Skate, join Anna and Elsa while skating and watching Frozen on the big screen.
Joy of Christmas Craft Show at St. Louise de Marillac Parish
Saturday, November 23
St. Louise DeMarillac Guild hosts an annual craft show, with vendors, a bake sale, and a chinese auction.
Holiday Craft Show in Ross Township Parks
Saturday, November 23
Over a dozen vendors will be at this Ross Township craft fair.
I Made It! for the Holidays 2019
Saturday, November 23
Another popular Pittsburgh vendor fair is I Made It! Market which will feature nearly 100 artists this year. If you can't make this event, keep an eye on their page as they are hosting multiple festivals this year.
36th Annual Mars Fall Craft Show
Saturday, November 23
Held in the Mars High School and Middle School, this event features over 200 crafters with handmade products.
Pittsburgh Pickers: Vintage Market
Sunday, November 24
Calling all vintage lovers! 20 different resellers and collectors will be at this event, as well as drinks and food. Admission is free. More information can be found online.
McCandless Crossing Christmas Tree Lighting
Monday, November 25
To celebrate the tree lighting, there will be hot cocoa, treats and entertainment.
Light Up Ligonier
Friday, November 29
Santa is coming to Ligonier. There will be activities in the Diamond, including horse-drawn sleigh rides and Santa.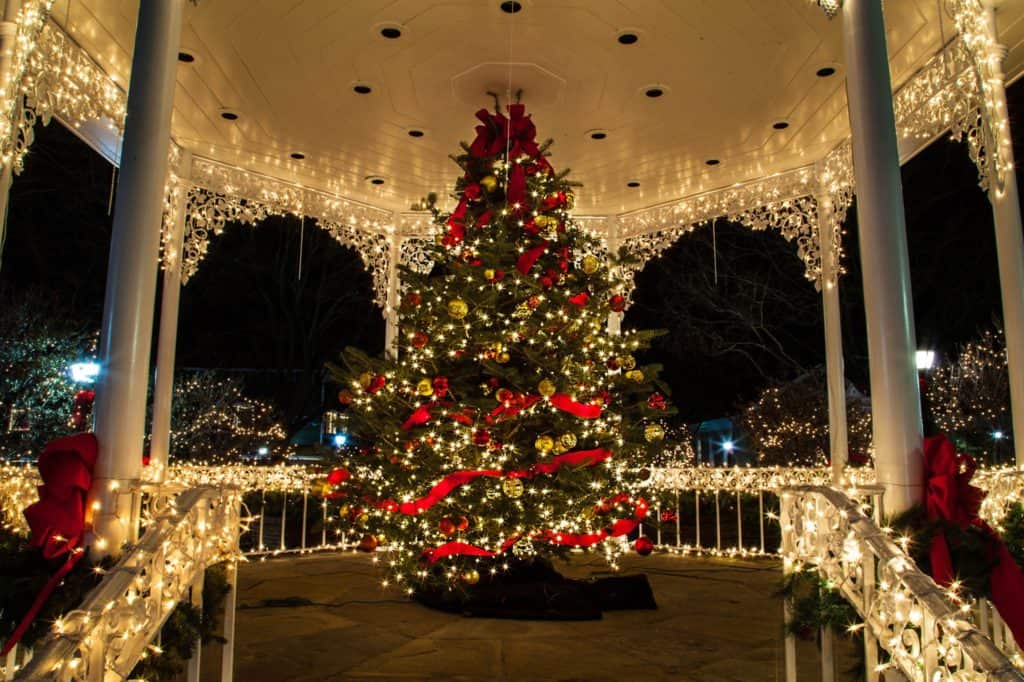 A Small Mall Holiday Market
Friday, November 29 – 30
Shop local art, handmade goods, apparel, and more at this special market, held at TRYP Hotel Pittsburgh.
Holiday Jam 2019
Friday, November 29 – 30
The Holiday Jam is a holiday concert featuring old friends who played together for years as part of the WQED program Live from Studio A. Expect a night of music featuring unique arrangements blending jazz, rock, and innovative renditions of holiday classics.
Beaver Light Up Night
Friday, November 29
A bright and festive night in Beaver, PA!
WPXI Holiday Parade
Saturday, November 30
The annual WPXI Holiday Parade Presented by Neighborhood Ford Store in the heart of downtown Pittsburgh. Watch floats, celebrities, balloons, Channel 11 personalities, marching bands, dog groups, unique vehicles, dance & performing groups, Santa Claus parade in Downtown Pittsburgh.
4th Annual South Park Township Library Christmas Market
Saturday, November 30
There will be 20+ vendors and crafters, refreshments, a Bake Sale, and tons of Auction prizes at the South Park Township Library's 4th Annual Christmas Market.
Wintermarket at Hotel Monaco
Saturday, November 30
Shop locally made gifts from over a dozen Pittsburgh vendors, enjoy bites and cocktails from The Commoner, and listen to live holiday music at the Hotel Monaco third annual Wintermarket.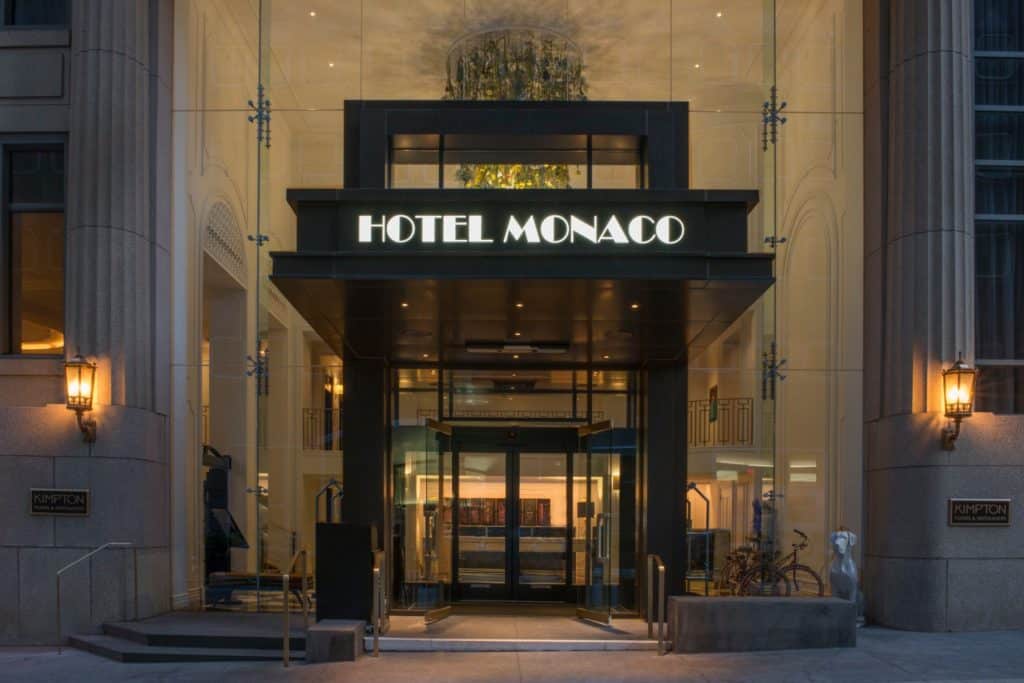 I Made It! for the Holidays South Hills
Saturday, November 30
This is the South Hill edition of the popular I Made It! vendor fair.
Small Business Saturday
Saturday, November 30
Support small businesses in Pittsburgh! Shop for your holiday presents at Pittsburgh's plethora of locally-owned businesses. Many stores will have discounts and treats.
Giant Snow Globe
Saturday, November 30
Take a holiday photo inside a 20 foot tall snow globe. There will be giveaways, shopping, entertainment, and more at this charitable event.
Festival of American Arts & Crafts in Canonsburg
Sunday, December 1
The show will feature over 100 vendors from the tri-state area, doorprizes, and more.
12 Days of Free Santa Photos at The Waterfront
Sunday, December 1 – 12
Free pictures with Santa every day at the Waterfront, located Town Center between Rocket Fizz and Pennsylvania Wine Cellar. Donations accepted to benefit Make-A-Wish® Greater Pennsylvania and West Virginia.
The PGH Flea
Sunday, December 1
The December edition of the Pittsburgh Flea will have great gifts and cool stuff from 35+ local vendors, including: records, clothes, art, jewelry, apothecary items, oddities, vintage, pop culture, books, handmade….and lots more!
Holiday Cocktail Classes at The Fairmont
Mondays, December 2 – 16
Andys cocktail specialists are hosting classes where guests will learn how to make delicious and festive drinks for the holiday season.
Krampusnacht In Market Square 2019
Thursday, December 5
It's a Pittsburgh tradition to celebrate Krampus Night in Market Square. This ancient European holiday joins the merriment at the People's Gas Holiday Market. Krampus will join St. Nicholas, and will hand out coal and the ruten bundles to bad children. Follow Krampus in Pittsburgh for updates on the 2019 edition of this celebration.
TEDxPittsburghWomen 2019: Bold + Brilliant
Thursday, December 5
At this TEDxPittsburghWomen event, bold + brilliant women will share ideas, new research, ways of thinking, art and more. Speakers Include: Aditi Gurkar PhD, Meghan Klingenberg, Liana Maneese, Njaimeh Njie, Khalida Popal, Emily Wazlak, Jane Werner. Performances by: Crissy Shannon, Leigh Solomon Pugliano, Anqwenique Wingfield.
Support Sweetwater Center for the Arts Holiday mArt
Friday, December 6-15
Stop by for creative gifts from unique artisans. Holiday mART features a large selection of jewelry, ceramics, glass, fiber arts, two-dimensional art and much more. Gifts to suit every style and budget.
Sewickley Light Up Night
Friday, December 6
At Sewickley's biggest holiday party there will be fireworks, live music, horse drawn carriages, ice carving, brews, food, shopping, and more.
Canonsburg's Old Fashioned Christmas Celebration
Friday & Saturday December 6 & 7
The Hallmark Channel is coming to Canonsburg. We will be lit up & decorated like a Hallmark Christmas movie. There will be free activities for children, hot cocoa, Santa, food trucks, crafters, entertainment & much more.
South Park Shops December Fridays
Friday, December 6 and 13
Music, magic, carriage rides, crafts, and more at the South Park Shops on Fridays.
Little Shops of Butler County Christmas Shopping Tour
Friday, December 6 – 8
Have an adventure this holiday season and get to know the little shops of Butler County. The route travels from Butler has 11 stops with something special planned like gift basket raffles, prizes and more. Details and maps are available at each shop with other stops along the way.
The Joy of Cookies: Cookie Tour 2019
Friday, December 6 – 8
It's almost time for a Pittsburgh holiday tradition! Visit 40+ unique businesses along Butler Street and Penn Avenue for holiday shopping and sample cookies. Collect recipe cards as you go to bake your own cookies.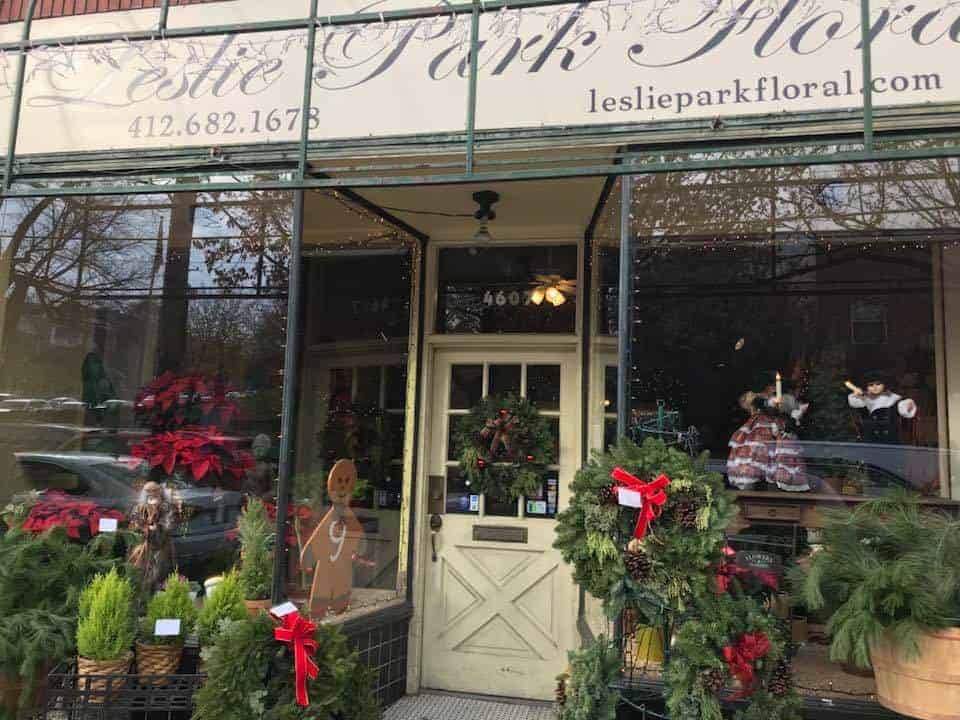 Santa Express Pajama Christmas Party
Friday, December 6
One of the many holiday events happening at Fun Fore All Family Fun Park in Cranberry is the Santa Express Pajama Christmas Party. For this event, wear your Christmas pajamas while eating desserts, decorating cookies, and playing in the arcade. Be sure to look up more holiday events at the park.
Penguins on Parade
Saturday and Sundays, December 7 – January 26
On Every Saturday and Sunday at 11:30 a.m. sharp, the Pittsburgh Zoo Penguins will parade along the pathway outside the PPG Aquarium. The temperature must be below 45 degrees in order for our penguins to be able to parade outside.
Handmade Arcade 2019
Saturday, December 7
Shop local this holiday season! Handmade Arcade is one of Pittsburgh's premiere artisan markets. Located in the David L. Lawrence Convention Center, hundreds of local vendors will be selling their goods.
Pittsburgh Winter Avant-Garde Art & Craft Show
Saturday, December 7
This large show will feature artists and crafters selling their original handmade items, and a portion of proceeds will benefit local non-profit, Girls on the Run.
Grist House FIRE FEST
Saturday, December 7
No, not FYRE Fest… FIRE fest! For this party in the cold, Grist House is asking guests to brave the cold and drink beer with bonfires.
Repeal Day Soiree
Saturday, December 7
"Come Dapper, Flapper and Night Capper!" to celebrate the end of Prohibition, there will be a live Jazz band, four course dinner menu and Prohibition style cocktails.
Christmas Tree Spectacular!
Saturday, December 7-8, December 14
Head to the Wigle Whiskey Barrelhouse to pick out the perfect tree, sip hot cocktails, and purchase gifts for your spirit loving family and friends. All proceeds from the Tree Sale will be donated to Family House, a local non-profit.
Taste of Lawrenceville: Miracle on 41st Street
Sunday, December 8
This celebration of all things Lawrenceville will highlight the best the holiday season has to offer with breweries, food, live music, kid activities, photos, and more. This is a pet friendly event.
Holiday Lights Run with Pro Bike + Run
Tuesday, December 10
Run through downtown Pittsburgh and see the lights. Route runs through Market Square, The tree at Point State Park, The Nativity scene at US Steel Tower, and The PPG tree and rink. Come dressed in your holiday best and grab a drink at the Buckhead Saloon after. More information online.
Christmas on Main Street 2019 at Southpointe Town Center
Thursday, December 12
Laser Show, Horse-Drawn Carriage Ride, and more fun for the whole family! This free event is open to the public, and will have special guests Elsa and Ana.
Winter Wonderland at the CMOA
Friday, December 13
Celebrate the season at the Carnegie Museum of Art. There will be screen printing, crafting, wrapping paper stamping, dancing, tours, a photobooth, and more.
Pancakes with Santa and Reindeer on the Roof
Saturday, December 14 – 15
The Commoner will host Santa and reindeer on the roof of The Hotel Monaco on Saturday, December 15. Brunch beforehand is $38 for the buffet per person, and tickets to visit Santa are $10 per person. See more on the event page.
I Made It! Market Last Minute Shopping
Saturday, December 14
Get you last minute shopping done at this I Made It! Market event. Held at The Block Northway, there will be over 100 local artisans, kids activities, food, and fun.
Holiday Workshop for Kids K-4 at Bethel Park Recreation
Saturday, December 14
This event provides parents the opportunity to get shopping done without the kids. Kids k-4 will participate in crafts, games, movies, and snacks.
Threadbare Winter Market & Sweet Cherry Cider Release
Saturday, December 14
Enjoy the holiday season at Threadbare Cider. For the third year, the Northside cider house is hosting a winter market featuring local gifts (and drinks!) This year they are also releasing their Sweet Cherry Cider at the event. There will be live music. More information online.
Made & Found Holiday Market
Sunday, December 15
Made + Found returns to the Ace Hotel Pittsburgh for a special holiday market featuring 40 of the region's most creative vintage and handmade vendors. Brunch, coffee, and cocktails will be available for purchase.
Crafts and Drafts Holiday Market
Sunday, December 15 
Shop local artists and vendors for some last-minute holiday shopping, along with great food from Larder of East End. More information can be found online.
A Very Merry Grinchmas Christmas Party
Friday, December 20
Another Fun Fore All Family Fun Park event is the Very Merry Grinchmas Christmas Party, with games, cookie decorating, treats, and special guests from Whoville.
Chanukah Festival at the Waterfront
Monday, December 23
Celebrate the first night of Chanukah at The Waterfront with the annual Chanukah Festival and Menorah Parade! In the past this event has featured an outdoor concert, menorah lighting, food vendors, and games and activities for kids!
Chinese Food & Movies on Christmas Eve & Day
Tuesday, December 24 – 25
Celebrate Christmas at the movies! On December 24 and December 25, Row House Cinema is playing a number of holiday movies, including Die Hard, Krampus, National Lampoon's Christmas Vacation, and The Muppet Christmas Carol. The concession stand will be taking Chinese food and sushi orders, which will be delivered to your seat mid-movie.
Pittsburgh Restaurant Week Winter 2020
Monday, January 13 – 19
The "Most Delicious Time Of Year" in Pittsburgh is Restaurant Week, where restaurants across the city offer special menus and items.
Did we forget your favorite event or festival? No worries! Please leave it in the comments below!
GoodFoodPittsburgh.com works very hard to ensure that all the provided times and dates are accurate, but always check an event website prior to attending for the most up-to-date information.