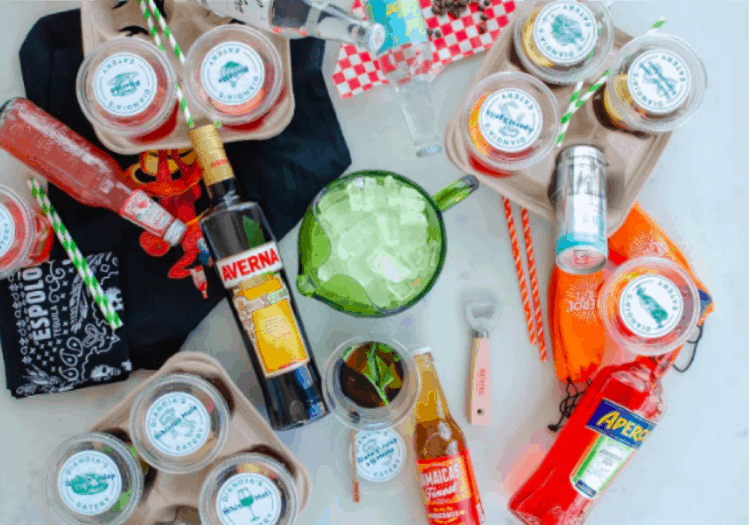 To Go Cocktails Near Me:
It's official: To go cocktails in Pittsburgh are now allowed. And, while there are restrictions (containers must be sealed, only bars and restaurants with liquor licenses are able to sell), lots of establishments are taking advantage of the new (temporary) law.
We've started a list of where you can find to go cocktails in Pittsburgh, organized by neighborhood, and will continue to update.
Know of any other spots offering cocktails to go? Let us know in the comments, or email tips@goodfoodpittsburgh.com
Please use the hashtag #TakeOutPGH on social media to help spread the word!
Pittsburgh Bars & Restaurants Currently Offering To Go Cocktails
**Organized By Neighborhood**
Hit Command-F (Apple) or Control-F (PC) on your keyboard to search for a specific neighborhood, restaurant, or bar.
Note: Changes happen frequently, so check a restaurant's website/social media (linked below) for the most up-to-date information.
Bloomfield
Tina's
Each bottled cocktail is made fresh to go. Their menu includes Frozen Jabroni, Cosmopolitans, Gimlets, French 75s, Jungle Birds, Penicillins, Whiskey Sours, Negronis, White Negronis, Old Fashioneds, and Manhattans. Order online.
Tina's (4114 Main Street)
Garfield
Soju
It's time for some Soju Punch! The Garfield eatery is serving up their super tasty concoction (with Soju, rum, mango, pineapple, ginger, pomegranate, yakult, and soda for $10 to go. Call 412-956-7699 to order.
Soju (4923 Penn Avenue)
Shadyside
Casbah
Casbah is offering their Springtime Mule, Boyd and Basil, and Black Walnut Manhattan cocktails to go, along with 32 oz.-sangria. Order online.
Casbah (229 South Highland Avenue)
Soba
Get Tetsu Old Fashioneds, Cucumber Collins and Muigaritas from Soba. They also have Japanese bottles of beer and growler fill-ups. Order online.
Soba (5847 Ellsworth Avenue)
Downtown
The Warren
Beer, wine and cocktails, including their Bloody Mary, Cucumber Mule, Espresso Quarantini, Mango Margarita, Fred's Old Fashioned, Negroni and Summer Sazerac are available to go. Head to their website to order.
The Warren (245 7th Street)
Bridges & Bourbon
Cocktails are now available to go at Bridges & Bourbon from 4:00 to 9:00 p.m. Tuesdays through Sundays. Cocktails are available in small batch or large batch, and include B&B Old Fashioned, Blueberry Bramble, Appalachian Trail, Butterfly Effect, Passion Fruit Margaritas and Irish Car Bombs. Order online.
Bridges & Bourbon (930 Penn Avenue)
Lawrenceville
Bar Botanico
Cocktails to go are a go at Bar Botanico, including their Bruto Negroni, Rye Old Fashioned, Margaritas de Botanico, Cool Hand Cuke, The Daiquiri, The Bees Knees, or let the bartenders custom make a drink of their choice just for your. Small cocktails (serving 2) are $15, medium cocktails (serving 4) are $28, and large cocktails (serving 8) are $48. Order online or call 412-258-4790.
Bar Botanico (4325 Butler Street)
Morcilla
Morcilla has their fantastic sangria to go, available in red or white. Pickup hours are limited, and available Thursday, Friday or Saturday. Order online.
Morcilla (3519 Butler Street)
Grapperia
You can now get a small list of some of Grapperia's favorite cocktails to go. Call 412-622-0111 to order.
Grapperia (3801 Butler Street)
Smoke
Cocktails to go are now live at Smoke in Lawrenceville. They have 32 oz. drinks, including House Margaritas, Spicy Margaritas, Big Fizz, Lorettas, and Jungle Birds (all serving 5).
Smoke (4115 Butler Street)
The Vandal
Vandal cocktails to go include the Bee's Knees, Daiquiri, Pimm's Cup, Negroni and Old Fashioned. Each cocktail is bottled as a double and serves two. Order online for Friday and Saturday pickup.
The Vandal (4306 Butler Street)
Spirit
Spirit is offering featured cocktails to go every Saturday, and will be expanding their offerings soon. Follow them on Instagram for updates.
Spirit (252 51st Street)
East Liberty
Muddy Waters Oyster Bar
All of Muddy Waters' cocktails are available to go, including their Bloody Mary, Clarified Milk Punch, Southern Belle, Margarita, Louisiana Stinger, Sazerac, Aperol Spritz and Boulevardier. They also have malt-based frozen cocktails to go, too. Order online.
Muddy Waters Oyster Bar (130 S. Highland Avenue)
Bird On The Run
Order frozen cocktails to go (malt-beverage based) in flavors like green apple, lemonade, cherry or margarita. Order online.
Bird On The Run (128 S Highland Ave)
Lorelei
Cocktails to go include the alcoholic version of Lorelei's Pandemic-Proof Alpine Punch, Old Fashioned kits for four, and 25.4 oz. cans of their house-made Gin & Tonics. Order online.
Lorelei (124 S. Highland Avenue)
The Strip District
Kaya
Kaya's to-go offering is a Frozen Grapefruit-Basil Margarita, which comes in 32 oz. containers for $15. Call 412-261-6565 to order.
Kaya (2000 Smallman Street)
DiAnoia's Eatery
There are plenty of options for cocktails to go at DiAnoia's Eatery, including the Bicicletta, the Shakerato Tonic, the Hibiscus Mule, the PIsolino, the Aperol Spritz and 'Giada's? Julep A La Mente.' All cocktails come in packs of four and you can mix and match two to complete your order. Order online.
DiAnoia's Eatery (2549 Penn Avenue)
Maggie's Farm Rum
Available for curbside pickup is four of Maggie's Farm Rum cocktails, including the Pineapple Daiquiri, Painkiller, Corn 'n' Oil and the Jungle Bird. Order online.
Maggie's Farm Rum (3212 Smallman Street)
Squirrel Hill
Hidden Harbor
Hidden Harbor is celebrating the return of cocktails with their Hidden Harbor Rum Barrel, with their house five-rum blend, fresh-squeezed lime and grapefruit juices, mango, papaya, fassionola, passion fruit and spices for $10. They also have Frozen Bourbon & Coke, Painkillers, Frozen Pina Coladas, and Hidden Harbor Zombies for two. Order online.
Hidden Harbor (1708 Shady Avenue)
North
Della Terra
Della Terra's cocktail offerings include frozen 'Della Daiquiris' and Frose. Ask about their specials when you call 724-473-0630.
Della Terra (100 N. Main Street, Zelienople)
Alta Via
On Alta Via's cocktail to go menu you'll find Manhattans, Barrel-Aged Boulevardiers and Grapefruit-Basil Margaritas. Order online.
Alta Via (46 Fox Chapel Road)
Multiple Locations
Burgatory Bar
Not only can you find spiked shakes from Burgatory Bar, but they also have Mike's Scratch Margaritas and Strawberry Basil Shags available to go!
Burgatory Bar (multiple locations)
Know of any other spots to find to go cocktails in Pittsburgh? Let us know in the comments!