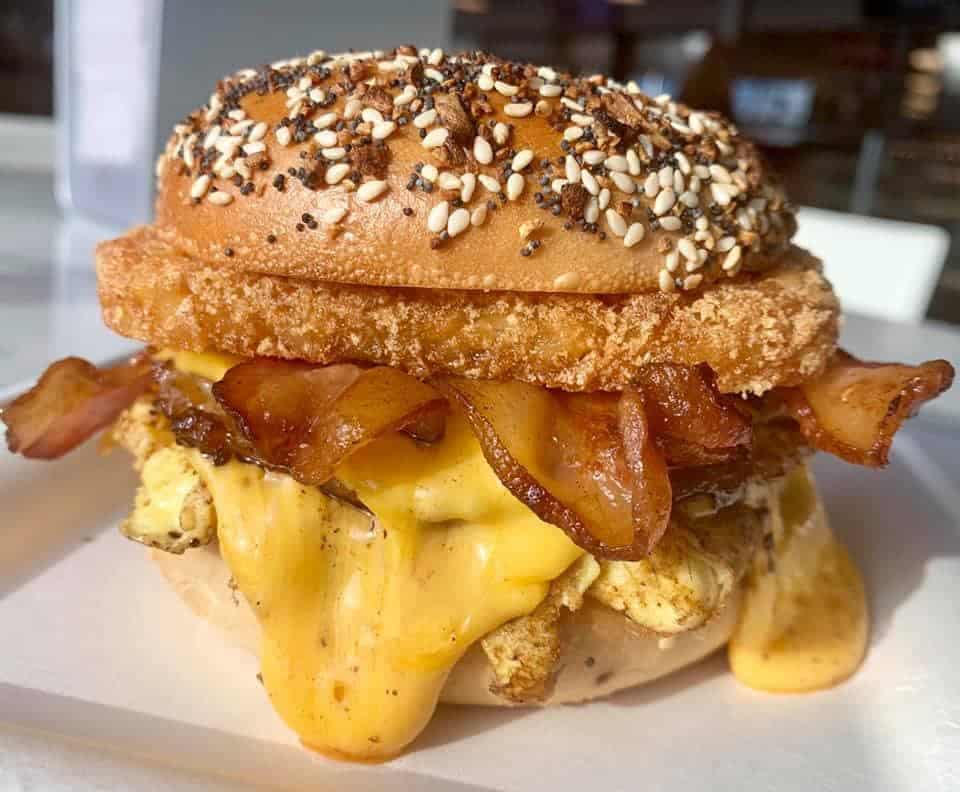 The best bagels in Pittsburgh are out there… you just have to know where to look.
It's hard to think of a more volatile food question in Pittsburgh than, "Where can I find a good bagel?"
Here at GoodFoodPittsburgh.com, we get asked often for food recommendations, and bagels are always top of people's list. So we scoured the city and found 8 solid spots for procuring the fluffy carbohydrate delicacy that is a bagel. We may not be New York City, but Pittsburgh's bagel scene can certainly satisfy.
If you visit any of these spots, we want to see! Please tag @goodfoodpgh and #goodfoodpgh in all your pictures.
The Best Bagels in Pittsburgh:
Spirit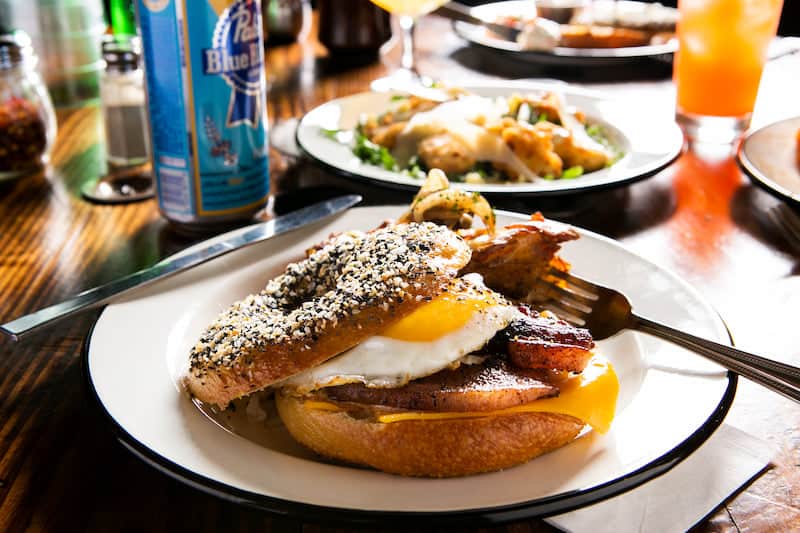 Spirit – the eclectic bar/venue/restaurant located inside of a former Moose Lodge on 51st Street in Lawrenceville – has slowly, but surely, emerged as a contender for the best bagels in Pittsburgh. Long known for their pizza, Spirit has developed a reputation for their bagels, as well. Baked by bagel chef Daniel Mitchell, hungry customers should keep an eye on the Spirit Instagram for updates on when/where to find their bagels. Spirit weekend brunch and the Lawrenceville Farmers Market are usually a safe bet. More information on special orders/bagel sandwich pop-ups can be be found online.
Spirit (242 51st St)
Acorn
Bagels are one of the hallmarks of the Brunch menu at Acorn. The restuarant, located on Walnut Street in Shadyside, spent three months perfecting their dough recipe before bringing the bagels to menu. Now that they are officially available, guests can enjoy them with toppings like creamed smoked white fish, hot cider mustard, tomato jam, dill-cured salmon, caper schmear, and more. Acorn serves brunch ever Saturday & Sunday from 10:00 am – 3:00 pm.
Acorn (5528 Walnut Street)
Beaver Bagel Company
Hit the road and head to Beaver, PA, for freshly baked bagels at the Beaver Bagel Co. All bagels in the shop are hand rolled, kettle boiled, and baked in house daily. Flavors like Plain, Everything, Cinnamon Crunch, Jalapeno Cheddar, are available daily, but keep an eye out for rotating options like Black Pepper Parmesan, Caprese, Blueberry Streusel, and Kalamata Olive. Grab a dozen to go, or a sandwich from their extensive bagel sandwich menu (or both!)
Beaver Bagel Company (208 Bridge St)
Pigeon Bagels
Evolving from pop-ups and farmers markets to a permanent brick-and-mortar shop in Squirrel Hill, Pigeon has also developed a role as a key bagel player in Pittsburgh. The shop is wildly popular, and it's not uncommon to see a line out the door (but we promise it's worth the wait). Enjoy various spreads and sandwiches, like the "whitefish" sandwich with radish, greens, and red onion, and the "classic lox" sandwich with (you guessed it!) lox, onion, capers, and herb cream cheese. All food served is kosher, and all bagels are dairy and egg free.
Pigeon Bagels (5613 Hobart St)
Curbside Coffeehouse
Curbside Coffeehouse in Blawnox sources their bagels locally from Kittanning, and uses them to prepare their popular menu of breakfast sandwiches. All sandwiches are made to order, and are available all day long. Options include the "Greens, egg, & ham,"and the "Curbside lox." Curbside opened in May of 2008 and has steadily grown to serve hundreds of hungry customers every day.
Curbside Coffeehouse (405 Freeport Rd)
Secret Beigel
Bagels with a waiting list? Yep. If you're patient, Joseph Friedman will add you list for "Secret Beigel," an ongoing Pittsburgh bagel baking service. Bagels are made every Sunday, and customers at the top of the queue have the option to pick up their bagels, or have them delivered within the East End. Orders range from bagel sandwiches to bagels with a whole fish and spreads. Secret Beigel also accepts catering orders for larger parties. Bagel flavors are Plain and Everything. All bagels have an egg wash, but can be adjusted to accommodate a vegan diet. DM @savefrancesbean to get on the list!
Oakmont Bakery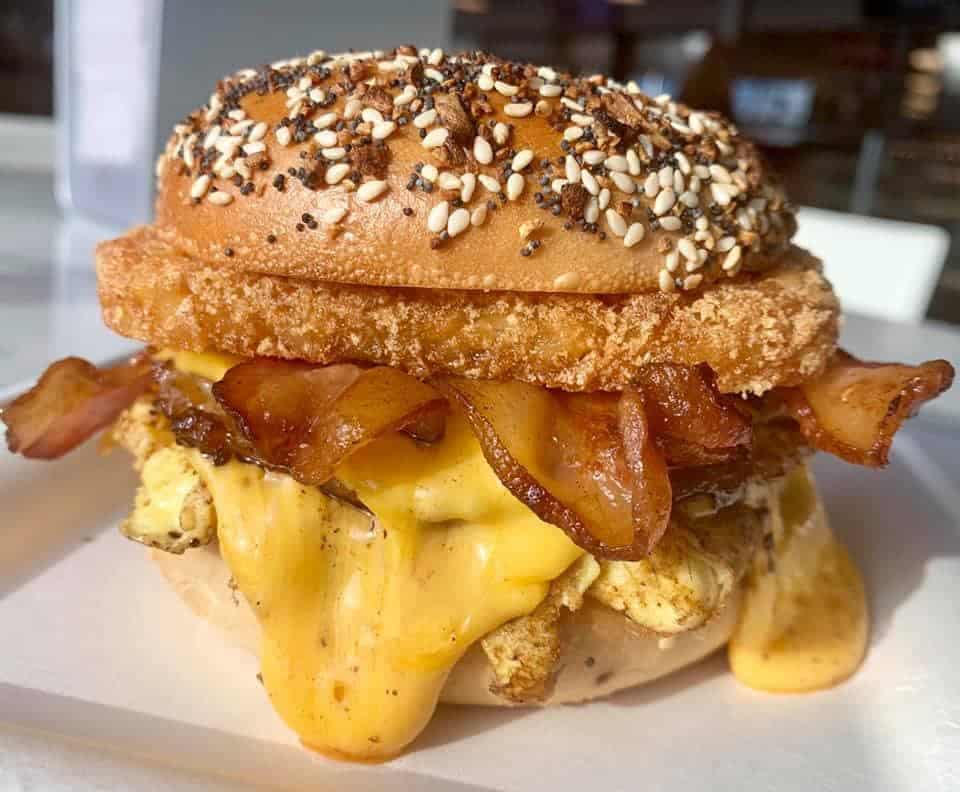 A solid spot to pick up a wide variety of freshly made bagels is Oakmont bakery. A dozens bagels is only $12, and flavors include Bacon & Cheese, Asiago, 8 Grain, Blueberry, Cinnamon Raisin, Egg, Everything, French Toast, Pizza, Spinach, Sunflower Raisin, and much more. You can place a bagel order online, or stop into their Oakmont shop. (Fair warning – you'll probably leave with more than just bagels, at least if you follow our season-by-season guide.)
Oakmont Bakery (1 Sweet St)
Giant Eagle Bakery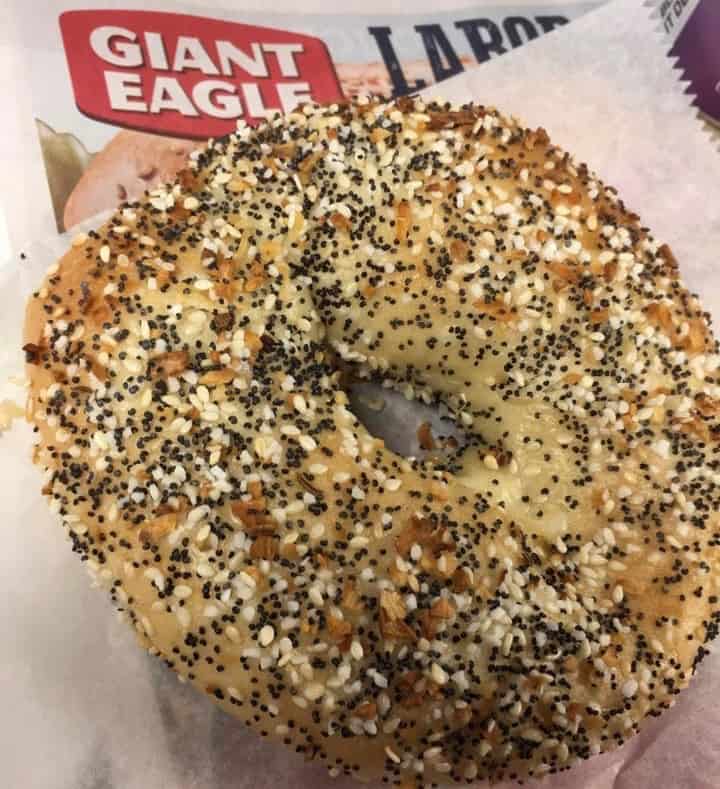 Another place to easily pick up a bag of freshly made bagels is the Giant Eagle bakery. The bakery team at Giant Eagle handcrafts their baked goods every day using traditional recipes and simple ingredients. With locations all over the city, this is a reliable spot to find affordable bagels. Stop into the store, or order ahead of time on curbside express.
Giant Eagle Bakery (Multiple Locations)
Honorable Mention: My brother?
When my older brother, Matt, is not busy giving me a hard time about my life choices, he makes bagels… and they are actually very good! The bagels are mini, about half the size of typical bagel. This is nice because you don't have to commit to one topping/schmear, and can try a few options without getting full. Email [email protected] if you're interested in learning more.
Did we forget your favorite Pittsburgh bagel? Don't fret! Leave your pick for the best bagels in Pittsburgh in the comments!