It's easy to find a fantastic brunch during the weekend. But if you've ever found yourself wandering around in search of a plate of pancakes on a Wednesday morning, you know that finding a great spot for a breakfast on a weekday can be tough. 
We've rounded up some of our favorite restaurants that are open early Mondays through Fridays for breakfast sandwiches, waffles and more.
Open Daily 
Pamela's Diner
Multiple locations 
Pittsburgh breakfast staple Pamela's Diner has five locations dotting the city, all ready to offer favorites such as omelets, hash and their famous whisper-thin crepe-style hotcakes (get them stuffed with strawberries and cream). Pamela's Strip District, Shadyside and Millvale spots are open seven days a week from 8 a.m to 2 p.m. for all your breakfast needs. Mt. Lebanon is open Wednesdays through Sundays, and Oakland is open Thursdays through Mondays. (Multiple locations) pamelasdiner.com 
Ineffable Cà Phê
Lawrenceville
Vietnamese cafe Ineffable Cà Phê is open every day from 8 a.m. to 3 p.m., serving bagels, baked goods and breakfast sandwiches, along with breakfast-style banh mi. They also have a full cafe menu with coffee, lattes and cold brew, plus a selection of bubble teas. (3920 Penn Ave. ) ineffablecaphe.com
Kelly O's Diner
Multiple locations 
With three locations (North Hills, Warrendale, the Strip District), Kelly O's is open daily for all your breakfast and brunch needs. They have an extensive menu of classic diner fare, including omelets, pancakes and French toast, and are known for their super-sweet grilled cinnamon roll — which you can get with a scoop of ice cream, if you're so inclined. (Multiple locations) www.kellyos.com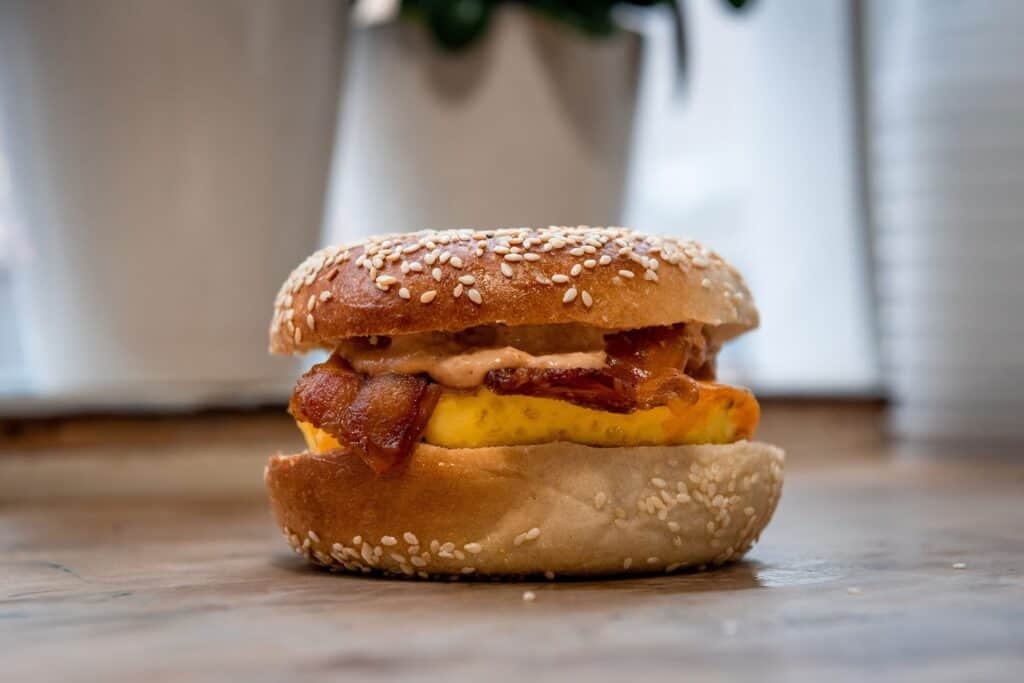 Gussy's Bagels 
Oakland 
Known for making some of the best bagels in town, Gussy's Bagels is the perfect spot to grab a quick breakfast whenever you're in Oakland. The fast-casual restaurant offers toasted, fresh-made bagels (plain, sesame, poppyseed, onion, cinnamon raisin, egg and sea salt, pumpernickel, and everything) topped with everything from dill and citrus-cured Gravlax to wild berry cream cheese. They also have breakfast sandwiches all day, including their popular Top Gunnar, made with bacon, sausage, egg and cheddar on a sesame bagel. Gussy's is open daily, starting at 7 a.m. (3605 Fifth Ave.) www.gussysbagels.com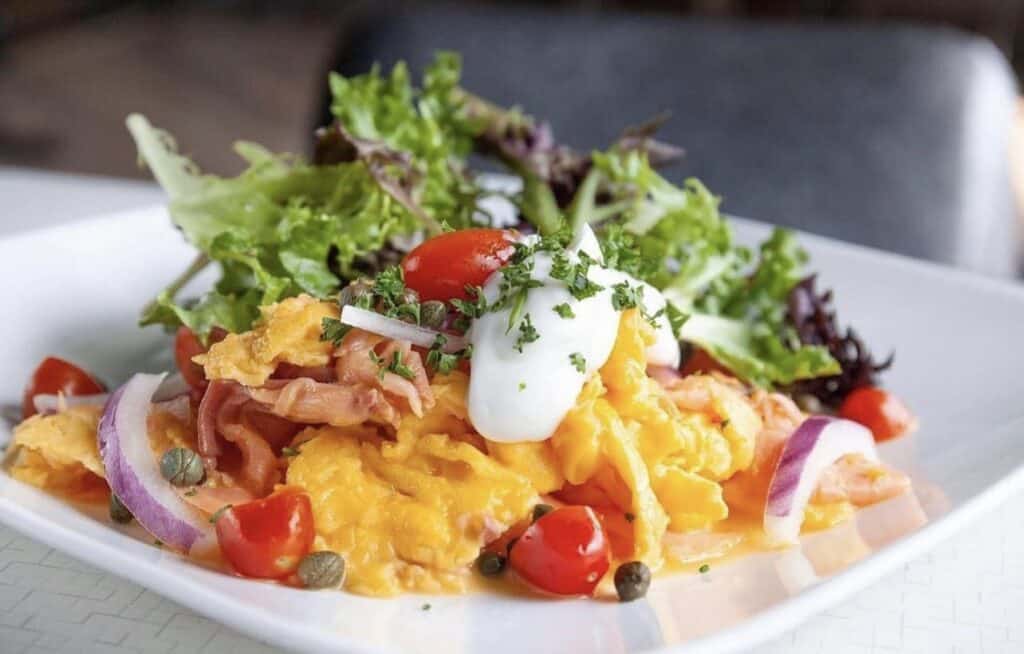 Square Café
East Liberty
Bright and cheerful Square Café offers a breakfast menu with favorites such as lemon-berry ricotta pancakes, Nutella crepes, breakfast burritos and biscuit sandwiches, plus an extensive selection of vegan and vegetarian options, too. They also have a full bar with breakfast cocktails, mocktails and fresh-squeezed juices. The East Liberty restaurant is open daily from 7 a.m. to 3 p.m. (134 South Highland Ave.) square-cafe.com
Cafe Moulin 
Shadyside
You'll find a full selection of sweet and savory crepes at Cafe Moulin, a sweet creperie and cafe tucked into Filbert Street in Shadyside. In addition to crepes (ham and cheese, Nutella and the Bristol, with turkey, gouda, avocado and Béchamel sauce are some of their most popular items), Cafe Moulin also offers French toast platters, fruit parfait and breakfast salads. They're open daily from 8 a.m. to 4 p.m. (732 Filbert St.) cafemoulinpgh.com/#
Scratch & Co
Troy Hill 

All-day cafe Scratch & Co serves breakfast Mondays through Fridays starting at 7 a.m. (brunch is available on the weekends), with bagels and schmears (horseradish + dill is our favorite), and assorted breakfast sandwiches and toasts, plus larger plates such as Shakshuka and a stick-to-your-ribs Short Rib Hash. They also have fresh-made, old-fashioned doughnuts, available in glazed or topped with cinnamon and sugar. 
(1720 Lowrie St.) scratchandcopgh.com
Mediterra Cafe 
Mt. Lebanon and Sewickley 
From avocado toast to milk bread French toast (topped with apple compote), Mediterra Cafe has built a breakfast menu around their fresh, house-baked breads and pastries. At both cafe locations, breakfast is served seven days a week starting at 8 a.m. A new Lawrenceville location is set to open soon. (Multiple Locations) www.mediterracafe.com
Geppeto Cafe
Lawrenceville 
You can enjoy sweet or savory breakfast treats at Geppeto Cafe. The vintage-inspired spot in Lawrenceville offers a massive menu of savory crepes (stuffed with everything from prosciutto, fresh mozzarella and honey aioli to spinach and mushrooms), sweet crepes, waffles and challah French toast. You can also create your own crepes of waffles, choosing from dozens of fillings and toppings. (4121 Butler St.) www.geppettocafe.com
Eggs & Moore
Mount Washington 
In addition to their standard breakfast menu, cozy Mount Washington restaurant Eggs & Moore offers daily-changing specials, such as cherry cheesecake waffles and bacon, egg & cheese croissants. Check them out every day from 8 a.m. to 3 p.m. (221 Shiloh St.) www.facebook.com/eggsandmoore
The Commoner 
Downtown 
Located inside the Kimpton Hotel Monaco, The Commoner features a breakfast menu that's so much more than a standard continental. French toast served with yuzu curd, prosciutto and fontina omelets and vegetarian frittata are all options, and breakfast is served every weekday from 7:30 a.m. to 10:30 a.m. (620 William Penn Place) thecommonerpgh.com
Buon Giorno Café
Downtown 
Located inside the 20 Stanwix Building Downtown, Buon Giorno Café is open weekdays starting at 7 a.m. for quick breakfasts, with options such as frittatas (Italian and Greek), assorted breakfasts sandwiches and pastries. (20 Stanwix St. #1) buongiorno-eats.com 
Open Almost Every Day 
Oak Hill Post
Brookline 
Brookline's Oak Hill Post is closed on Mondays, but every other day of the week, you can find a fantastic breakfast starting at 7 a.m. Their menu changes pretty regularly, but look for options like avocado toast with hummus and herbed cream cheese, a classic breakfast sandwich on their own buttermilk biscuits, and French toast, creme brulee-griddled and served with their (absolutely incredible) lemon curd. (600 Brookline Blvd.) www.oakhillpost.com
The Speckled Egg 
Downtown 
Serving breakfast Wednesdays through Fridays (brunch is available on the weekends), the Speckled Egg is the spot for a morning meeting Downtown. Grab an order of their brown butter French toast, a fried chicken biscuit, or a plate of their buttermilk poppyseed pancakes (served with Paul Family Farms maple syrup), and you will definitely start your day off on the right foot. (501 Grant St.) thespeckledeggpgh.com/#
Café Raymond
Strip District
All-day breakfast is available at Café Raymond on Wednesdays through Sundays, with a menu that ranges from vegan quinoa bowls to a lox sandwich served on ciabatta. Breakfast cocktails, including iced Irish coffee, sangria and raspberry mules, are also always available. (2009 Penn Ave.) https://www.caferaymond.com/