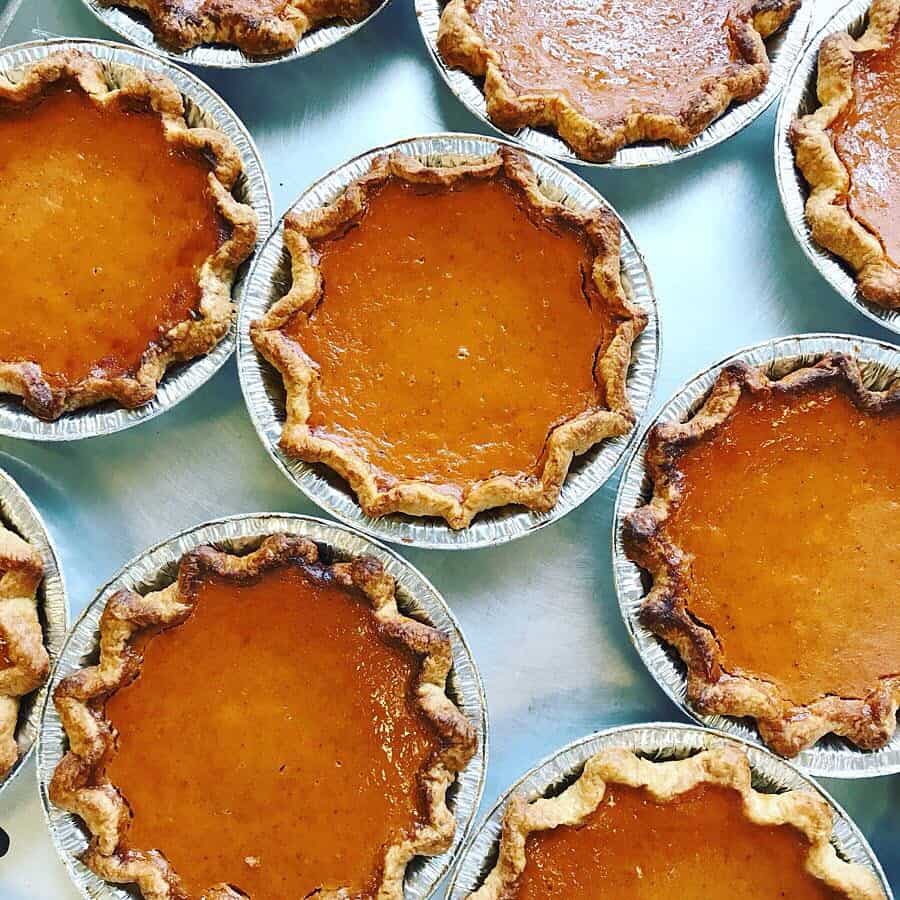 There's still time to order pies, cakes and other sweets for Thanksgiving – if you do it quickly.
We've compiled a list restaurants and bakeries offering special desserts this Thanksgiving. Don't see your favorite? Let us know, and we'll add them to the list.
Wile Rise Bakery: The order deadline for gluten-free Thanksgiving baked goods from Wild Rise Bakery is Friday, November 20 at noon. Options include Sweet Potato Pie, S'mores Pie, Cranberry Apple Pie, various loaves of bread, biscuits, cookies and more. Pickup is on Tuesday, November 24, and local deliveries are also available.
350 Bakery: Thanksgiving baked goods are available for pre-order from 350 Bakery until Saturday, November 21. Pickup is Tuesday, November 24 and Wednesday, November 25. On this year's menu you'll find deep-dish pies (Bourbon Pecan, Classic Apple, Cherry Berry and Honey Pumpkin), plus breakfast treats like chocolate babka, cinnamon crumb coffee cake, cinnamon rolls and maple-glazed banana bread. (2427 S. 18th Street)
Coop de Ville: Newly-opened Coop de Ville in the Strip District is offering Thanksgiving pies to go this year, available in Pecan, Apple Crumble and Pumpkin. Pies are $25 each, and all orders must be in by Friday, November 20. Pickup is at Coop de Ville on Wednesday, November 25. Order online. (2305 Smallman Street)
Potomac Bakery: This beloved bakery (with locations in Dormont and Mt. Lebanon) is taking orders for pies (apple, Dutch apple, peach, pumpkin and pecan), plus cookies, cakes, pumpkin rolls, Gobs and more, along with dinner rolls and bags of stuffing bread. Various locations
Piebird: Piebird is taking orders through November 22. Orders can be picked up on Wednesday, November 25 from 11:00 a.m. to 2:00 p.m. The menu of whole pies includes Salted Caramel Apple, Pumpkin, Dutch Apple Cranberry, Tart Cherry, Sweet Potato and Bourbon Pecan. (5304 Butler Street)
Crustworthy: The deadline to order Crustworthy breads and baked goods is Thursday, November 19 – and pickup at the Bloomfield Farmers Market or delivery will be on Saturday, November 21. Most items are cooler/freezer-friendly, and Crustworthy offers tips for storage, thawing, and reheating. The menu includes Crustworthy's Sourdough Pumpkin Loaf, Whole-Grain Focaccia, Cranberry Pepita Loaf, House Sourdough Loaf, Pumpkin Roll Trifle, Whole-Wheat Cinnamon Rolls, Chocolate Babka and Double-Layer Gingerbread Cake with Maple Icing.
Commonplace Coffee: Whole pies are available ($15 – $17) for pickup at Commonplace Coffee locations across the city. The order deadline is Saturday, November 22 and options include Sweet Potato Maple, Salted Caramel Apple and Cranberry Pear Crumb.
Oakmont Bakery: The last day to place an order for Tuesday, November 24 and Wednesday, November 25. Items available include pies, pumpkin-shaped cakes, turkey cupcakes, cookie trays and more. (One Sweet Street, Oakmont)
Dave's Terrace Bakery: Holiday offerings from Dave's Terrace Bakery include pies (pumpkin, apple, blueberry, cherry, peach, apricot, egg custard, meringue, mince meat, whipped cream and pecan), Strudels, cookies, pumpkin rolls, and a variety of breads and rolls. Call 412-655-9233 to order. (5253 Brownsville Road)
Mel's Petit Café: One of the newest spots in Mt. Lebanon, Mel's Petit Café, is offering their Dutch Apple, Tarte Normande or Pecan Pie available for purchase – just order 72 in advance. (431 Cochran Road)
The Pie Place: The Pie Place in the South Hills is taking Thanksgiving pie orders, for pickup on Monday, Tuesday and Wednesday. Their extensive menu includes Pumpkin, Apple, Dutch Apple, Pecan, Cherry, Key Lime, Chocolate Pecan, Chocolate Cream, Pumpkin Cream – and many more. (1775 N. Highland Road #1219)
DiAnoia's Eatery: DiAnoia's Eatery is offering their Cranberry & White Wine Cheesecake to go this Thanksgiving, along with cookie platters, made up of Pignole, Anginetti, Chocolate Chip, Rainbow, Anise Biscotti, and Pastini cookies and come in two sizes: small (24 cookies) for $36 and large (48 cookies) for $64. Order online.