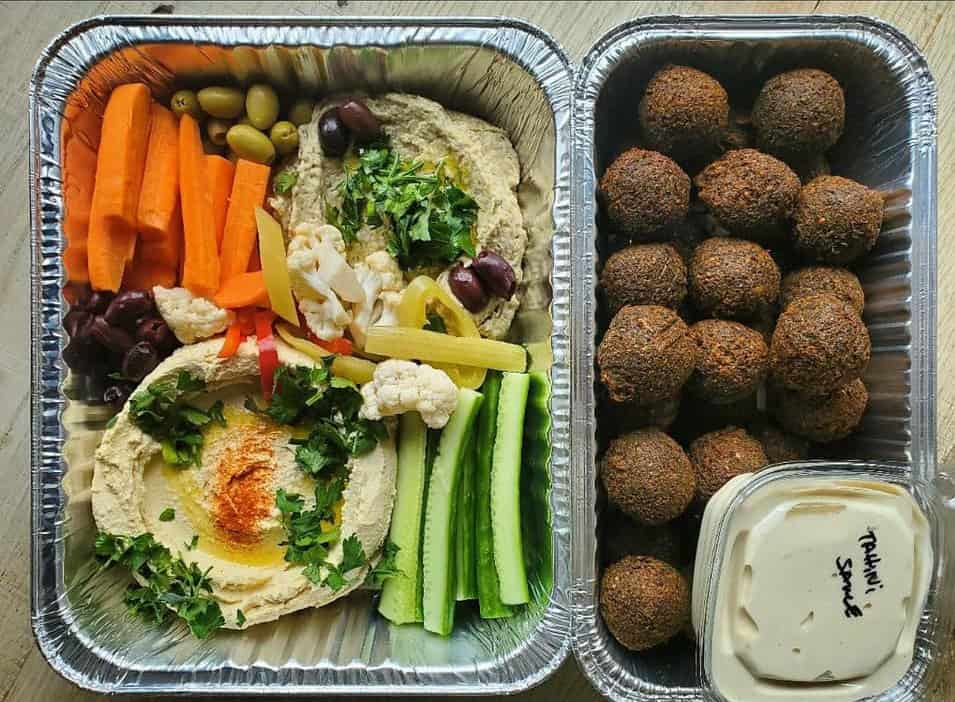 No meat? No problem.
From vegetable garin bowls to seasonal salads, these vegetarian dishes from some of Pittsburgh's top restaurants are not only tasty alternatives to meat-heavy options, but they're also helping you do your small part to go green.
After weeks of being closed, Lawrenceville's B52 is now offering vegan family-style meals available for pre-order. Familiar favorites like the tofu scramble, mezze plate, and Seitan wings are on the menu. Keep an eye on b52's Instagram page for updated details about new order windows.
Burgatory locations are open for takeout and delivery daily, with veg-based options like their Green Apple & Quinoa salad, marinated Portobello sandwiches, and the Impossible Burger, made from a plant-based protein.
Pittsburgh's oldest vegetarian restaurant is offering a weekly menu for curbside pickup. Options change regularly, but past dishes have included a chickpea 'egg' salad, Seitan hot 'roast beef' sandwiches, and Buffalo hummus wraps.
Umami in Lawrenceville is serving a limited carryout menu, with an emphasis on daily-changing Bento Boxes, featuring bites of four different dishes. They regularly have veggie-only Bento boxes, with dumplings, smoked tofu, pickled daikon and more.
Find traditional Thai cuisine at Nicky's Thai Kitchen, open now for takeout and delivery. The menu is full of vegetable-forward dishes, including favorites like fresh spring rolls, vegetable Tom Yum soup, Tofu Pad Phet Chili Mango Tofu.
Build-your-own taco kits are on the menu at Baby Loves Tacos in Millvale, with two vegetarian options available. 'The Veg' kit includes sweet potato, BBQ mushrooms and Buffalo cauliflower, and there's also a BBQ mushroom-only kit available, too. Each kit comes with all the standard taco-building options, like brown rice, black beans and pickled slaw.
Udipi Cafe in Monroeville is serving a special takeout-only menu right now, with lots of vegetarian Indian items. Try dishes like Masala Dosai, Vegetarian Biriyani, and Coconut Uthappam – and don't forget the Rasmalai for dessert.
Vegan chili, house-made soy chorizo bowls, mushroom-and-egg burritos and veggie crepes are just a few of the vegetarian-friendly options that are available on Square Cafe's massive breakfast and lunch menu. They're open for pickup and carryout, and are offering delivery to select neighborhoods throughout the week.
Once you choose your plant-based hot dog (tofu frank or Beyond Meat Italian sausage), pile it high with vegetarian toppings, like vegan chili, Dijon mustard, pickled carrots and daikon, vinegar slaw or vegan "bacon." Franktuary, which is now open for takeout daily, also has a healthy selection of veg-friendly snacks, like poutine, piergoies, and pickle chips.
You'll find endless plant-based meal options at Roots Natural Kitchen in Oakland, starting with the bases for their hearty bowls (bulger, rice, kale, spinach or mixed greens). Build your dish with vegetarian ingredients like cannellini beans, roasted sweet potatoes, and charred corn, and top it off with plant-based protein, like mushrooms, or BBQ tofu.
Know of any other great meat-free takeout or delivery options? Share in our comments!