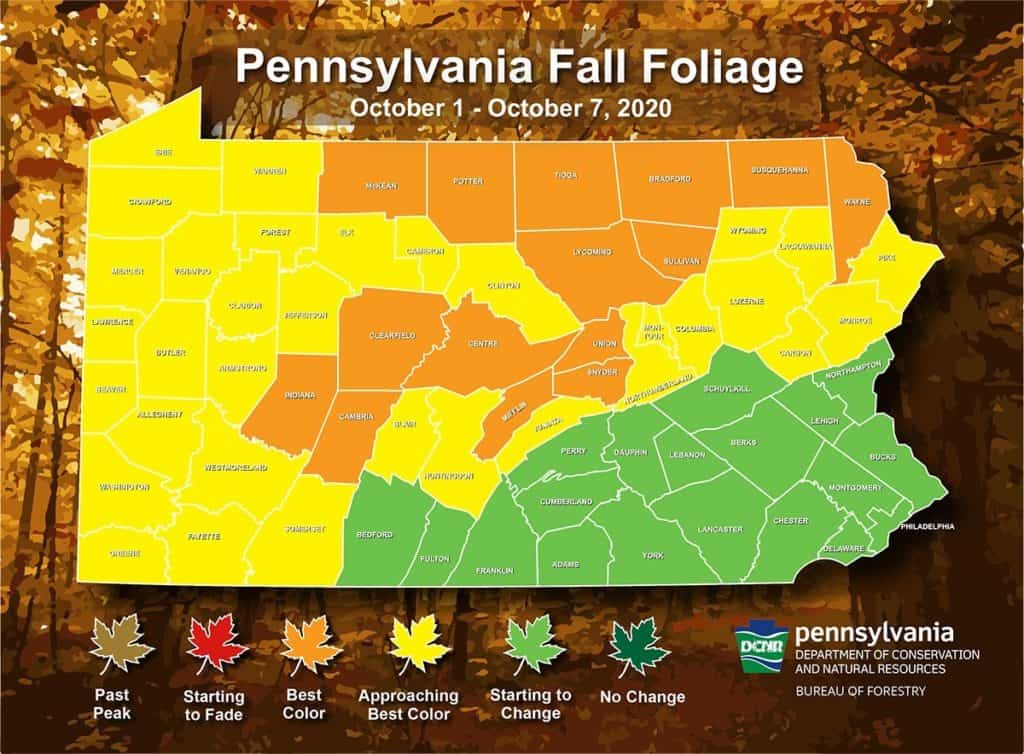 The Pennsylvania Department of Conservation and Natural Resources has just released their latest Pennsylvania Fall Foliage 2020 Map, and it shows that if you want to see the state's best foliage this year, you may want to plan your leaf-peeping trip soon.
For the week of October 1 through October 7, the map shows that many parts of western Pennsylvania are approaching their best colors, which mean that peak Fall colors are about a week away.
More northern counties like Potter, Clearfield and McKean are currently experiencing their peak colors, but counties closer to Pittsburgh, including Allegheny, Butler, Armstrong and Clarion County, which encompasses the super-popular state park Cook's Forest, will be peaking in the next week.
According to the PA DCNR, "cold and frosty nights and very dry conditions have ushered in marked changes across the northern tier, where foliage is at its spectacular peak. Sugar and red maples are the stars of the show, contrasting beautifully with the still-green oak canopies."
And this year may be a good one for leaf-peeping in Pennsylvania – Penn Live reported last week that 2020 could offer the best fall foliage season in years in the state.
Pennsylvania's DCNR has lots of resources available if you want to plan a road trip or a hiking excursion, including an interactive map that shows prime locations for viewing PA fall foliage from various spots around the state, and a number of guides on their 'Good Natured' blog, including staff recommendations for new trails to hike, and lesser-known hiking trails in Pennsylvania.
And if you'd rather do some driving, the DCNR also maps out two "leaf-peeping" road trips, including a 125-mile Northern Loop trip, and a 70-mile Southern Loop trip, which cover the Laurel Highlands.
If you want to keep an eye on the updated Fall Foliage Maps, follow the DCNR on Facebook for their latest news.
Keep reading…