Do you miss bellying up to the bar at your favorite brewery, and enjoying a fresh brew? So do we. But while we still can't enjoy a drink indoors at most bars and breweries quite yet, there are plenty of outdoor breweries in Pittsburgh with newly-expanded space…. and plans to stay open well into the Fall.
Outdoor Breweries in Pittsburgh
East End Brewing
Larimer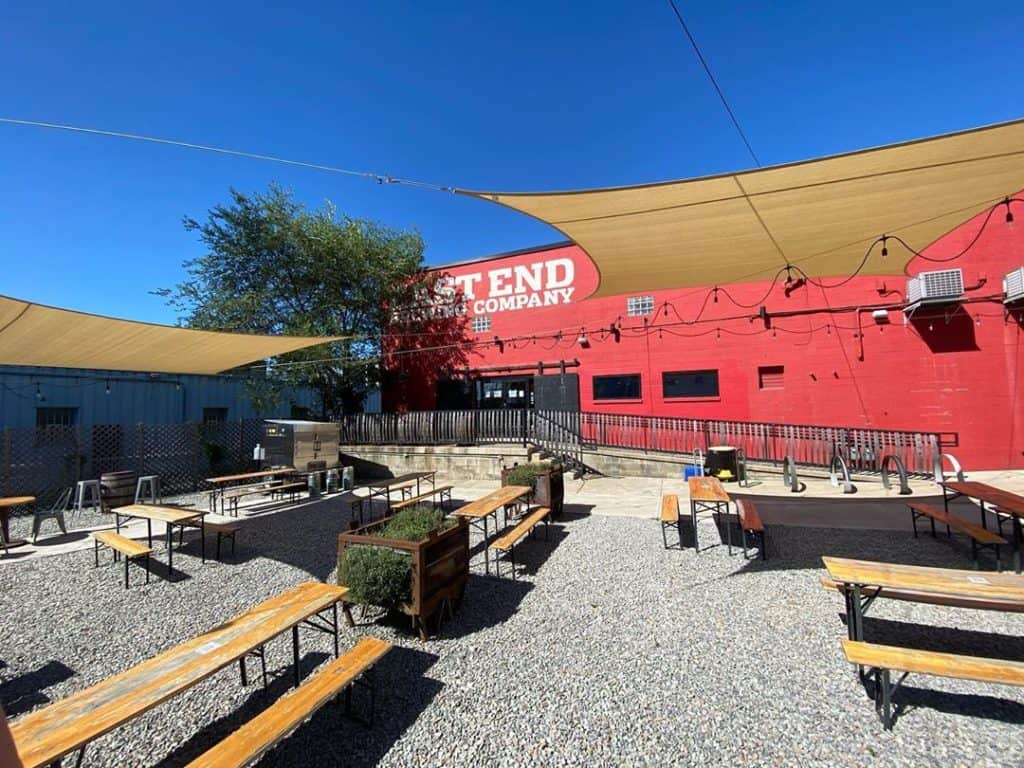 East End Brewing's outdoor patio is currently open on Fridays, Saturdays and Sundays. Meal orders are required before you can be served a beer (keep an eye on their Instagram page for updates on what food offerings will be available each weekend), and curbside pickup and delivery services for beer is still available, too. East End Brewing (147 Julius Street)
Lagerlands Socially Distant Pop-Up Beer Garden
South Side
Hop Culture Magazine is teaming up with De Fer Coffee and Tea and Cinderlands Beer to launch a pop-up beer garden, with lots of space for socially-distanced drinking! The Lagerlands Socially Distant Pop-Up Beer Garden will be open on the High Line from now through November 1. Anyone purchasing alcohol must also purchase food, Burgh'ers Brewing Company will be providing a menu of burgers and sandwiches. The space is family-friendly… and dog-friendly, too! Lagerlands (339 McKean Street)
Burgh'ers Brewing
Zelienople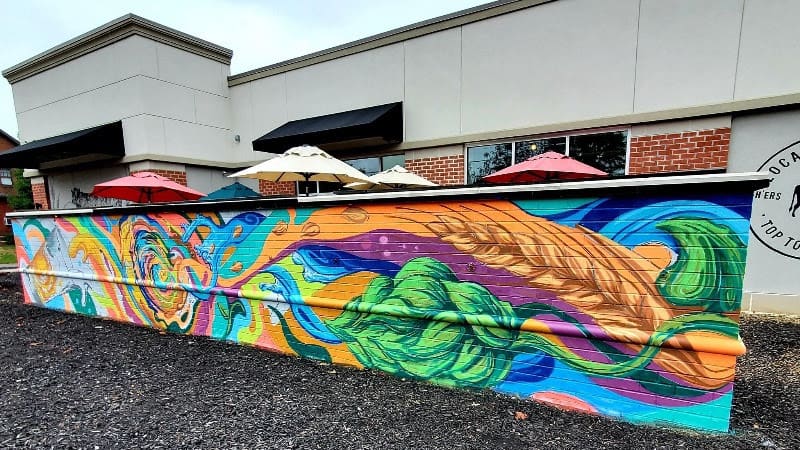 Burgh'ers Brewing in Zelienople has a new dog-friendly outdoor dining area, perfect for enjoying their beers. The space features socially-distanced picnic tables, new artwork, outdoor games, and more. Burgh'ers Brewing (215 W New Castle Street Zelienople)
Brew Dog
East Liberty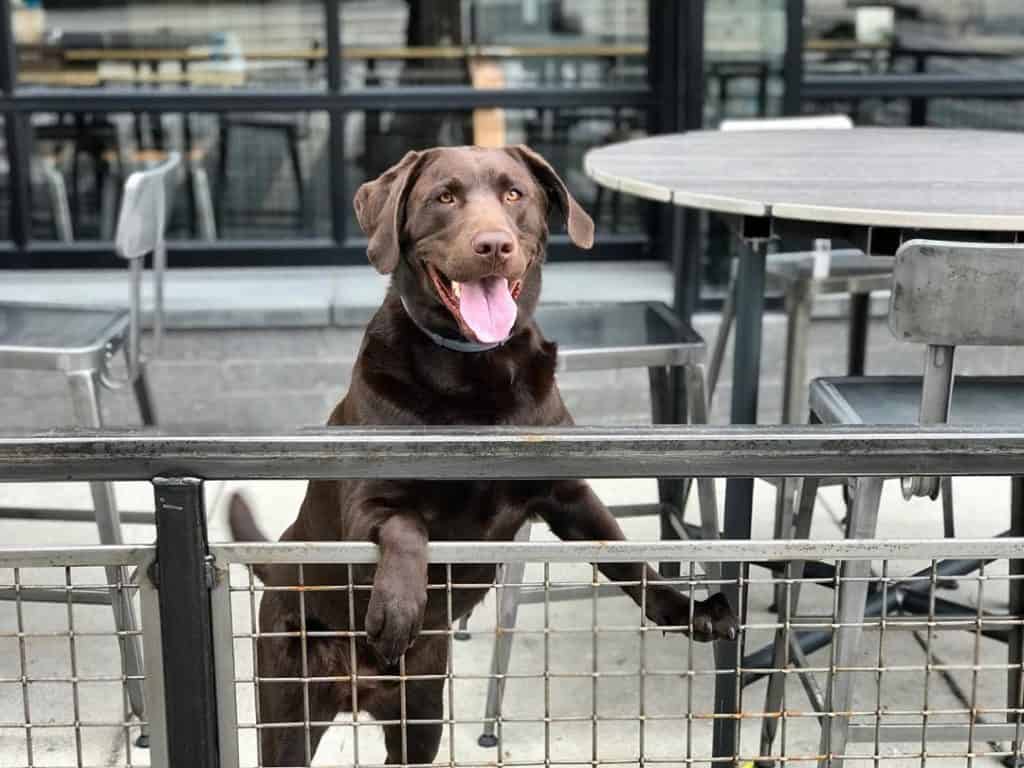 Brew Dog's patio is dog-friendly (of course!) and currently open at their East Liberty brewery. Current drafts include Hazy IPA False Start (with notes of pineapple), Yinzer Pale Ale, and a new line of beer cocktails. On the food menu you'll find bar bites like burgers, wings, and big soft pretzels. They're open daily from 11:00 a.m. to 10:00 p.m. Brew Dog (6144 Centre Avenue)
Dancing Gnome Brewery
Sharpsburg
Reservations are open to enjoy Dancing Gnome's outdoor beer garden in Sharpsburg – just head to their website, pick a date and time, and the number of guests in your party (1-6). Walk-ins are also permitted, if space is available. There's a rotating list of food trucks that park at the site, including Pittsburgh Sandwich Society, Blowfish BBQ and Blue Sparrow. Dancing Gnome Brewery (925 Main Street)
Mindful Brewing Company
Castle Shannon
Outdoor dining is open at Mindful Brewing Company on Tuesdays – Thursdays from 3:00 p.m. to 10:00 p.m., Fridays – Saturdays from 11:00 a.m. to 11:00 p.m., and Sundays from 11:00 a.m. to 9:00 p.m. Tables are available on a first-come-first-serve basis, and parties are limited to no more than six people. Mindful Brewing Company (3759 Library Road)
Allegheny City Brewing
Northside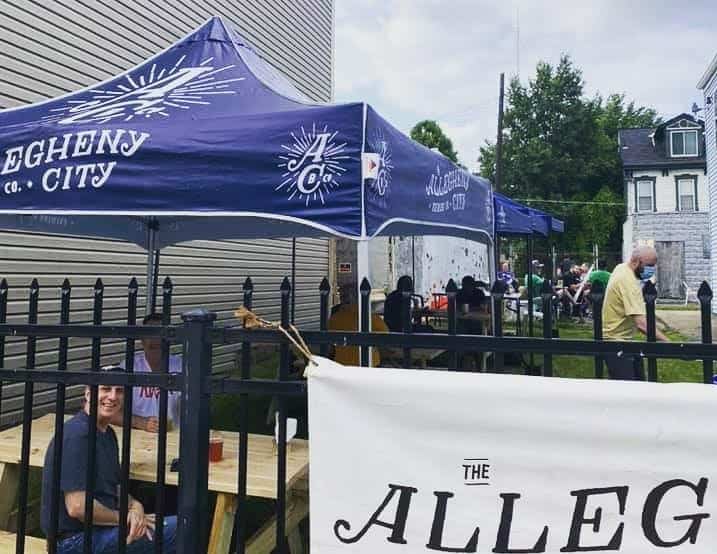 The outdoor garden at Allegheny City Brewing is open on Foreland Street on Wednesdays through Sundays. Check their Instagram page for the latest updates, and to see what food trucks will be on site (like Emporio Meatball Truck, Mr. Bulgogi and City Fresh Pasta). Allegheny City Brewing (510 Foreland Street)
412 Brewery
Allegheny West
Enjoy 412 Brewery's drafts and cans at their outdoor beer garden, open Fridays from 5:00 to 10:00 p.m., Saturdays from 2:00 to 9:00 p.m., and Sundays from noon to 5:00 p.m. 412 Brewery (847 Western Avenue)
Strange Roots Experimental Ales
Gibsonia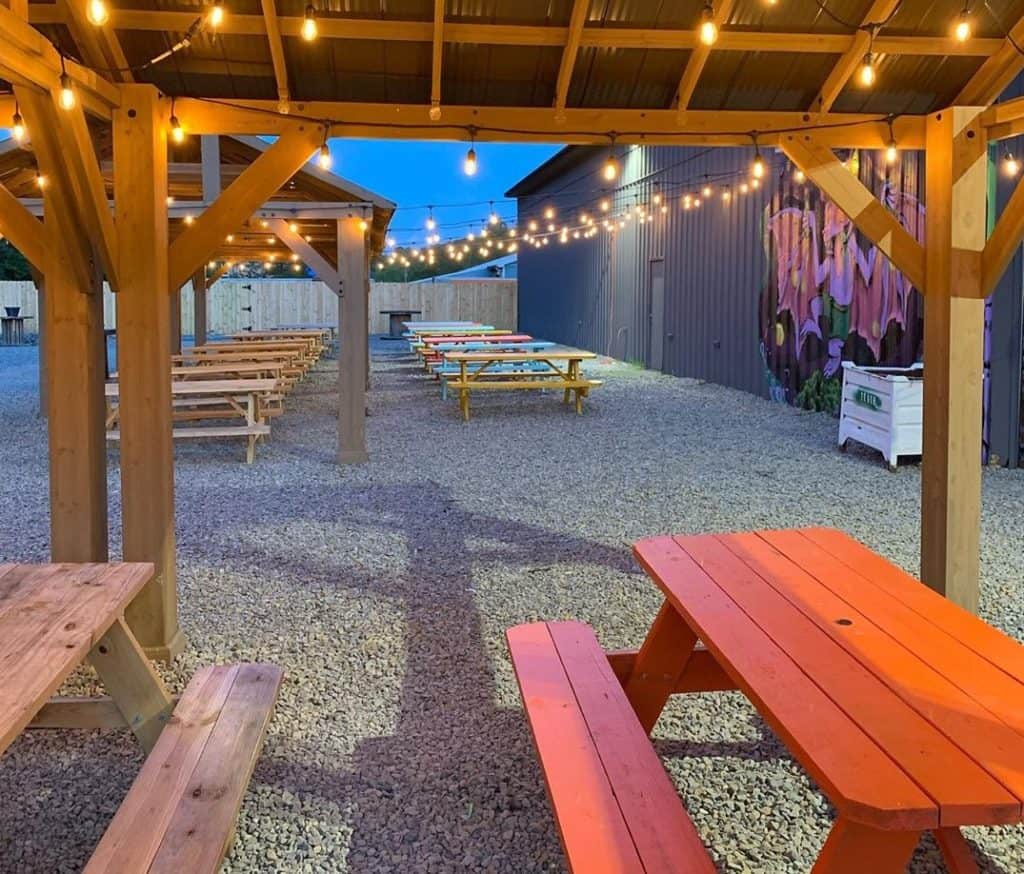 The outdoor beer garden at Strange Roots Experimental Ales' location in Gibsonia is open for service. All guests must order food from the daily food truck on-site, and show their receipt to be able to order a beer. They're also open for pickup for online beer orders. Strange Roots Experimental Ales (4399 Gibsonia Rd #9343, Gibsonia)
Cinderlands Warehouse
Strip District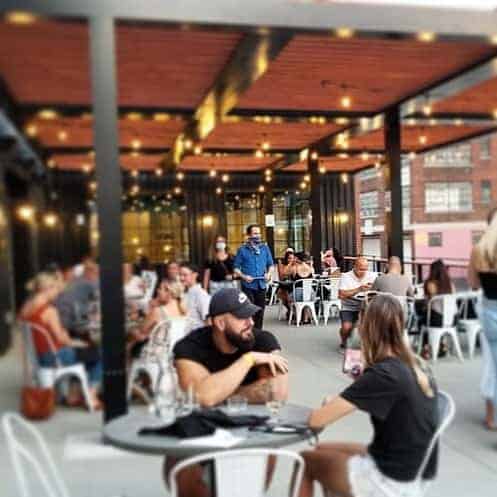 The rooftop at Cinderlands Warehouse is a great spot in the Strip District, offering spacious outdoor space, plus their full menu of fresh-brewed beers, and bites, including cheese curds, soft pretzels, fried chicken sandwiches and more. Cinderlands Warehouse (2601 Smallman Street)
Southern Tier Brewing Company
North Shore
Southern Tier Brewing Company is open for limited outdoor dining from Wednesday through Sunday on their dog-friendly patio. Southern Tier Brewing Company (316 N. Shore Drive)
Spring Hill Brewing
Spring Hill
Not only is the dog-friendly outdoor beer garden at Spring Hill Brewing open for guests, the brewery also has space on their lawn for blankets and picnics. When pints for on-site consumption are ordered, food from their menu must be ordered, too. Spring Hill Brewing (1958 Varley Street)
Spoonwood Brewing Company
Bethel Park
Spoonwood Brewing Company's comfortable patio space is open for drinking and dining. Reservations aren't available except for Sunday Brunch, but if you call 30 minutes ahead of your desired arrival time (412-833-0333), you'll be placed on a waiting list. Spoonwood Brewing Company (5981 Baptist Road)
Roundabout Brewery
North Side
One of the bright spots of this season has been Roundabout Brewery's Pop-Up Beer Garden, located on the North Side portion of the Three Rivers Heritage Trail, with views of the lovely Ohio River. A rotating list of food trucks makes an appearance when the beer garden is open. Keep an eye on their Instagram page to find out when they'll be open. Roundabout Brewery (1836 Oxline Street)
Hofbräuhaus
Southside Works Cinema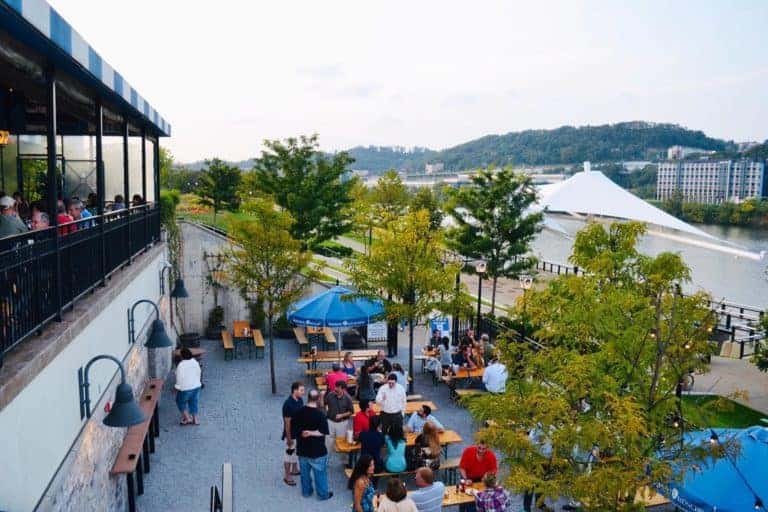 The outdoor patio areas at Hofbräuhaus have views that overlook the Monongahela River, and the restaurant is currently open for both indoor and outdoor dining. Hofbräuhaus (2705 S. Water Street)
Know of any other outdoor breweries in Pittsburgh? Let us know in the comments!
Looking for more Good Food? Read these: