If you want to enjoy a meal in the open air and sunshine, head to one of these restaurants with rooftop seating in Pittsburgh.
From Oakland to the South Hills, we've rounded up all of the spots (that are currently open and operating!), for safe, socially-distanced outdoor dining on an upper level.
Restaurants with Rooftop Seating in Pittsburgh
Over Eden
Lawrenceville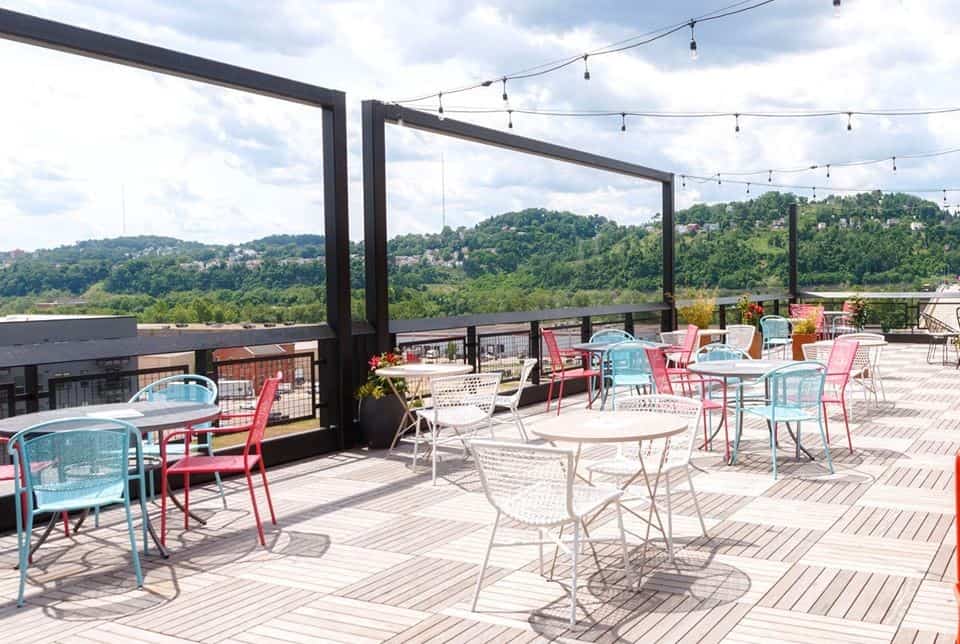 One of our favorite rooftop restaurants in the city has spectacular views of Pittsburgh – and great cocktails, too. Located on the rooftop of the Tryp Hotel, Over Eden is a Mediterranean restaurant with a menu of bites like Mussels & Clams, Grilled Peach salad, and Seitan flatbread. The restaurant is currently open with limited outdoor and indoor seating. Over Eden (177 40th Street)
Biergarten
Downtown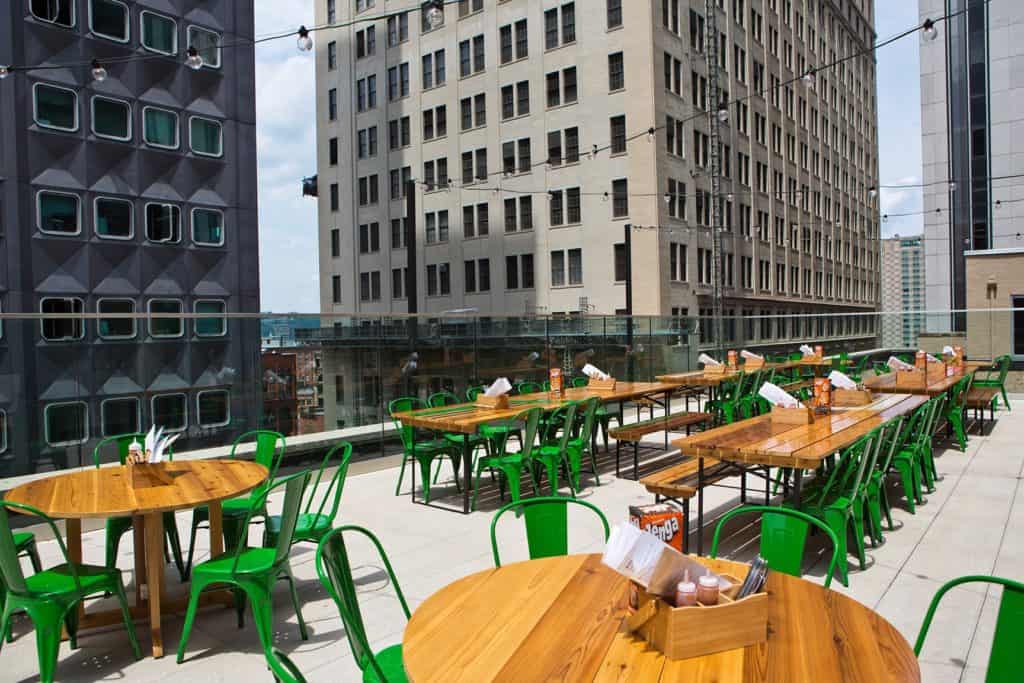 On the rooftop on the Hotel Monaco you'll find the Biergarten outdoor beer garden dining space, with views of the heart of downtown Pittsburgh. On the menu, you'll find summer dishes like their Lobster Roll, Pierogi & Sausage, and their famous Biergarten Pretzel, served with beer cheese, caramelized onion dip and honey mustard. Biergarten (620 William Penn Place)
Stack'd
Oakland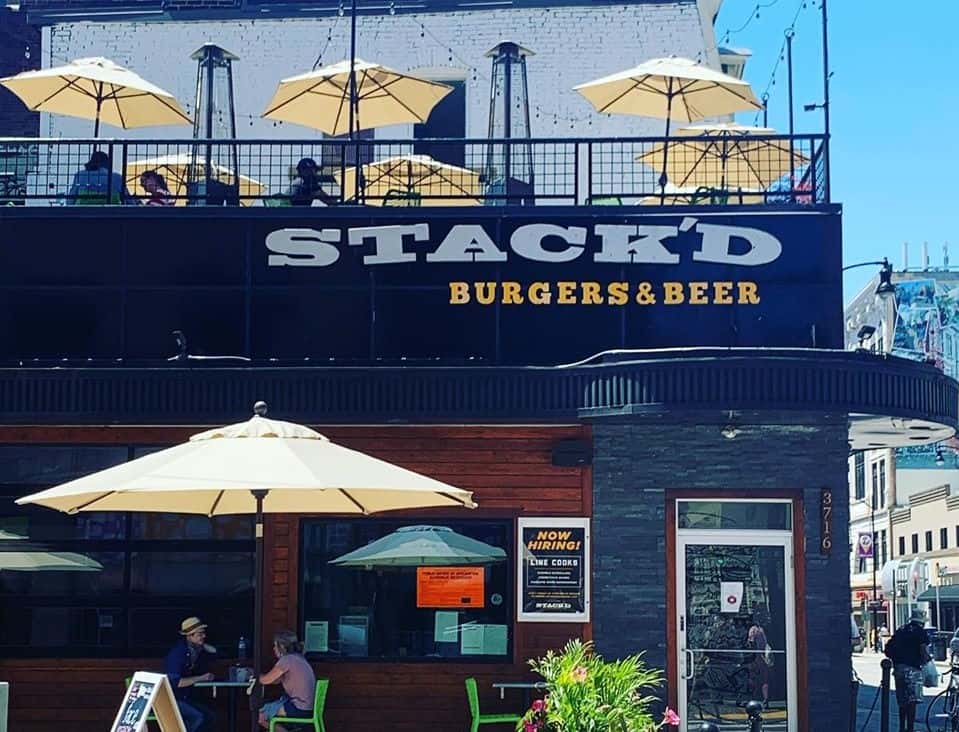 Enjoy custom-built burgers, Buffalo wings and handspun milkshakes on the rooftop at Stack'd's Oakland location. The restaurant is open daily from 11:00 a.m. to 11:00 p.m., with 25% capacity indoor dining, along with outdoor seats. Stack'd (3716 Forbes Avenue)
Spirits & Tales
Oakland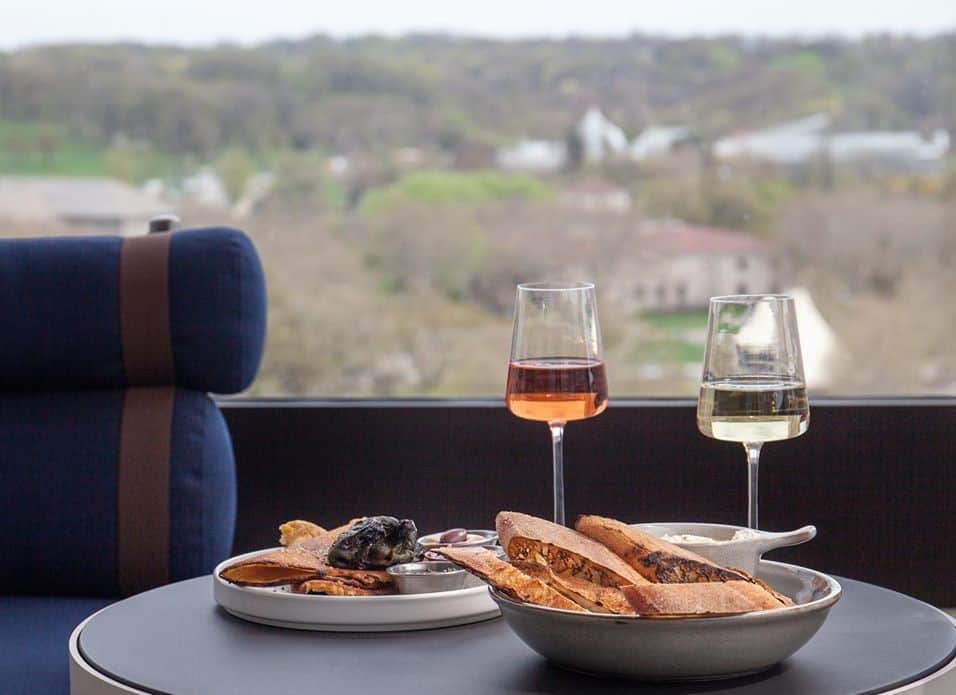 The 10th-floor patio at Spirits & Tales in the Oaklander Hotel in Oakland has recently been converted to accommodate safely distanced seating, so diners can enjoy Spirits & Tales' menu (with seasonal dishes like Radish Toast, Heirloom Tomato Grilled Cheese, and Strawberry Peach Cobbler), while overlooking stellar Oakland views. Spirits & Tales (5130 Bigelow Blvd.)
Roland's Seafood Grill
Strip District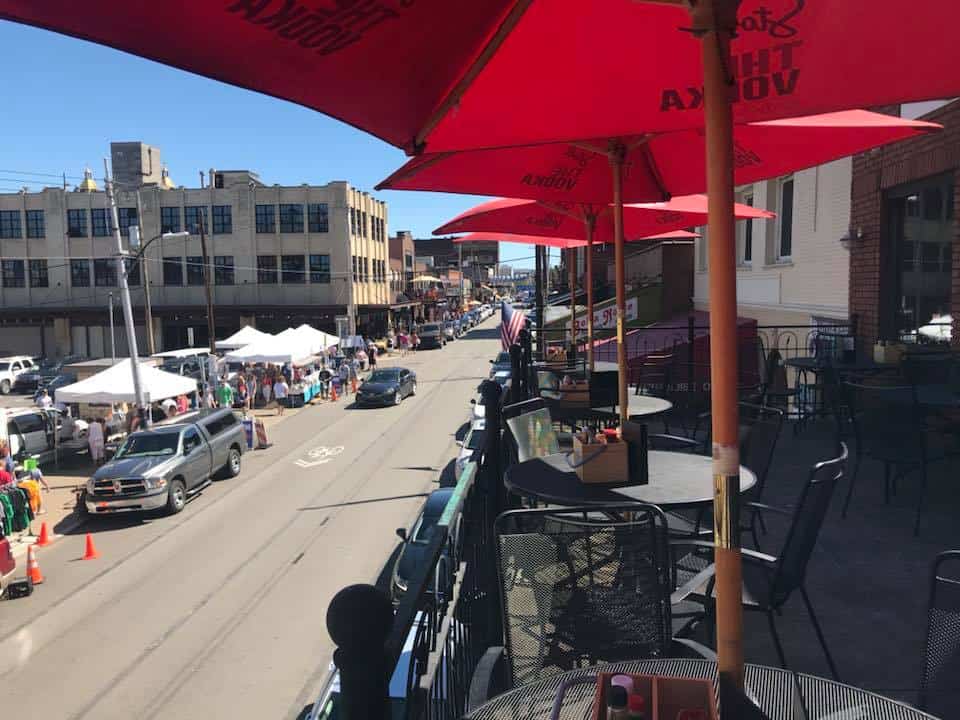 The upper-level seating area overlooking Penn Avenue at Roland's Seafood Grill is an iconic spot for Pittsburgh people-watching. Currently open with limited capacity, Roland's is offering their full menu, including their famous 'hot lobster rolls,' beer-battered fish sliders, and Strip District clams. Roland's Seafood Grill (1904 Penn Avenue)
New Amsterdam
Lawrenceville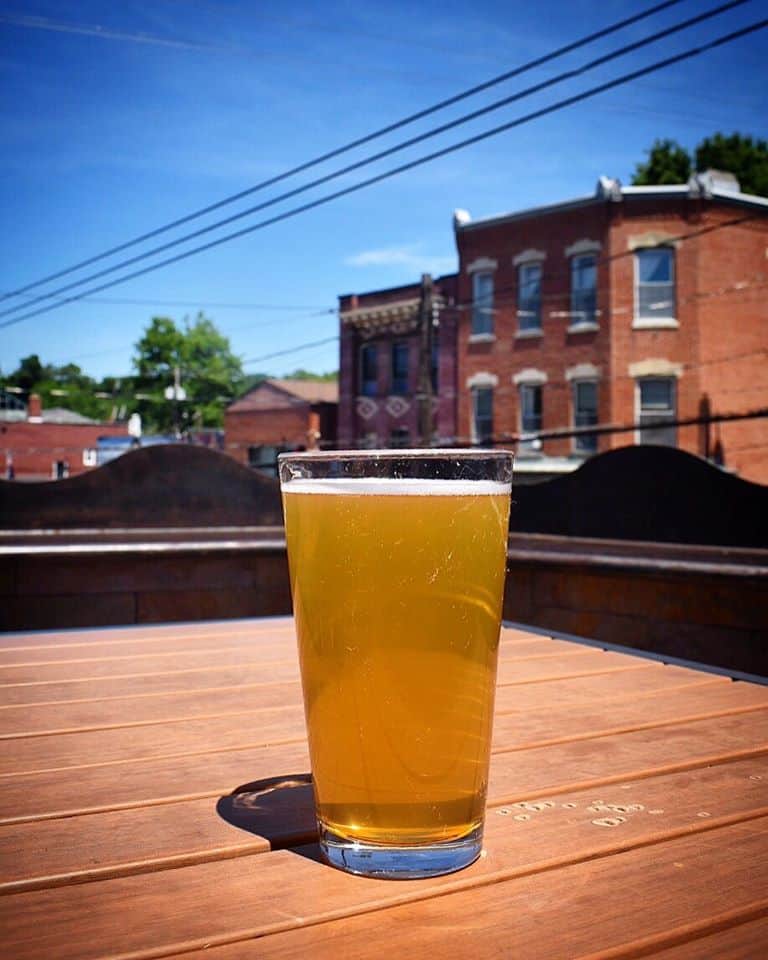 New Amsterdam is another great spot to have a rooftop drink in Lawrenceville. Their rooftop patio, now covered in a tent, is the perfect place to stop by and enjoy a brew, plus something from their menu of bar food favorites, like Buffalo Chicken Dip, Mac & Cheese, and burgers. New Amsterdam (4421 Butler Street
Bado's Pizza Grille & Ale House
Mt. Lebanon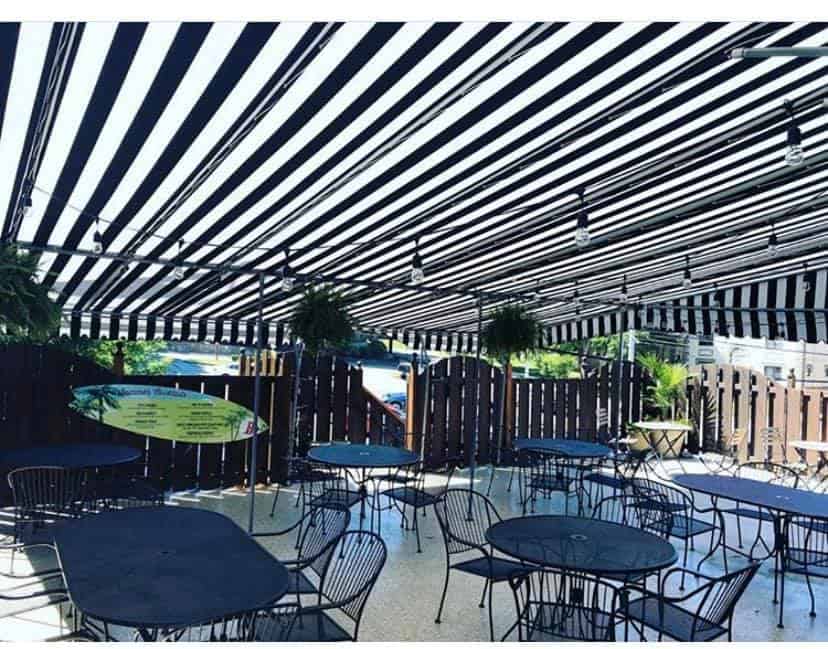 In Mt. Lebanon you'll find Bado's Pizza Grille & Ale House, with an upstairs patio area to enjoy their pizza, wings, sandwiches, pasta, and salads. While they're open throughout the week for pickup and delivery, their patio is currently only open for outdoor dining on Fridays and Saturdays from 4:00 to 9:00 p.m. Bado's Pizza Grille & Ale House (307 Beverly Road, Mt. Lebanon)
Duke's Upper Deck Cafe
Homestead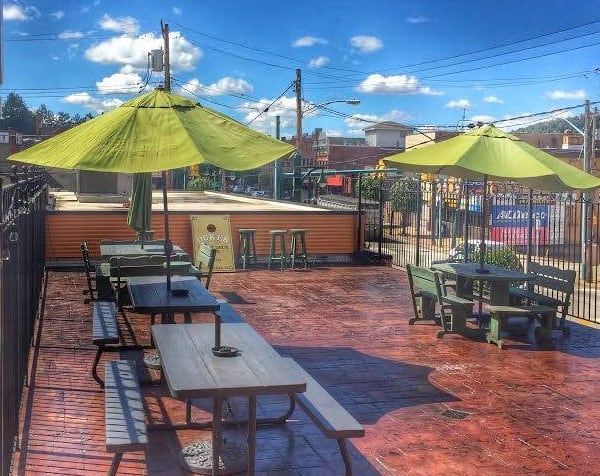 Family-friendly Duke's Upper Deck Cafe is located in the heart of Homestead on 8th Avenue, serving burgers, sandwiches, pizza and calzones – and a draft menu with 44 brews. Their upper rooftop deck is open for socially-distanced dining on a first-come, first-serve basis. Duke's Upper Deck Cafe (122 W. 8th Avenue, Homestead)
Cinderlands Warehouse
Strip District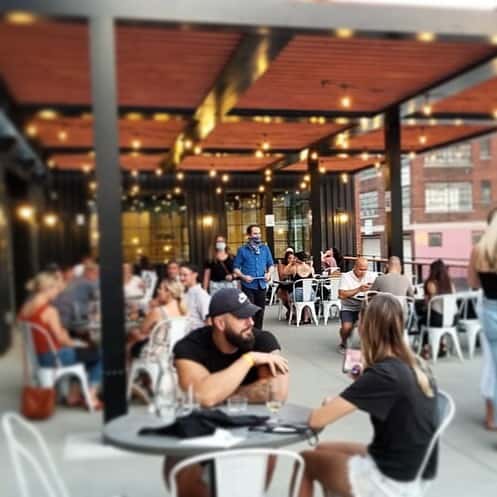 Cinderlands' gorgeous outdoor dining space at their Strip District warehouse location is now open for rooftop dining and drinking. Menu items include Duck Poutine, Smoked Pork Flatbread, and Brisket sandwiches, and their own house-brewed beers. Cinderlands Warehouse (2601 Smallman Street)
Mario's East Side Saloon
Shadyside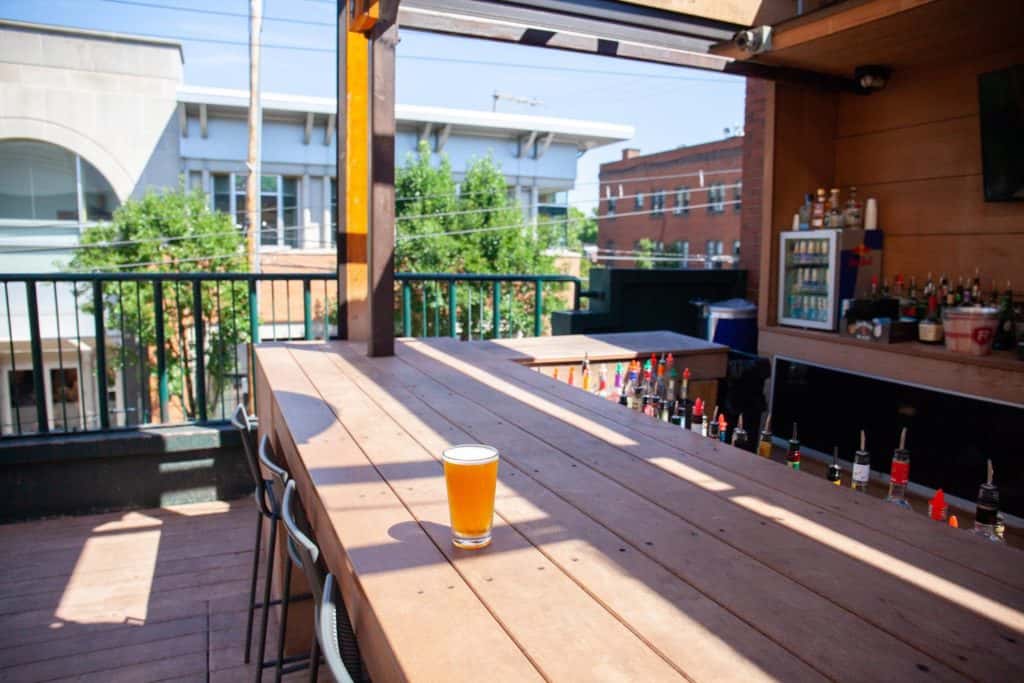 On a sunny day, there's no better place to grab a beer (and a bite to eat), than Mario's East Side Saloon's rooftop patio. The restaurant and bar (with other locations on the South Side, and in Oakland) is currently open daily from 11:00 a.m. to 11:00 p.m. Mario's East Side Saloon (5442 Walnut Street)
Know of any other restaurants with rooftop seating in Pittsburgh or the surrounding areas that we missed? Let us know in the comments!
Want even more Good Food? Read these: