Looking for a way to make your holidays a little easier? Get out of the kitchen, and let a restaurant take over the cooking for you. These restaurants are have opened their orders for Thanksgiving dinner, offering everything from whole roasted turkeys to family-style side dishes.
It's still a little early in the season, so we'll keep updating this most as more restaurants share their Thanksgiving to-go plans.
Thanksgiving Dinner in Pittsburgh To Go Options
Station
Station in Bloomfield is once again offering their popular Thanksgiving to-go menu, available for pickup on Wednesday, November 22 (along with heating instructions). Each $100 package feeds two to three people (with leftovers) and includes a brined and roasted turkey breast, braised turkey leg and thigh, turkey gravy and Jus, house-made Fusillo pasta Mac & Cheese, roasted Brussels sprouts with whole grain mustard and caramelized onions, and whipped sweet potatoes. They also have a la carte side dishes and desserts – and wine pairings, too. Order online.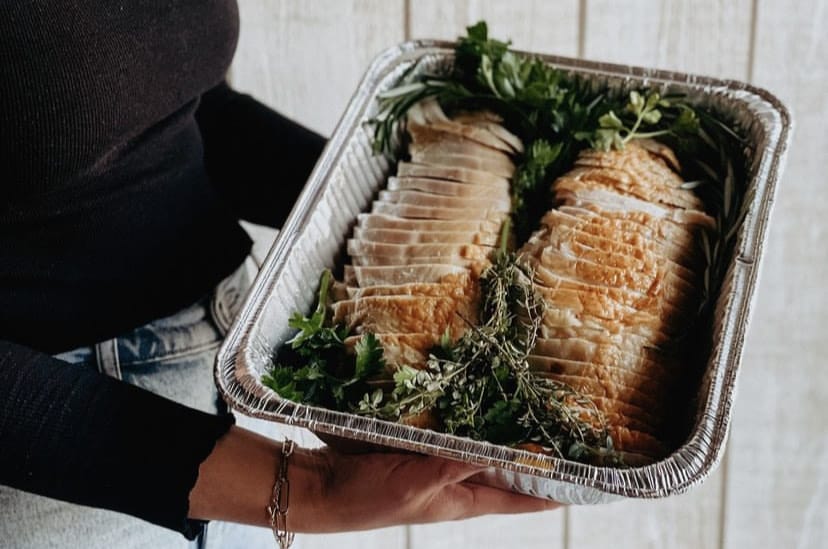 Mediterra Café
Mediterra Cafe is offering everything from a whole roasted turkey (18-20 lbs. for $150), to a whole host of sides (including sausage & herb stuffing, Mac & Cheese, candied yams and classic mashed potatoes) for their family-style Thanksgiving takeout option this year. You can also order a selection of breads and pastries from Mediterra Bakehouse, and a quart of their house-made Bloody Mary mix. Pickup will be available at all three Mediterra locations (Lawrenceville, Mt. Lebanon, or Sewickley) on Tuesday, November 21 and Wednesday, November 22. All orders must be received by Thursday, November 16. Order online.
Carmi Soul Food
Treat yourself to a soul food feast from Carmi Soul Food this Thanksgiving. The restaurant is offering a full Thanksgiving Dinner for 12-15 people that features an oven-ready turkey (with complete cooking instructions), baked Mac & Cheese, Southern cornbread stuffing, mixed greens, green beans or cabbage, potato salad or pasta salad, mashed potatoes or candied yams, two sweet potato pies, and a quart of gravy for $450. Orders must be placed by November 18, and pickup is Wednesday, November 22. Order online.
Local Provisions
Whole turkeys (both oven-ready and fully cooked) are available from Local Provisions this Thanksgiving, along with a number of sides, including a harvest salad ($38), green bean casserole ($35), baked Mac & Cheese ($30), roasted sweet potatoes ($30), and more. They also have full desserts (like Apple Spice Coffee Cake and Pumpkin Praline Pie). Orders must be received by 11:00 a.m. on Tuesday, November 14, and pickup will be on Wednesday, November 22. Order online.
Pane è Pronto
You can order an Italian-inspired Thanksgiving Dinner for two for $70 (or for $140 for four people) from Pane è Pronto, available for pickup (with reheating instructions) on Wednesday, November 22. The menu includes porchetta and porchetta gravy, Cacio e Pepe mashed potatoes, Sausage, Spinach, Apple & Pine Nut Stuffing, roast cauliflower casserole, cranberry and fennel sauce and assorted Italian cookies. Order online.
Sprezzatura
Sprezzatura has everything you need for a stress-free Thanksgiving, including roasted turkey breast ($35, serves two to three), and an assortment of sides, like toasted pecan Brussels Sprouts, vegetable lasagna, meatballs, a vegan stuffed pumpkin, butternut Mac & Cheese, and desserts, like a Pecan Bourbon Chocolate Pie, and a Thanksgiving biscotti box. Orders can be placed online, and Thanksgiving pick-up for Sprezzatura will be on Wednesday, November 22.
Farmer x Baker
Farmer x Baker's will be serving a Thanksgiving Dinner for Two takeout special, featuring herb-roasted turkey, Yukon Gold mashed potatoes and gravy, roasted roots and mushroom stuffing, Brussels & Beans with confit garlic and balsamic, cranberry sauce, and knot rolls with whipped maple butter. The special is $95. They'll also have Thanksgiving pies available for pickup (pumpkin, salted maple, and gluten-free pumpkin cheesecake), and orders of roasted butternut squash pierogi available, too. Order online, and pickup will be on Wednesday, November 22 from 10:00 a.m. to 2:00 p.m. in Sharpsburg.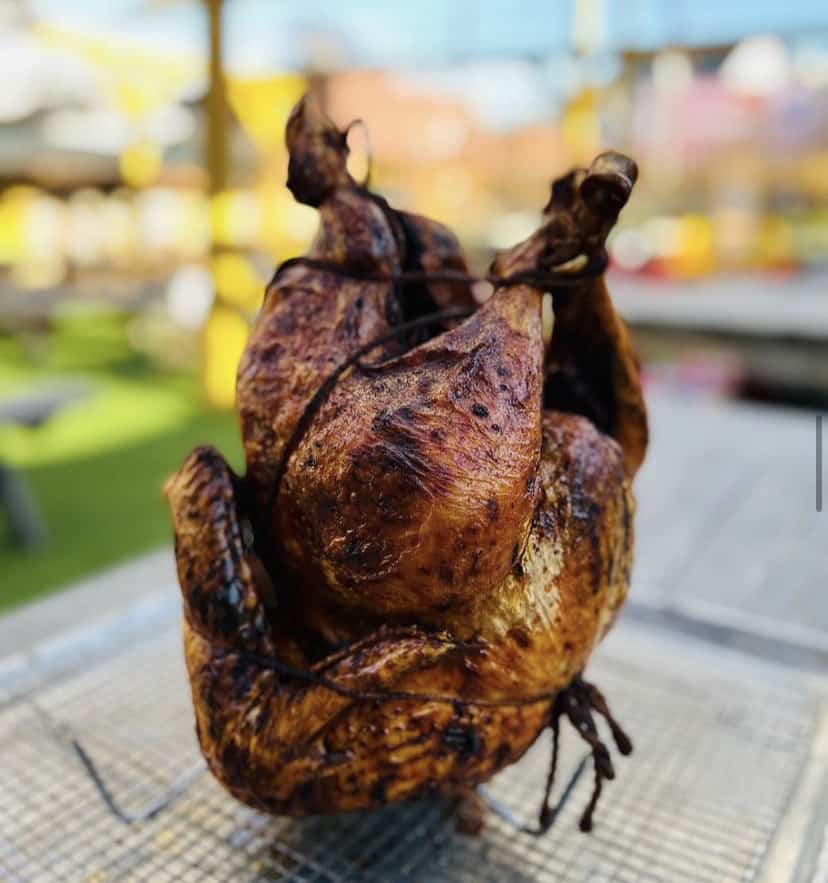 Walter's Southern Kitchen
Walter's Thanksgiving Dinner is $250, and feeds eight to 10 people. You'll get a choice of whole smoked or fried turkey, whole sliced brisket, or a whole pork butt, plus assorted side dishes, including Mac & Cheese, sweet potato casserole, mashed potatoes, cornbread, house-made cranberry sauce, and gravy, plus a dessert (apple pie, pecan pie, pumpkin pie, Key lime pie, peach cobbler or banana pudding). They also have a la carte menu options available for each. Orders must be placed by Friday, November 17, and pickup is Thanksgiving Day, November 23. Email [email protected] or call 412-683-7474.
The Zenith
The Zenith's annual No Turkey Vegan Holiday Rescue Kit is back for another year. Pittsburgh's oldest vegetarian restaurant is helping to make the holiday delicious for vegans and vegetarians by offering individual dinner portions of their Vegan Seitan, along with savory stuffing, mashed potatoes, gravy, green beans Almandine, whole cranberry sauce, curry yam soup and pumpkin spice cake for $20. Each kit comes in a foil container that can be placed in the oven for 25 minutes. Ordering deadline is Saturday, November 18, and pickup is Wednesday, November 22.
Square Café
Square Café will have a number of a la carte menu items available for Thanksgiving, including Potato Latkes with Smoked Salmon, roasted turkey breast, quinoa with Brussels sprouts, garlic mashed potatoes, and homemade pies. The East Liberty spot will also be offering Holiday Packages to go, with two different portioned options depending on the size of your party. Information for ordering is available online.
Floor 2
A full a la carte Thanksgiving menu is available from Floor 2 to go, with everything from an oven-roasted turkey ($122 to $199), to quarts of sides, like garlicky mashed potatoes, green bean casserole, candied sweet potatoes, fried Brussels Sprouts, Carrot Fondant, root vegetable gratin, and focaccia stuffing. Soups, salads, sauces, and a selection of Thanksgiving desserts is also available. Orders can be made online, and must be placed by Sunday, November 19. Pickup will be on Wednesday, November 23, and Thursday, November 24.
Black Radish Kitchen
Consider all of your Thanksgiving sides taken care of. Black Radish Kitchen has a full line-up of sides available for delivery, including mashed potatoes, gravy, sweet potato gratin with brown butter pecan bread crumb, green bean casserole, bleu cheese bread pudding stuffing, cranberry orange and rosemary jam, onion fennel focaccia, sesame seed and roasted shallot butter, broccoli pomegranate and pistachio salad, and gem lettuce chive buttermilk vin, with ancho chili oil, and popped amaranth. The entire package is available for $350, and orders can be placed online.
Springhouse Market
Not only can you get fresh, local (uncooked) turkeys from the Springhouse Market in Washington County, but they also offer full Thanksgiving meals to go, including pans of turkey and stuffing ($125 – $250), ham, and pans of Thanksgiving casseroles and sides, including Alabama vegetable casserole, green beans, mashed potatoes, Mac & Cheese, hashbrown casserole, sweet potato pie casserole, and more. They also have a full selection of Thanksgiving baked goods, from-scratch pies, and drinks (including the best chocolate milk you'll ever have). Orders can be placed online, and can be picked up on Tuesday, November 21 or Wednesday, November 22.
V&V Scratch Kitchen
V&V Scratch Kitchen is offering Thanksgiving Dinner for Two for $125. All dinners include sliced ham, roasted turkey breast, Mediterra Bakehouse sourdough stuffing, corn casserole, Autumn vegetable medley, fresh cranberry sauce, whipped potatoes, candied yams, cheddar and sage buttermilk biscuits, country gravy, and Turtle cheesecake. An additional add-on menu, featuring green salad, hummus and crudité, grazing platters, bread and more, is also available. Ordering information is available online, and orders must be placed by Saturday, November 18. Pickup will be on Wednesday, November 22.
Carriage Inn
The Carriage Inn in Elizabeth is offering a Thanksgiving Day buffet in their restaurant, along with a pick-up special on Thanksgiving Day. Each to go order offers the choice of roasted turkey or ham, and comes with all of the traditional fixings. Dinner for two is $50, dinner for six is $150, and dinner for 10 is $250. All orders need to be in by Friday, November 17.
The Cooked Goose Catering Company
You have until November 17 to order a full Thanksgiving meal from Cooked Goose Catering. The heat & serve option starts at $319.95, and includes a pre-cooked turkey, homemade stuffing and gravy, mashed potatoes, green beans or corn, cranberry sauce, dinner rolls, and all heating instructions. Additional add-ons include roast beef, stuffed shells marinara, sweet potato casserole, and a maple-glazed ham. Pickup is available on Monday, November 20, Tuesday, November 21, or Wednesday, November 22 at their Oakdale location. Order online.
Third Space Bakery
Third Space isn't officially open yet (though it is coming soon), but they'll be offering Thanksgiving orders of from-scratch pies, breads, and other baked goods, available for pickup either on November 18 at the Bloomfield Market, or November 22 at 5349 Penn Avenue. Choose from Maple Pumpkin Pie, Deep-dish Apple Pie, Bourbon Pecan Pie, house loaf bread, soft dinner rolls, cranberry pepita bread, and their popular Pumpkin Loaf. Orders can be made online, and must be placed by Thursday, November 16.
Leona's Ice Cream
Thanksgiving desserts are covered with Leona's Ice Cream. They're offering Thanksgiving eight-packs of their much-loved ice cream sandwiches for $45, featuring flavors like Maple Nut on Brown Sugar Shortbread, Apple Cinnamon on Oatmeal Lace, Pumpkin Caramel on Shortbread, and S'mores on Graham. Orders close on November 12, and can be picked up on Thursday, November 16 in Wilkinsburg, or Friday, November 17 in Lawrenceville.
Know of any other places to get Thanksgiving dinner in Pittsburgh to go this year? Let us know in the comments!