We're all celebrating the holiday a little differently this year, but yes, we are celebrating. If you want to make Thanksgiving a week-long affair, these restaurants are offering their very best Thanksgiving-inspired dishes, burgers and sandwiches available for takeout.
The Gobblerito at Mad Mex
When the COVID-19 pandemic first hit, the Gobblerito was there for us. And now, Mad Mex's beloved Thanksgiving-in-a-burrito is not only available for takeout, but they're also offering take-and-bake six packs. For the uninitiated, the Gobblerito is a one-pound burrito, stuffed with roasted turkey, mashed black bean potatoes, stuffing and corn. It's covered in gravy, and served with a side of cranberry sauce for $12.50. The six-packs are available for pickup on November 23, 24 and 25, and includes six fully cooked Gobbleritos, a Casa Salad with two dressings, plus gravy and cranberry sauce on the side for $90. Order at least 24 hours in advance online. And remember – Gobbleritos are only available at Mad Mex locations until Wednesday, November 25. Mad Mex (various locations)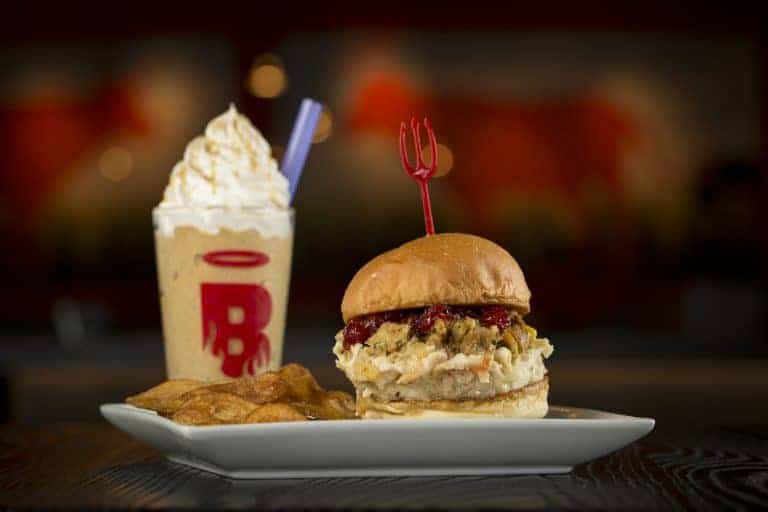 The Thanksgiving Burger at Burgatory
Burgatory's Thanksgiving Burger, made with a garlic-crusted turkey burger, Farmhouse cheddar cheese, mashed potatoes, stuffing, corn gravy and cranberry jam on a brioche bun, is available now for pickup. Pair it with a Pumpkin Pie shake for a true Thanksgiving-inspired feast. Burgatory (various locations)
The Thanksgiving Day Burger at Wahlburgers
The Block Northway location of Wahlburgers is offering the chain's Thanksgiving Day burger for pickup and delivery. It's made with 1/4 pound seasoned turkey, and topped with stuffing, mayo, house-made orange-cranberry sauce and roasted butternut squash. Order online. Wahlburgers (6242 Northway Mall Drive)
Thanksgiving Meatball Bowls at Emporio: A Meatball Joint
Order a Thanksgiving Dinner bowl from Emporio, which includes two of their turkey Thanksgiving meatballs, mashed potatoes, chicken gravy, buttered corn and crispy fried sage. Emporio: A Meatball Joint (942 Penn Avenue)
Gobble Tots at The Pub Chip Shop
Get your fill of Thanksgiving tastes with the Gobble Tots box at The Pub Chip Shop. It's made with traditional Boxty tots, stuffing tots, fresh smoked turkey, gravy and cranberry sauce. Call ahead at 412-381-2447 to place an order. The Pub Chip Shop (1830 E. Carson Street)
The Pilgrim at GetGo
It's all takeout, all the time at GetGo – pandemic or not. But, we're especially thankful this year for their seasonal Pilgrim sandwich, which is made with roast turkey, gravy and cranberry sauce, all stuffed into a Stuffing roll. GetGo (various location)
Know of any other Thanksgiving-inspired dishes on the menu in and around Pittsburgh? Let us know in the comments!