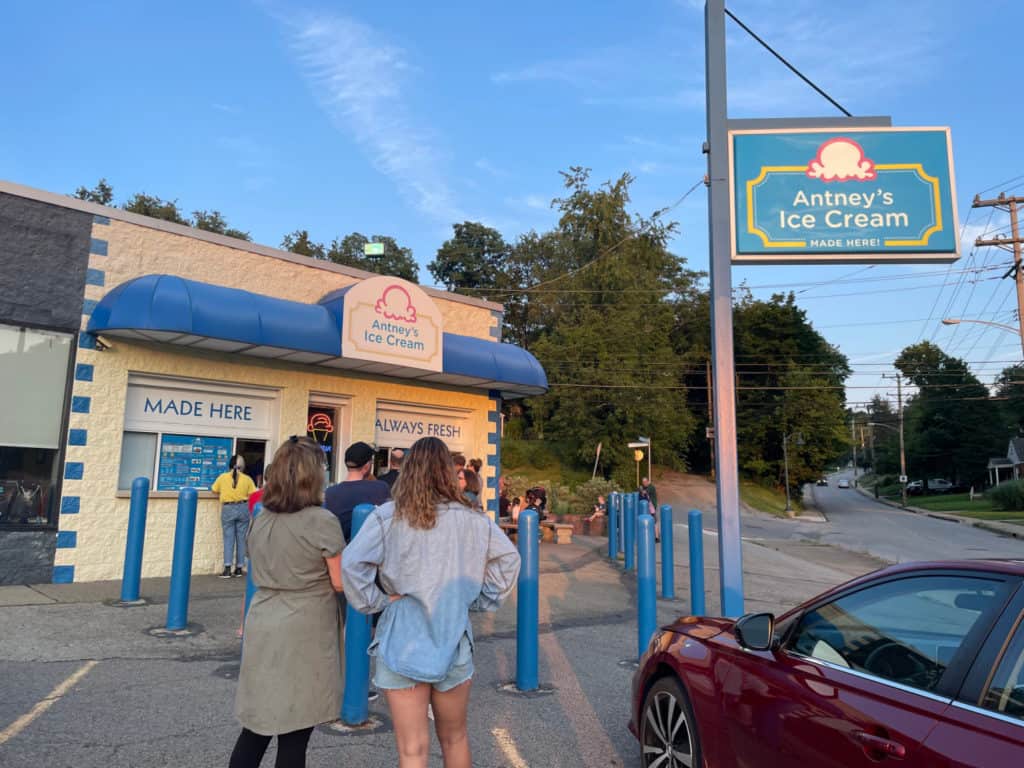 Summer and ice cream go hand in hand – and if you're anything like my family, late night ice cream runs are a weekly (and sometimes daily) occurrence during the warmer months. Just when I thought we had tried all the best stops in Pittsburgh, I was introduced to Antney's Ice Cream in Green Tree. Antney's has everything you want in an ice cream shop: hometown atmosphere, passionate owners, and most importantly, delicious ice cream.
One of the first things you notice standing in front of the shop are the four words, "Made Here, Always Fresh." And, they aren't kidding.
Anthony Ciotti has been making his ice cream by hand ever since he and his wife Lee Anne opened their shop in 2011. Prior to opening their storefront, Anthony and Lee Anne both operated separate Rita's Italian Ice shops for a number of years. 
But, the Ciotti's weren't always in the ice cream business. Lee Anne started her career in corporate business and Anthony worked in construction, which he still continues to do during the off season. "I was working across the street from a Rita's and saw all types of people standing outside the shop," he says. That's when he got the idea to open a location himself, and shortly after, Lee Anne became a franchise owner at another location. 
The Ciottis say they both enjoyed their work and interacting with the customers, but found that serving the same menu with limited flavors grew tiring. Instead, the couple decided to open their own ice cream shop where they could create as many flavors as they wanted.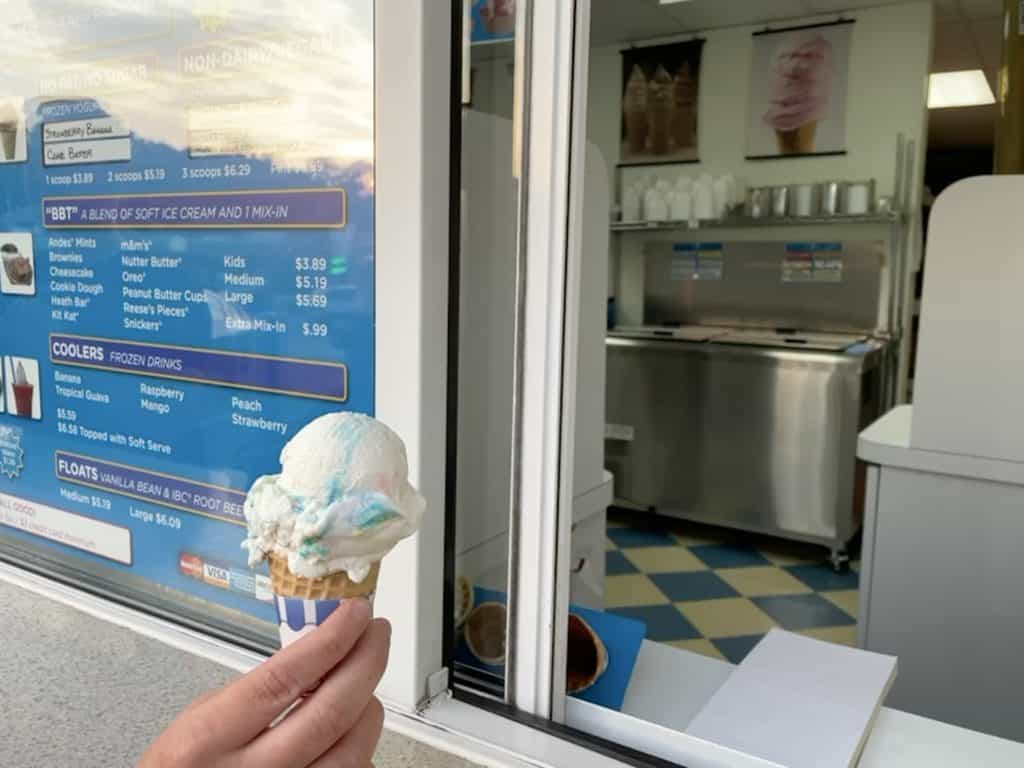 Currently, Antney's has a menu of 613 different flavors, 16 of which are offered on a daily rotation. In addition, the shop offers soft serve, frozen yogurt, sorbet, pup cups, along with sugar free and dairy free varieties. New to 2021 are almond and oat milk-based ice creams.
The name Antney's, which has been Anthony's nickname since childhood, is fitting as Anthony is able to take ownership of everything he makes in his store. From the toppings, like the hot fudge (which uses chocolate imported from Belgium), to the add-ins, such as the torte that is incorporated in their 'Burnt Almond Torte' flavor, everything ("except the peanuts," says Anthony) is made from scratch.
Unlike many ice cream shops that use a standard vanilla ice cream base to create different flavors, every ice cream option at Antney's has its own specific base and unique recipe. Ciotti explains that they alter the percentage of fat depending on what ingredients are added in order to ensure the perfect consistency for every variety.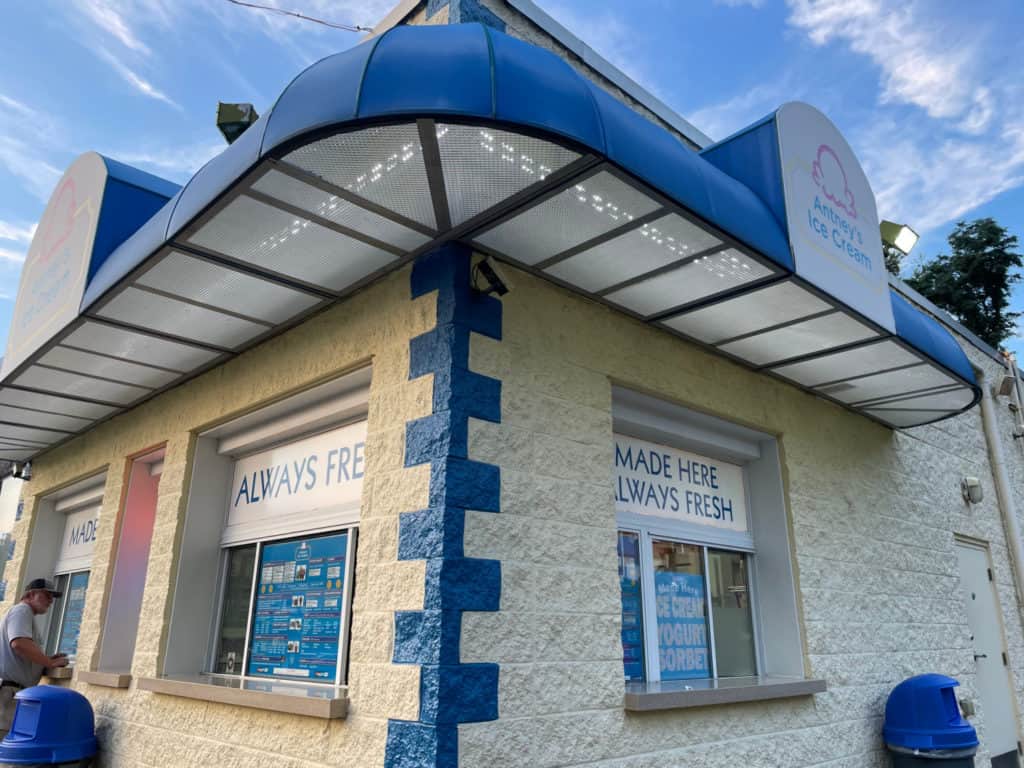 While all of Antney's ice cream flavors are tasty, some popular ones include the 'Vanilla Brown Butter,' which is offered weekly at the store, as well as their 'Spumoni' ice cream, which takes Anthony four hours to make and is only offered once a year. For those worried about missing out on their favorite flavor, customers can provide Anthony their phone number and will be contacted when it is available at the store. I'm personally on the call list for the 'Black Licorice' flavor, which is made from licorice root imported from Australia.
Even some of their "recipe fails" have turned into successes. Anthony recalled experimenting with a new banana flavor made with Kahlua, but the end product looked unappealing. One night after selling out of most of their ice cream, Lee Anne suggested taking the rejected flavor out from the back of the freezer and adding it to the menu. They referred to it as the "Dirty Banana," and it became a major hit ever since. 
Because Ciotti had no prior baking experience before his time at Rita's, he learned from other bakers, and even his customers throughout the years. In fact, many of Ciotti's customers gave him the ideas for the shop's extensive menu.
Ciotti recounted one instance when the great-great grandson of the founder of the Klondike Bar gave him the recipe for the crunchy outside coating to incorporate into a Klondike-inspired flavor. He also remembered a time a former employee of the once-popular Mexican chain restaurant, Chi Chi's, gave him the recipe for the fried ice cream which was eventually implemented for their 'Almost Fried Ice Cream' flavor.
Pittsburgh natives will be happy to hear that a Wedding Cookie Table flavor is also a part of Antney's eclectic menu, which had started from one customer bringing a plate full of leftover wedding cookies to the shop and asking them to make ice cream out of it.
Whenever a customer gives a new idea, his or her name is added to the menu list along with the flavor. For example, "Maddie's Samoas" is a new flavor for 2021.
Not only do the customers help inspire new menu ideas, they are the Ciotti's motivation to continue operation. In 2019 Antney's was closed due to the owner's health problems, and in 2020 the shop was closed again due to the coronavirus pandemic. While those times were challenging, the Ciottis say they're committed to keeping their customers satisfied and re-opened their store as soon as they could, even though there weren't many weeks left in the season.
The shop, now a beloved Green Tree institution, has maintained a loyal customer base for one reason only, according to Anthony: "We treat them right." By following this simple principle, the Ciotti's have found that the love they have for their customers and the love they put into making their product has carried them further than advertising themselves on social media and other online sources.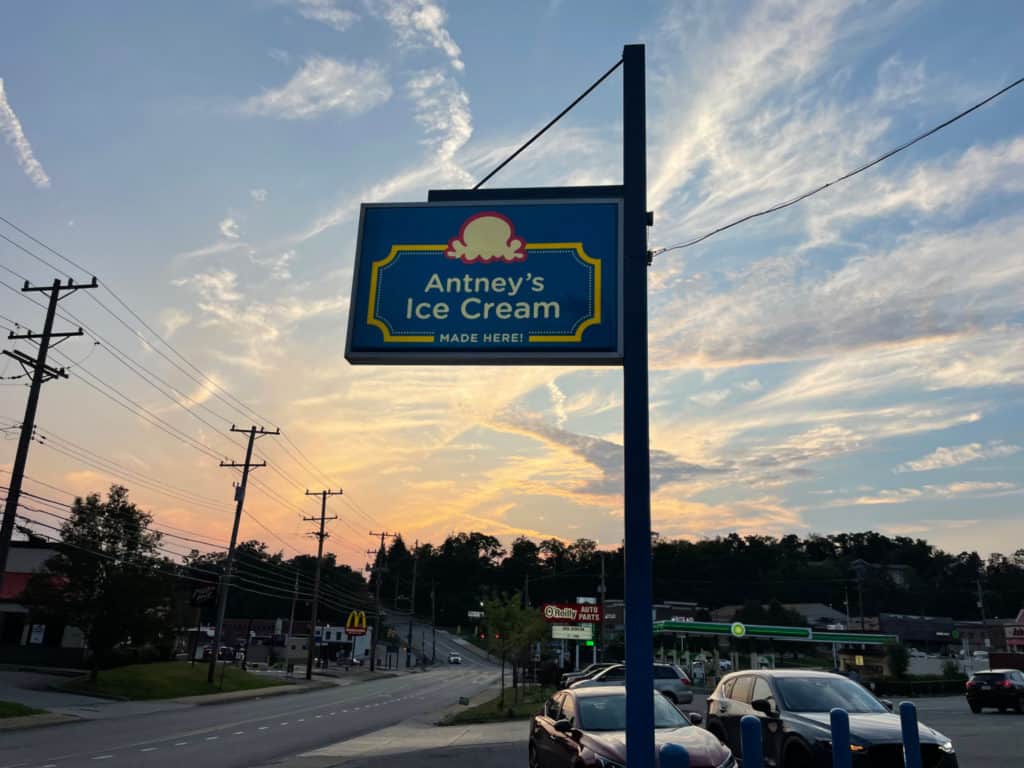 Through word of mouth, Antney's fanbase has spread to people from places like Ohio and West Virginia to as far as California, where the band Kool & the Gang gets their Antney's ice cream shipped to their homes after calling it the best vanilla ice cream they ever had.
Those who are familiar with Antney's understand that the care the Ciottis have for their customers is unmatched. The pair are devoted to treating their customers with kindness and creating a new experience with each visit.
While the flavors of the day are always unknown until you stop by, you're guaranteed to get something delicious and completely homemade every time you visit Antney's Ice Cream. To make things even sweeter, Antney's offers a stamp card system. After purchasing ten cones or ten pints, you get one free. (I already have six stamps…don't judge me). Antney's closes for the season during the first week of October, so get your stamps in while you can.
Antney's Ice Cream is open daily during the season from 5:00 to 9:00 p.m.
Antney's Ice Cream (1316 Poplar Street)
Read More