Strawberry pretzel salad, the sweet, gelatinous, layered dessert, is a summer staple in western Pennsylvania. (Unfamiliar? Check out this video from Very Local Pittsburgh to get up to speed.)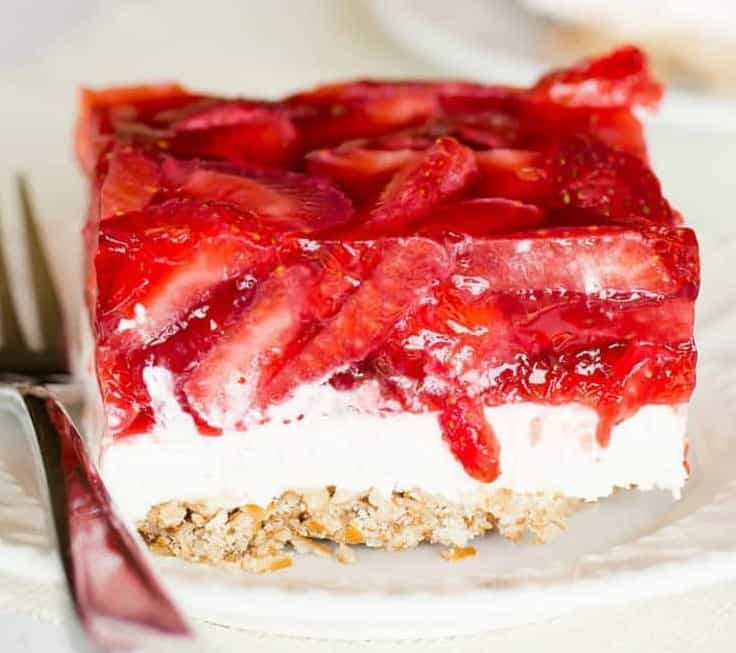 If you want to make it yourself, there are plenty of recipes out there to try, including this fantastic classic one from Pittsburgh-based blogger Brown Eyed Baker, or this elevated option from The Splendid Table, which uses whipped coconut cream instead of Cool-Whip.
But, if you'd rather order it from someone else, you're in luck – there are plenty of places to find strawberry pretzel salad in Pittsburgh (and the surrounding areas).Many of these places offer classic strawberry pretzel desserts, along with other versions of it, like doughnuts, cupcakes, or cheesecake. And, lots of them also will offer pans of it to go!
Note: For most of these spots, Strawberry Pretzel Salad is a seasonal item. Be sure to call ahead to ensure it's available!
Where to find strawberry pretzel salad in Pittsburgh
The Pretzel Shop
South Side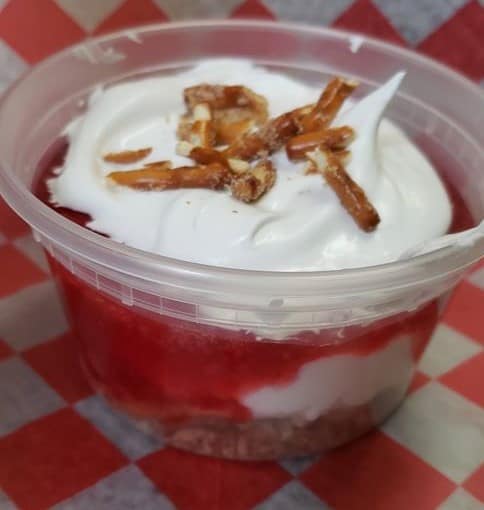 In addition to their hand-twisted pretzels, South Side staple The Pretzel Shop (open since 1927!) has individual cups of classic strawberry pretzel salad to go, along with trays of their 'Pretzel Jell-O' salad (serving 10) for $25, available on their catering menu. Call 412-431-2574 to order. The Pretzel Shop (2316 E. Carson Street)
Curbside Coffeehouse
Blawnox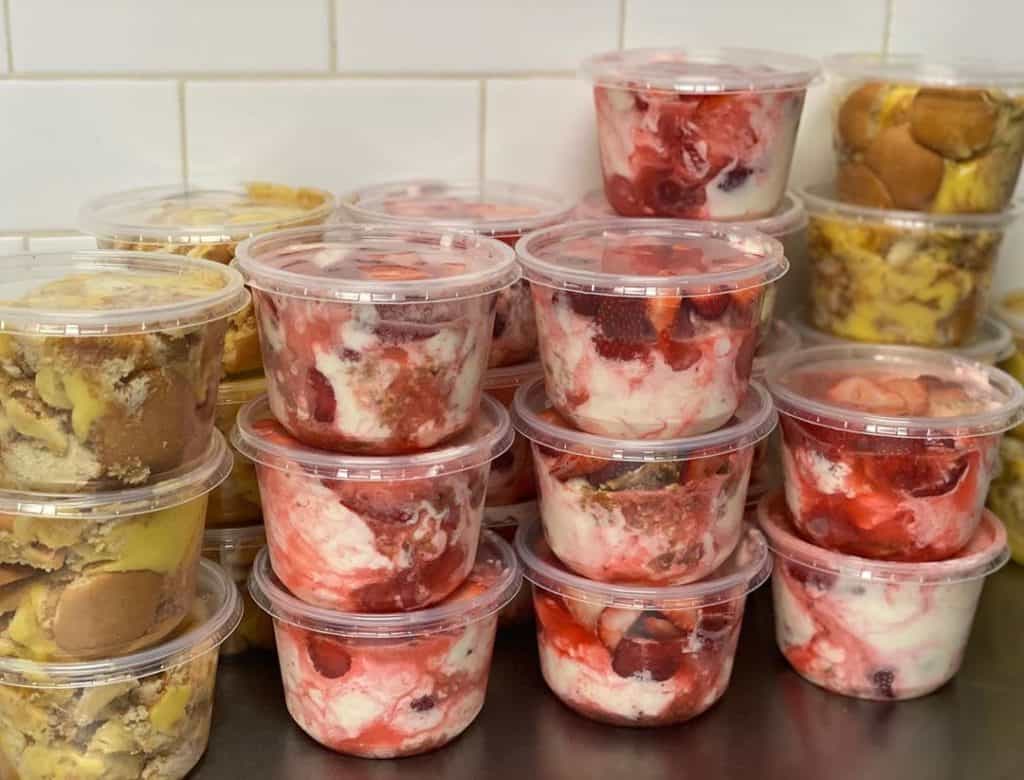 Curbside Coffeehouse in Blawnox regularly has individual-sized cups of Strawberry Pretzel Salad available for dessert, and catering options are available, also. Curbside Coffeehouse (405 Freeport Road, Blawnox)
Springhouse Market
Washington, PA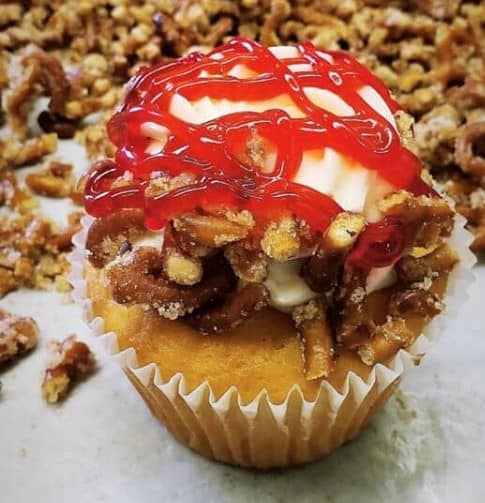 Strawberry pretzel salad is regularly on the dessert menu at the Springhouse Market in Washington, Pennsylvania. They also often have strawberry pretzel cupcakes (with a strawberry filling), and they offer pans of the dessert for purchase (order ahead), or with catering orders. Call 724-228-3339 to order. Springhouse Market (1531 PA-136, Washington)
Caity Cakes
Munhall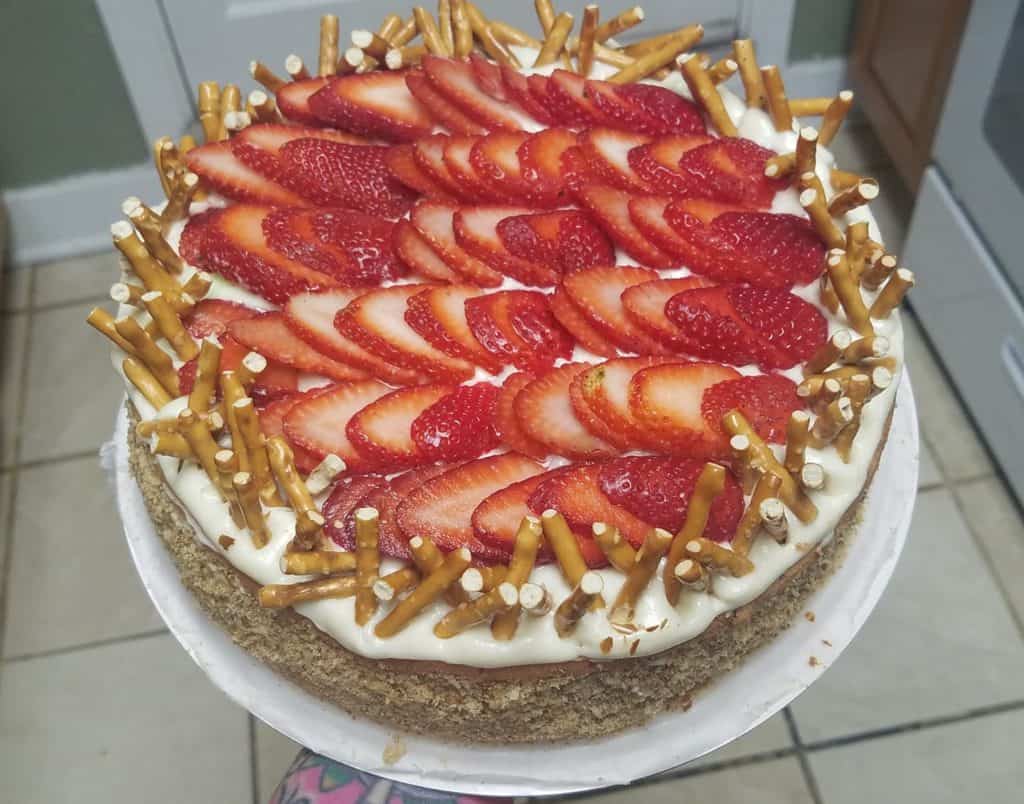 Caity Cakes bakery will make a cheesecake version of a strawberry pretzel salad, featuring a pretzel crust, strawberry cheesecake, and cream cheese icing. Ordering is available through Facebook.
Dylamato's Market
Hazelwood
Specialty grocery store Dylamato's Market in Hazelwood often has individual portions of strawberry pretzel salad available as part of their dessert selection. Call 412-521-1351 to order. Dylamato's Market (5414 Second Avenue)
Shell's Sweet & Treats
McKees Rocks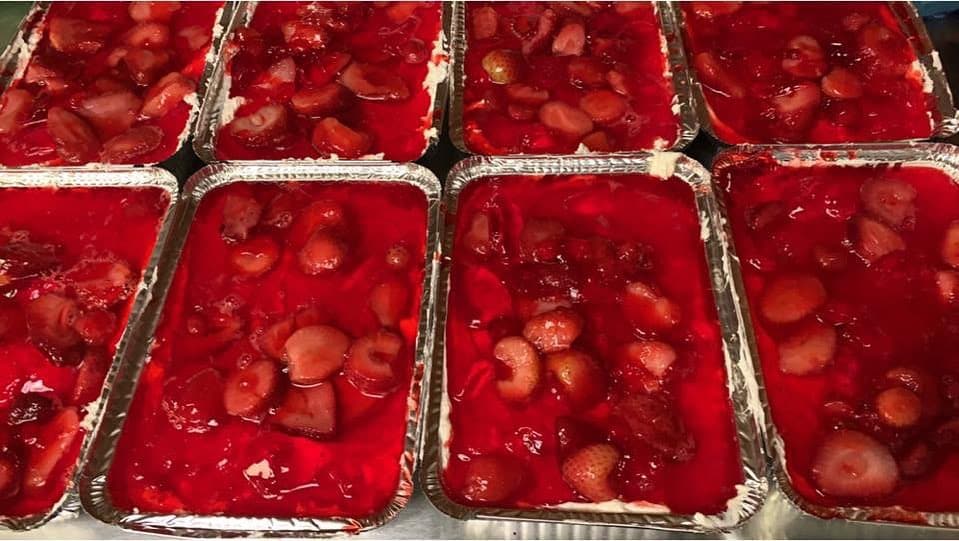 Shell's Sweet & Treats in McKees Rocks often has some type of strawberry pretzel-inspired dessert on their menu, from individual pans of the classic dish, to cupcakes, cheesecakes, and Mason jars. Call 412-331-9009 to inquire. Shell's Sweet & Treats (912 Chartiers Avenue)
Oakmont Bakery
Oakmont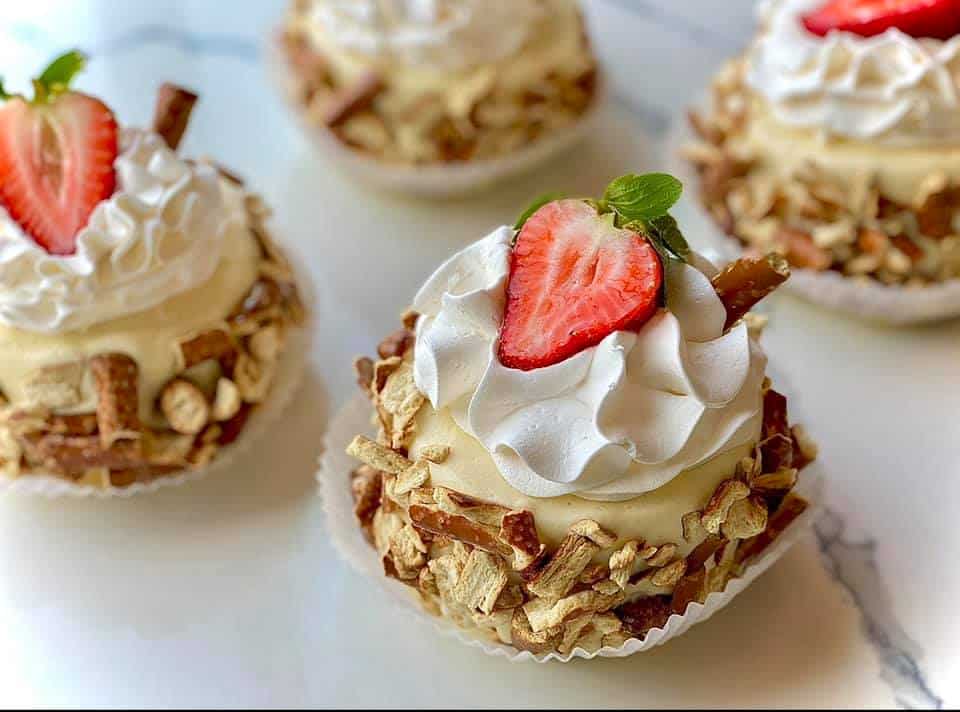 Oakmont Bakery is a strawberry pretzel fans dream, offering a number of different strawberry pretzel-inspired desserts, including doughnuts (with strawberry cream, cream cheese, and crushed pretzels), Strawberry Pretzel Salad Dolces (yellow batter, fresh strawberry filling and cream cheese frosting with whipped cream and pretzel crumbs), custom cakes and more. Oakmont Bakery (One Sweet Street, Oakmont)
T-Bone's Marketplace
Wexford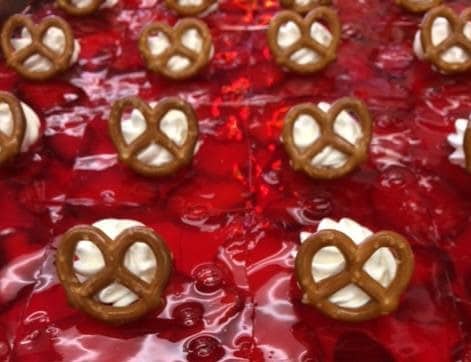 It's a customer favorite for a reason! T-Bone's Marketplace in Wexford has pans of strawberry pretzel salad available for sale (with 48 hours notice required). A full pan has 24 pieces, and a half-pan has 12 pieces. Order online. T-Bone's Marketplace (100 VIP Drive)
Burgatory Bar
Multiple Locations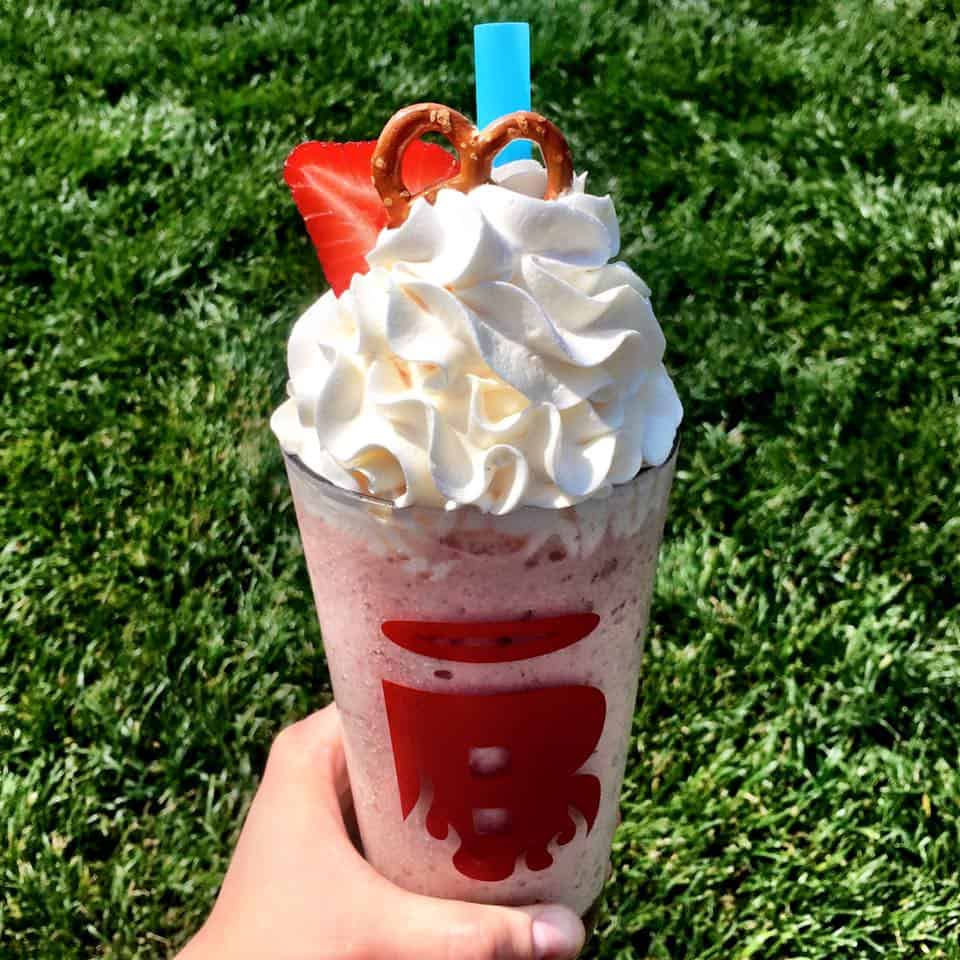 Burgatory has a Strawberry Pretzel Salad Shake on their menu that you have got to try. Made with fresh strawberries, cream cheese, and a salty pretzel crust, this shake has a shot of vanilla vodka added to it to give it a little extra kick. Burgatory Bar (multiple locations)
Cobbler World
Downtown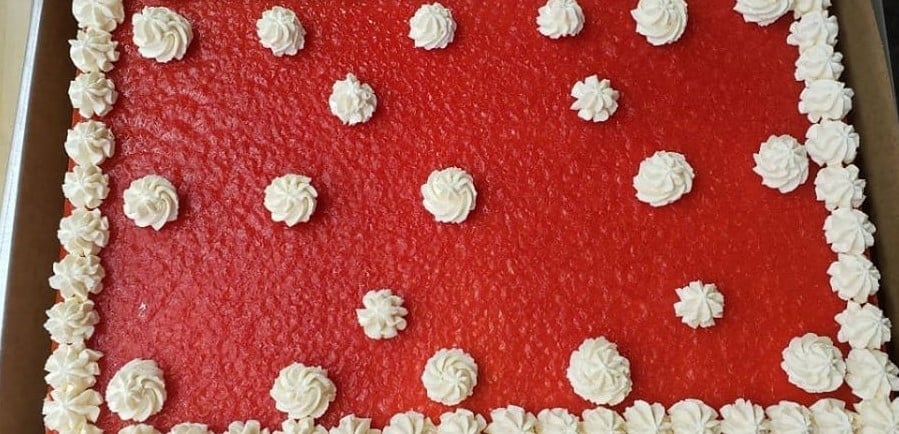 Downtown's CobblerWorld has a lot more than just homemade cobblers on their menu (but those are great, too). They also offer a variety of pies, turnovers, and cheesecakes, including a Strawberry Pretzel Cheesecake (available in pans), with a pretzel crust and Jello topping. CobblerWorld (1059 Penn Avenue)
Good L'Oven Cookie Shop
Multiple Locations
Good L'Oven Cookie Shop is known for their gourmet cookies, which come in a number of different flavors. One of their 'rotating' flavors (which are occasionally on the menu, but can be ordered ahead anytime) is Strawberry Pretzel Salad, made with bits of pretzels, strawberry and white chocolate. Good L'Oven Cookie Shop (multiple locations)
Know of any other spots that offer strawberry pretzel salad in Pittsburgh? Let us know in the comments!
Want even more Good Food stories? Try these: