If you want the best frozen custard in Pittsburgh, you've come to the right place. It's a classic summertime treat – rich, creamy, and totally delicious. And, though it's often compared to ice cream (which is made from milk or cream), frozen custard is a little different, because it's made with milk and cream, with the addition of egg yolk.
There are a few places in Pittsburgh that serve up traditional frozen custard, and we're sharing a few of our favorites.
Where to Find the Best Frozen Custard in Pittsburgh
Glen's Custard
Springdale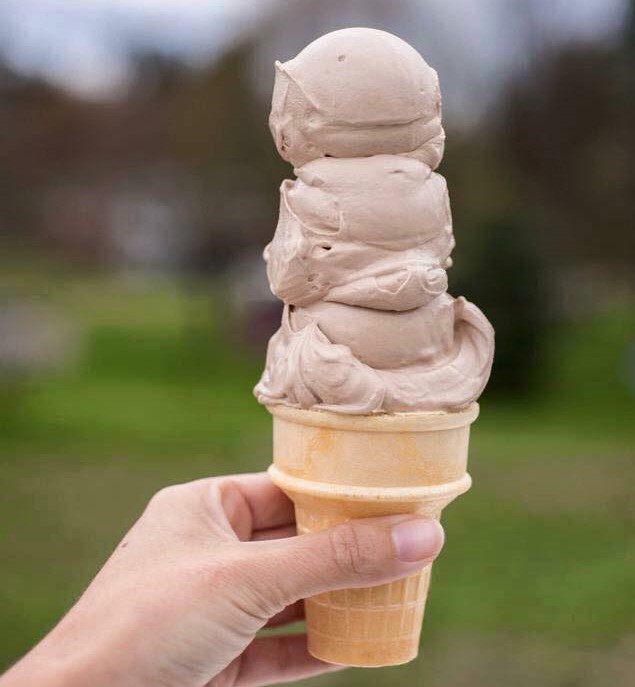 Glen's Custard has been serving frozen custard for more than 60 years in Springdale, offering more than a dozen flavors of their homemade treat. On the menu you'll find classic flavors like vanilla, chocolate, strawberry and Georgia Peach, plus speciality flavors like Cotton Candy (only in July), Espresso Bean, Mint Chocolate Chip, Rocky Road, Cookies & Cream and more. They also have pints in various speciality and grocery shops around the area. Glen's Custard (400 Pittsburgh Street, Springdale)
Hanks Frozen Custard
New Brighton
Beaver County's Hanks Frozen Custard has a rotating list of custard flavors, including Butter Pecan, Cookies & Cream, Turtle, Whitehouse, Strawberry Cheesecake and Chocolate Peanut Butter Crunch, plus daily specials. They also offer 3.5-gallon tubs to go, which serve about 50. Hanks Frozen Custard (2210 3rd Avenue, New Brighton)
LaScola's Italian Ice and Custard
Highland Park
LaScola's Italian Ice and Custard in Highland Park is currently open for window service, serving up their homemade, super-creamy custards. Flavors include Spumoni, Vanilla, Pistachio, Red Velvet, Caramel Apple, Lemon Olive Oil, Rum Raisin, Coffee Cookie Butter, Cherry Cheesecake and Salted Caramel, with seasonal flavors like Pumpkin, Sweet Potato Pie and Cranberry Pistachio. LaScola's Italian Ice and Custard (1218 North Euclid Avenue)
The Meadows Original Frozen Custard
Multiple Locations
There are multiple locations of The Meadows Original Frozen Custard in the area, including in Cranberry Township, Greensburg, and Monroeville. They offer classic chocolate and vanilla custard (or, get a twist!), plus two 'flavors of the day.' You order cones, sundaes, shakes, and Arctic swirls. The Meadows Original Frozen Custard (multiple locations)
Forbush Drive In
New Castle
It's worth the drive to go to Forbush Drive In in New Castle. The old-school shop (established in 1950!) serves super-creamy custard in a variety of flavors (check their Twitter page for the most updated list), like vanila, chocolate, Cookies & Cream, Coffee, Buckeye, Tangerine, Chocolate Almond, Cherry Vanilla and Butter Pecan. Forbush Drive In (3462 Ellwood Road, New Castle)
Frosty Cone
Elizabeth
Frosty Cone in Elizabeth has old-fashioned vanilla custard on their menu (along with soft-serve and hand-dipped ice cream). Get it plain, with toppings, or topped with one of their dips, including chocolate, cherry, blue raspberry, cotton candy, and specialty flavors like toasted coconut, peanut butter, birthday cake and orange. Frosty Cone (740 McKeesport Road, Elizabeth)
Rita's Italian Ice
Multiple Locations
Rita's Italian Ice is a restaurant chain, but they do have some pretty fantastic traditional frozen custard. Order it in vanilla, chocolate or twist – or, try one of their hand-scooped custard options, in flavors like cake batter, cheesecake, caramel macchiato, coffee, chocolate, mint, orange cream or chocolate salted caramel. Rita's Italian Ice (multiple locations)
Did we miss your picks for the best frozen custard in Pittsburgh? Let us know in the comments!
Looking for more Good Food? Read these: