In Pennsylvania, both limited indoor and outdoor dining (with lengthy restrictions) is currently permitted, and there are lots of dine-in options for going out to dinner or lunch. But, if you feel more comfortable eating outside, a lot of Pittsburgh restaurants have expanded their outdoor seating areas, offering more space for diners who want to enjoy a bite while maintaining proper social distancing.
Additionally, neighborhoods throughout the city are also creating more space for outdoor dining, with the Downtown area offering expanded street space on Sixth Street, Strawberry Way, Penn Avenue and Market Square, and areas in Oakland, Troy Hill and Mt. Washington doing the same.
And, whether you decide to dine at a restaurant inside, outside, or continue to only pick up takeout: Wear. A. Mask.
Looking for other Pittsburgh restaurants with outdoor dining options? Try these:
40+ Pittsburgh Restaurants with Outdoor Dining
Biergarten at Hotel Monaco
Downtown
The Biergarten at Hotel Monaco is officially open for the season. This year, the bustling yet safely distanced rooftop Biergarten will feature new beer selections and a new cocktail menu to kick off the summer season as well as a selection of seasonal snacks and tasty handhelds from Executive Chef Dave Raccicot. Biergarten at Hotel Monaco (620 William Penn Place)
Bob's Diner
Carnegie
Bob's Diner in Carnegie offers breakfast, lunch and dinner at one of theri 14 outdoor tables. Not only can you enjoy some classic (and delicious!) diner food, but they also have a view of the beautiful Orthodox church domes across the street. Bob's Diner (211 Mansfield Blvd., Carnegie)
Burgatory
Multiple Locations
Burgatory is open for outdoor dining at their locations, on patios, and under outdoor tents. Limited indoor dining is also available. Burgatory (multiple locations)
Caffe Mona la Bistro
Bloomfield
Popular brunch spot (known for their umbrella patio!), is open seven days a week , serving crepes, pancakes and more. Their outdoor space is also dog-friendly! Caffe Mona la Bistro (4200 Penn Avenue)
Cinderlands Warehouse
Strip District
Cinderlands Warehouse has a gorgeous outdoor dining space at their Strip District location, with menu items that include Duck Poutine, Smoked Pork Flatbread, and Brisket sandwiches, and their own house-brewed beers. Cinderlands Warehouse (2601 Smallman Street)
Cioppino
Strip District
Cioppino's patio area is open for dinner, offering their menu of classic favorites like Crab Cakes, Mac & Cheese, and house-made Gnocchi. They also offer cocktails to go, and will soon be offering a list of mocktails, available for dine-in service or carry out. Cioppino (2350 Railroad Street)
Coughlin's Law
Mt. Washington
Coughlin's Law in Mt. Washington has stunning downtown views, and an outdoor patio, with first come, first serve seating. Coughlin's Law (10 Virginia Avenue)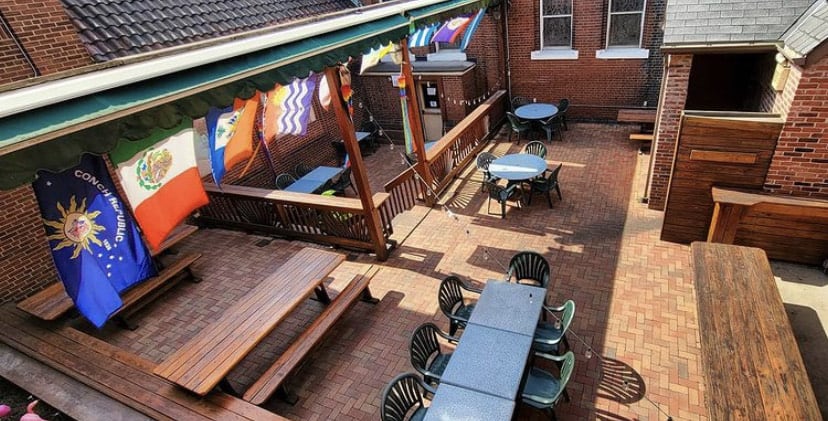 Church Brew Works
Lawrenceville
Church Brew Works has an expanded 'Hop Garden,' with table seating and full service. The spaces is also covered for rain-or-shine dining. Church Brew Works (3525 Liberty Avenue)
Farmer x Baker
Aspinwall
At Farmer x Baker, you can enjoy fresh farm-to-table breakfast and lunches with lovely views of the Allegheny River. The café will be open for the season starting on April 2 for outdoor dining with seat-yourself tables. You'll find a new menu each week posted on their Instagram account. Farmer x Baker (285 River Avenue, Aspinwall)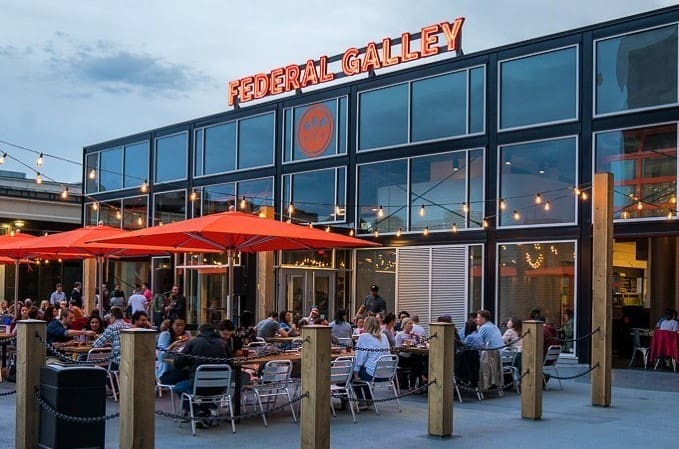 Federal Galley
North Side
The North Side food hall is open for both indoor and outdoor dining on their patio. All ordering from kitchens and bars takes place on your phone (instructions can be found at each table). Current restaurants at the Federal Galley include Sultry, Guapo, Provision PGH and Shaka. Federal Galley (200 Children's Way).
Fig & Ash
North Side
The lovely new Fig & Ash is now open for lunch and dinner, with outdoor space for dining (indoor space is available, too), with heat lamps for comfort. Fig & Ash (514 East Ohio Street)
Hidden Harbor and The Independent
Squirrel Hill
Sister restaurants Hidden Harbor and The Independent have combined forces (and menus) and offer outdoor dining at HH every Wednesday through Saturday on their front sidewalk and back patio (which they are currently upgrading with new gazebos). Advance online reservations are required, with limits on party sizes of two or four, limits on reservations (90 minutes), and a limited menu available. Hidden Harbor (1708 Shady Avenue)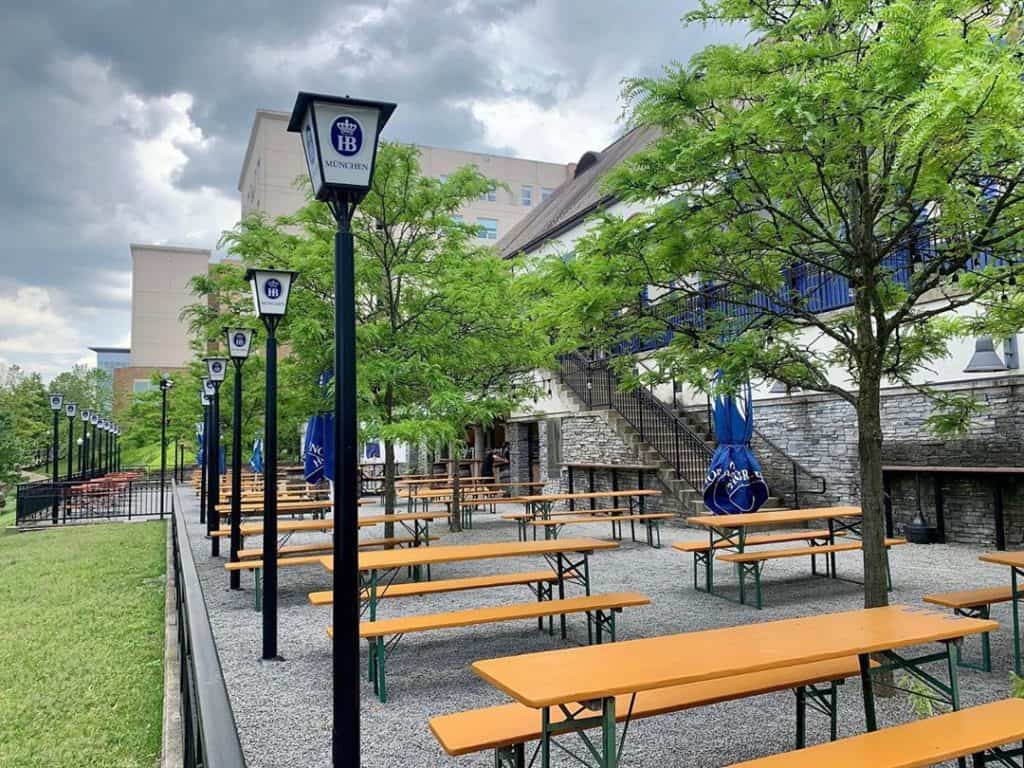 Hofbrahaus
South Side
Indoor and outdoor seating is back at Hofbrahaus, including their outdoor Beirgarten and terrace areas. Hofbrahaus (2705 S. Water Street)
il Tetto
Downtown
Both Emporio and il Tetto in Sienna Mercato are now open downtown, with il Tetto offering rooftop dining space. Hours are Thursday through Saturday from 4:00 p.m. to 11:00 p.m. Sienna Mercato (942 Penn Avenue)
Inner Groove Brewing
Verona
Inner Groove Brewing now has outdoor seating open, with table service on a first-come, first serve basis, where you can stay toasty under their heat lamps. Inner Groove Brewing (751 E. Railroad Avenue, Verona)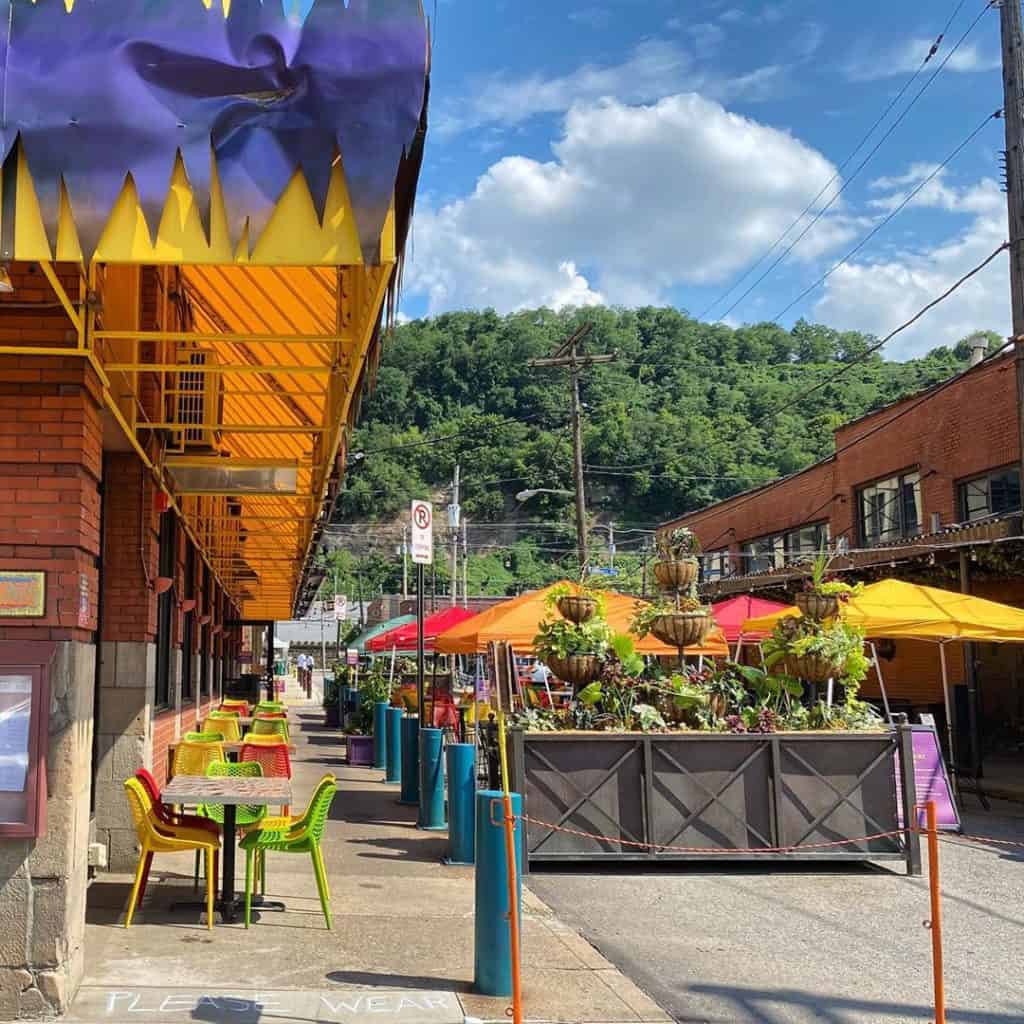 Kaya
Strip District
Kaya Food Court is now open for business! Order takeout from the Strip District stalwart to go, with the option to grab a seat in their extended outdoor food court. Orders can be placed ahead online or by phone at 412-261-6565. (2000 Smallman Street)
Kelly O's Diner
Strip District and North Hills
Both Kelly O's Diner locations have outdoor seating available. They're open seven days a week, from 7:00 a.m. to 2:00 p.m. Kelly O's Diner (multiple locations)
Khalil's
Bloomfield
Owners Dalel and Leila Khalil looked to their roots when offering COVID-friendly dining space. The sisters converted the restaurant's large parking lot into a Boustan – which means "garden" or "orchard" in Arabic. The parking lot transforms at dusk into a glittering sea of café lights, palm trees, and festive red umbrellas over tables laden with the restaurants famous Mazza and carafes full of wines from conflict regions around the globe. The menu is currently family-style for weekend service in the Boustan and carryout. Select from Khalil's legendary lamb Kebabs, the house-made Falafel and traditional comforting Syrian Rice topped with toasted almonds, and the hand-rolled brightly-flavored Dolmas. Khalil's (4745 Baum Blvd.)
Legends Eatery
North Side
Classic Pittsburgh spot Legends Eatery offers a selection of outdoor tables on their patio (with a view of downtown) for both lunch and dinner. Reservations are highly recommended, and can be made at 412-321-8000. Legends Eatery (500 East North Avenue)
LeoGreta
Carnegie
LeoGreta has expanded their outdoor seating with tables in front of the restaurant, and on their newly-opened covered back patio. Reservations can be made by calling 412-489-6382. LeoGreta (301 West Main Street, Carnegie)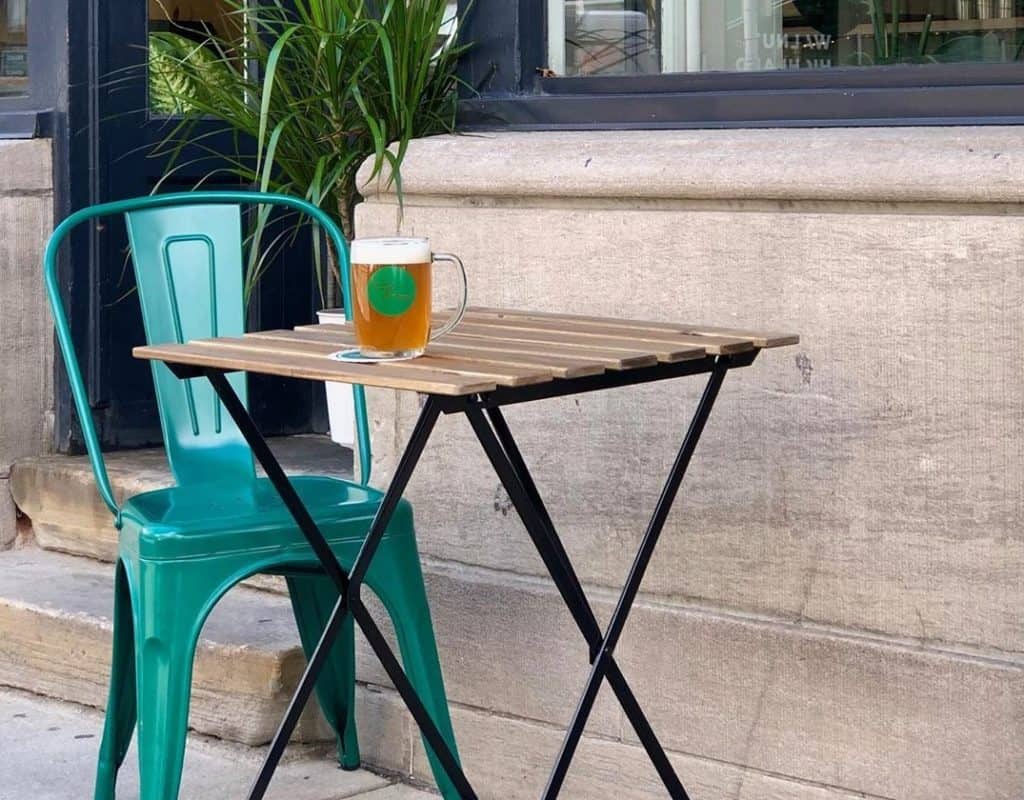 Lorelei
East Liberty
Lorelei's Sidewalk Cafe is now open, offering outdoor seating for beer, wine, cocktails and food items from their 'Sausage Kart.' Reservations are available for two and four people for 90 minutes each, and a $20 (for two) and $40 (for four) deposit (which will be applied to your check) is required to make a reservations. Lorelei (124 South Highland Avenue)
The Lot at Edgewater
Oakmont
The Lot at Edgewater has seating available on their heated covered patio and outdoor tables (along with limited indoor dining). Reservations are recommended. The Lot at Edgewater (145 Allegheny Avenue, Oakmont)
Mad Mex
Shadyside
Mad Mex's Shadyside location is open with an outdoor patio area, complete with heat lamps for cooler temperatures. Stop in and enjoy their limited-edition Gobblerito! Mad Mex (220 S. Highland Avenue)
Market Street Grocery
Downtown
Market Street Grocery offers outdoor seating with heaters, where you can enjoy their winter pop-up Ski Lodge, with Creatives Drink and Mindful Hospitality Group. Market Street Grocery (435 Market Street)
M.I.C.K
Upper St. Clair
M.I.C.K in Upper St. Clair boasts gorgeous creek-side views from their outdoor dining area, along with a predominantly plant-based menu and an impressive selection of non-alcoholic mocktails. Call 412-221-6040 for reservations. M.I.C.K (1580 McLaughlin Road, Upper St. Clair)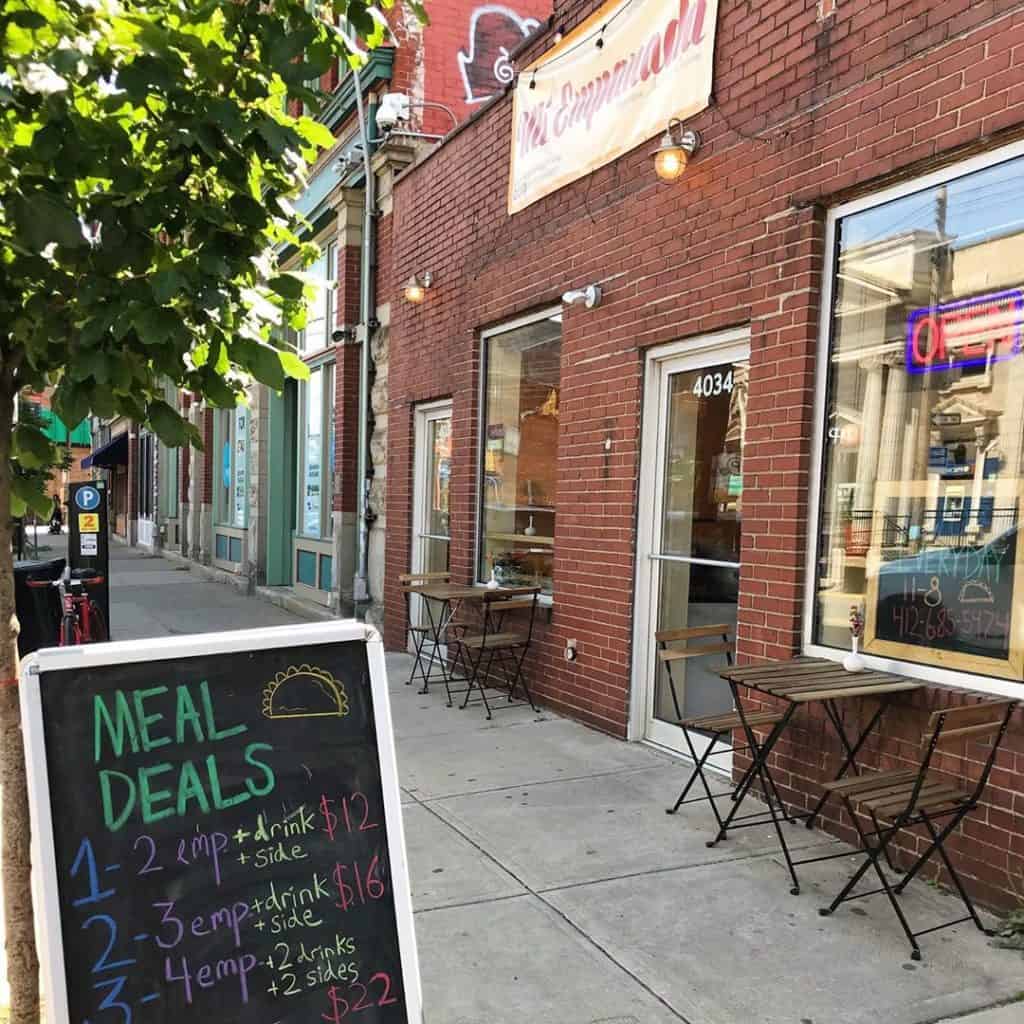 Mi Empanada
Lawrenceville
Lawrenceville's Mi Empanada has recently added tables and chairs in front of their empanada spot on Butler Street, perfect for enjoying their tasty empanadas (and sides, including Spanish Rice, Humita Bisque and polenta) in the sunshine. Mi Empanada (4034 Butler Street)
Noodlehead
Shadyside
Noodlehead is currently open for outdoor seating, takeout and delivery only. Call 412-295-4580 for orders. Noodlehead (242 S. Highland Avenue)
Off The Rails BBQ
Verona
Off The Rails BBQ (from Oakmont BBQ Company) offers smoked meats, like ribs, brisket and pulled pork, along with sandwiches and sides (including Mac & Cheese, baked beans and Cole slaw). Enjoy them all on their outdoor patio area, featuring a number of socially-distant picnic tables. Off the Rails BBQ (549 Allegheny River Blvd., Verona)
Osteria 2350
Strip District
The Strip District's Osteria 2350 has outdoor patio seating available for lunch or dinner, and are also offering curbside takeout. Cocktails are available to go, and the restaurant is currently working on rolling out a new list of mocktails for dine-in guests. Osteria 2350 (2350 Railroad Street)
Over Eden
Lawrenceville
Over Eden has arguably one of the best views of Pittsburgh on their rooftop. They're open for drinks and small bites, with lots of options on their Mediterranean-inspired menu. While the restaurant is currently closed, they will be re-opening for the season on April 1. Over Eden (177 40th Street)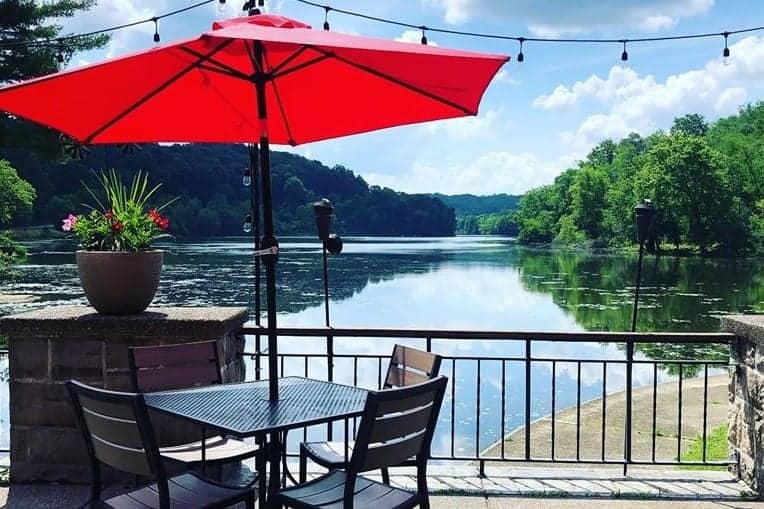 Over the Bar Bicycle Cafe
Allison Park
The Over The Bar Bicycle Cafe at the North Park Boathouse is currently open for patio seating and carryout every day, offering lovely views of North Park Lake. OTB Boathouse (10301 Pearce Mill Road, Allison Park)
The PA Market
Strip District
The PA Market has lots of outdoor seating, perfect for enjoying their three concepts under one roof. They also have bottles of wine from their wine library collection available for purchase to go, as well as canned and bottled alcoholic beverages. The PA Market (108 19th Street)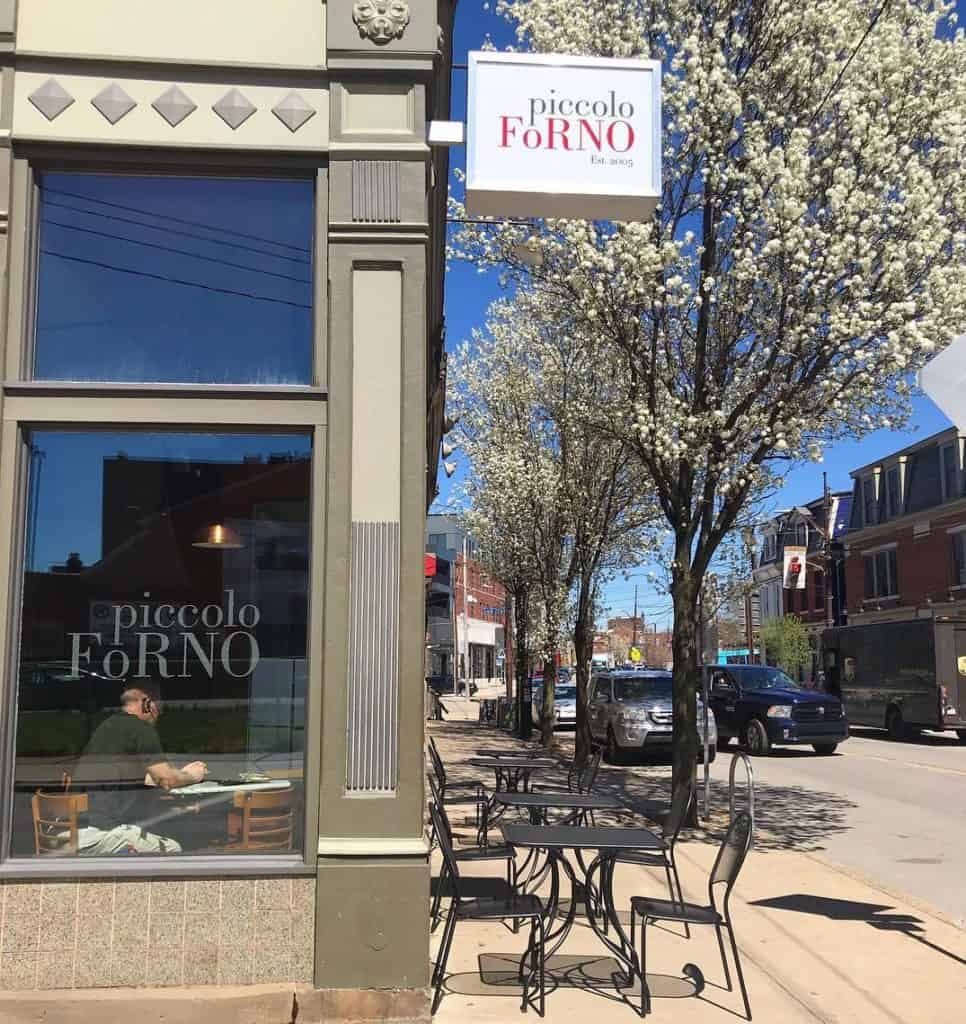 Piccolo Forno
Lawrenceville
Piccolo Forno is currently open for both indoor and patio dining (when the weather is permitting), with reservations available for parties from one to five people. Piccolo Forno (3801 Butler Street)
Proper Brick Oven & Tap Room
Downtown
Proper has eight heaters on their outdoor patio, which is located in the Cultural Trust's 'Oasis' lot next door to their restaurant. It's open when the weather is permitting. Proper Brick Oven & Tap Room (139 7th Street)
Pita My Shwarma
Lawrenceville
Pita My Shwarma's brick-and-mortar is now open with a patio section and outdoor table at their location on Butler Street. Pita My Shawarma (3716 Butler Street)
Pusadee's Garden
Lawrenceville
The newly-reopened Pusadee's Garden in Lawrenceville is currently taking reservations for indoor dining only. Garden seating is currently listed as first come/wait list – and only when it's open, weather permitting. Definitely call ahead! Pusadee's Garden (5319 Butler Street)
Riley's Pour House
Carnegie
Riley's Pour House in Carnegie has a large outdoor dining space now open for lunch, dinner and weekend brunch. Riley's Pour House (215 East Main Street, Carnegie)
Shiloh Gastro
Mt. Washington
Shiloh Gastro on Mt. Washington has an outdoor deck (with heaters!) that's currently open for dining and drinking – and it's dog-friendly, too. Shiloh Gastro (123 Shiloh Street)
Soba
Shadyside
Soba has just introduced a new outdoor dining area. All food is packaged to go, and guests can enjoy their meals (and cocktails) on their extended patio area. They're currently open Tuesdays through Saturdays from 5:00 to 9:00 p.m. Soba (5847 Ellsworth Avenue)
Southern Tier Brewing Company
North Shore
Enjoy a Southern Tier brew outside on the brewery's outdoor patio. Reservations are not required – but dogs are welcome. In accordance with Pennsylvania's latest mandate, a food item must be purchased with an alcoholic beverage. Southern Tier Brewing Company (316 North Shore Drive)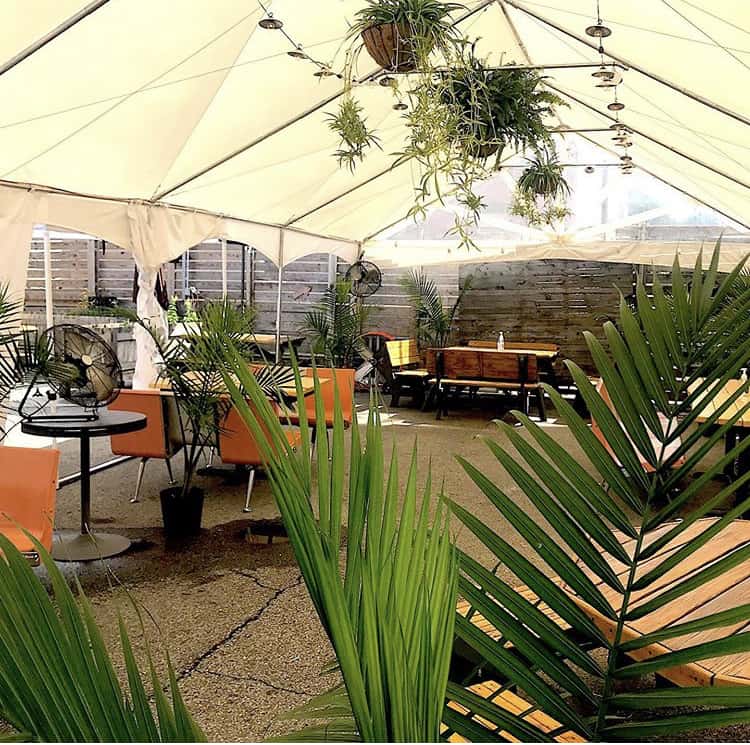 Spirit
Lawrenceville
Spirit will be opening their patio for outdoor dining for the season on Thursday, April 8, with two large tents and heaters at every table. The restaurant will be open Thursdays through Sundays, and will be offering brunch every Sunday, with their house-made bagel sandwiches. Spirit (242 51st Street)
Spirits & Tales
Oakland
The outdoor terrace area is open for dining at Spirits & Tales in Oakland. Dinner service is available Thursdays through Saturdays from 5:00 to 9:00 p.m., and brunch service is available on Saturdays and Sundays from 10:00 a.m. to 2:00 p.m. Spirits & Tales (5130 Bigelow Blvd.)
Square Cafe
East Liberty
Square Cafe's new East Liberty location has an all-seasons rooftop and first-floor garage windows facing Centre Avenue for the indoor-outdoor experience that diners are currently craving. Square Cafe also just added delicious cocktails into the mix so you can brunch and sip outside! Square Cafe (134 S. Highland Avenue)
The Foundry Tap & Table
Downtown
The Foundry Table & Tap is now open for indoor dining, and offers outdoor seating on their patio. Located right on the water, the restaurant's patio has a stellar view of the Allegheny River, and offers reservations at 412-930-0744. The Foundry Table & Tap (381 North Shore Drive)
Threadbare Cider
North Side
Threadbare Cider House & Meadery is now open for outdoor dining on their patio, in a tented area for all-weather dining, with a limited capacity. Reservations can be made by emailing [email protected]. Threadbare Cider (1291 Spring Garden Avenue)
Union Brothers Brewing
Harmony
The newly-opened Union Brothers Brewing has a patio area is that open for (socially-distant) seating, plus a grassy area that is open for enjoying beer only, with bar service. Union Brothers Brewing (365 Mercer Road, Harmony)
Urban Tap
Shadyside
The Urban Tap in Shadyside has an expanded outdoor dining space, complete with heaters for cooler temperatures. Urban Tap (216 S. Highland Avenue)
Walter's Southern Kitchen
Lawrenceville
Right now, the outdoor tables at Walter's Southern Kitchen in Lawrenceville are open for takeout-dining. Table service isn't currently available, but you can still get a selection of Walter's menu of smoked meats, BBQ and drinks. Bonus: The patio is dog-friendly, too. Walter's Southern Kitchen (4501 Butler Street)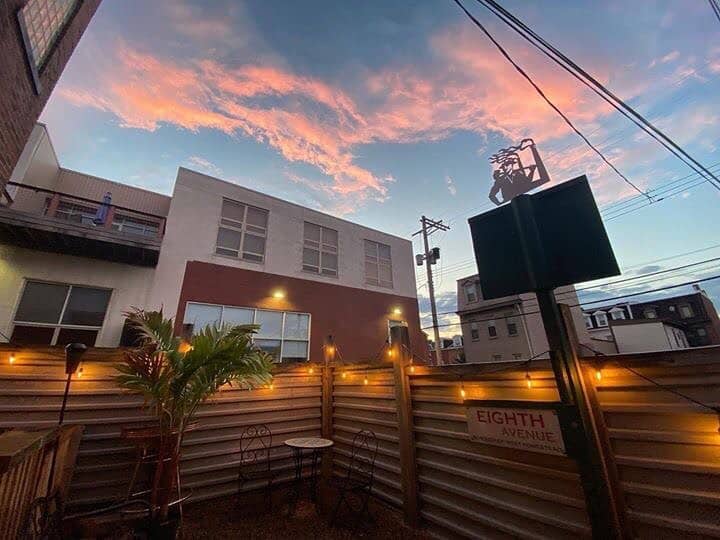 23rd and Vine
South Side
23rd and Vine is a boutique wine shop that offers an outdoor patio area for guests to enjoy a quaint, socially distant space to enjoy a glass, bottle, or one of their house-made cheese boards or dips. 23rd and Vine (2333 East Carson Street)
Know of any other Pittsburgh restaurants with outdoor dining? Let us know in the comments!