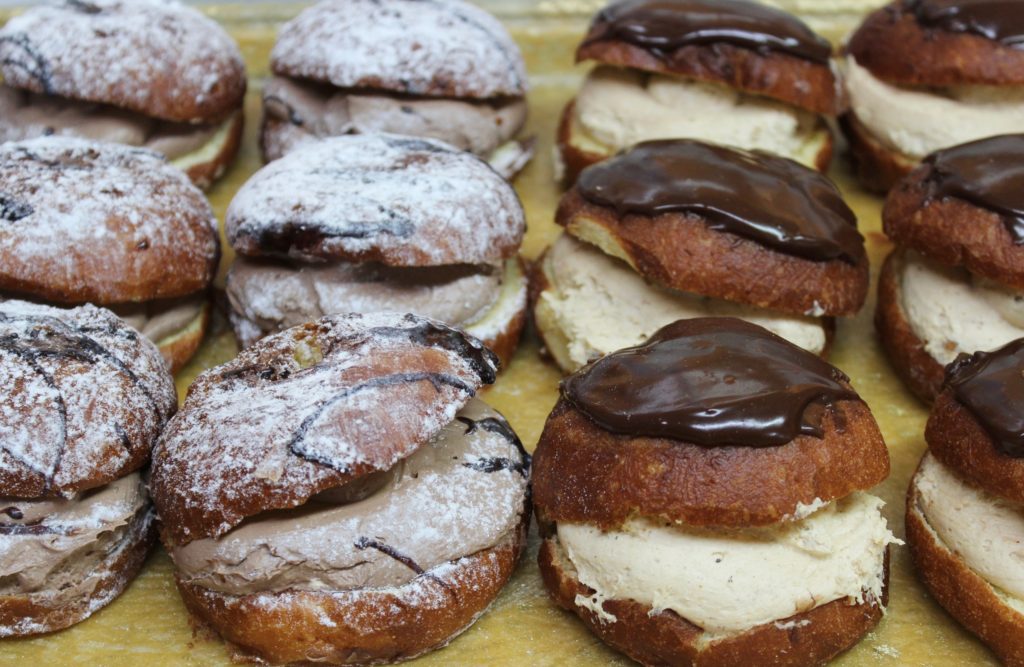 It's pączki season in Pittsburgh, and local bakeries are gearing up for the biggest pączki day of the year – Fat Tuesday, which falls on Tuesday, March 1 this year.
Pączki (pronounced poonch-key) is a Polish doughnut-like dessert, filled with custard, buttercream, or assorted fruit fillings. It's a special treat that's been traditionally enjoyed on Fat Tuesday as a way to indulge before the beginning of Lent. And while it's typically available for most of February, bakeries around the city see long lines for the decadent treat every year.
We've rounded up a few of our favorite spots for paczki in Pittsburgh, and the best ways to order ahead to guarantee you get your pączki fix this Tuesday.
Party Cake Shop
Brookline
One of the most popular places to pick up paczki, Party Cake Shop in Brookline sells thousands of the pastries every year in the month leading up to Fat Tuesday. This year, the bakery will be offering paczki through March 1 (and they'll have King Cakes on Fat Tuesday, too), and flavors include vanilla buttercream, chocolate buttercream, strawberry buttercream, lemon, raspberry, apricot and custard. The best way to place an order for Tuesday pickup is by calling the shop ahead at 412-531-5322. Pączki will also be available in their shop, but they do sell out quickly.
Party Cake Shop (706 Brookline Blvd.)
Potomac Bakery
Dormont
Pączki is available at Potomac Bakery in Dormont, with fillings including raspberry, chocolate, lemon, custard and buttercream. Order ahead by calling the bakery at 412-531-5066.
Potomac Bakery (1419 Potomac Avenue) 
Oakmont Bakery
Oakmont
Oakmont Bakery sells hundreds of pączki a day during the weeks leading up to Fat Tuesday, and will be "making pączki around the clock for in-store purchases" this year." Orders for pączki can also be placed online, though there is a two-day lead time for online orders, and flavor combinations can't be customized for orders online. Look for special Oakmont Bakery-only flavors including maple bacon, 'Pittsburgh Cream,' 'Oakmont Cream (chocolate), and Cookies & Cream, in addition to favorites like custard, apple, peach, peanut butter cream, lemon, cherry and prune. Pączki will be available at Oakmont Bakery through Easter.
Oakmont Bakery (One Sweet Street, Oakmont)
HD Dudt Bakery
Wexford
Pączki are available at HD Dudt Bakery in Wexford for in-store purchases, or you can call ahead at 724-935-4030 to place an order. Flavors include lemon, apricot, prune, buttercream, and plain.
HD Dudt Bakery (11010 Perry Hwy., Wexford) 
Bethel Bakery
Bethel Park and North Strabane
Customers can place orders for pączki online or over the phone at 412-835-6658, with at least 72 hours notice (that means that orders for Fat Tuesday must be in by Friday, February 25). This year, Bethel Bakery is offering a Mardi Gras Pączki Pack, which includes six different flavors in one box: French buttercream, chocolate buttercream, Bavarian cream, raspberry, lemon and glazed. Pączki will also be available for those who want to shop in-store on Fat Tuesday.
Bethel Bakery (multiple locations)
S&D Polish Deli
Strip District
S&D Polish Deli is offering nine different flavors of pączki this year, including chocolate buttercream, vanilla buttercream, strawberry buttercream, peanut butter buttercream, apricot, raspberry, lemon, custard and rose hip, a traditional pączki flavor that you can only find in Pittsburgh in this Strip District spot. S&D is closed on Tuesdays, but will have pączki available this Friday, Saturday, and Sunday. Your best bet is to get to the shop early (they open at 10:00 a.m.) to snag some before they run out.
S&D Polish Deli (2204 Penn Avenue) 
Kretchmar's Bakery
Beaver
Customers of the popular Kretchmar's Bakery in Beaver are invited to get their pączki fix by calling 724-774-2324 to place an order for Fat Tuesday pickup. This year, the bakery has apple, cherry, and a number of Bavarian cream options for pączki, including vanilla, chocolate, apricot, blueberry, lemon, raspberry, strawberry and peanut butter chocolate. Pączki is also available for walk-in orders.
Kretchmar's Bakery (664 3rd Street, Beaver)
Giant Eagle
Multiple Locations
Giant Eagle stores across the region will be well-stocked with pączki on Fat Tuesday this year, and will be available for in-store purchases. Guests can also call ahead to their local Giant Eagle bakery department to place an order for pickup.
Giant Eagle (multiple locations)