From Creme Brûlée heart doughnuts to four-course (takeout) meals, restaurants and shops are amping up their Valentine's Day offerings this year. We rounded up some of the very best sweet treats, special dinners, and gift ideas that will make this Valentine's weekend extra delicious.
Valentine's Day 2021 in Pittsburgh
Takeout Dinners
Allegheny Wine Mixer
Allegheny Wine Mixer is teaming up with Black Radish Kitchen and Piebird for a St Valentine's Day Meatball Massacre. Pre-order now for pickup on Saturday, February 13 for this dinner for two, featuring Foccaccia Bread, Gorgonzola Mess Salad, Meatballs in Sunday Sauce (a vegetarian option is available), Baked Ricotta Ravioli, Amaretto Cheesecake, and a bottle of Chianti. Orders are $75, and can be made online.
Alta Via
Alta Via is offering Take & Bake For Two dinners, available to order by phone February 12 – 14 from noon to 4:00 p.m. Choose Braised Beef Short Ribs ($95) or Salmon ($85), and you can also add chocolate-covered strawberries or Valentine's cocktails to your order. The restaurant is also offering a Valentine's Day Takeout Brunch for Two on Sunday, February 14. See the full menu online.
Casbah
Casbah has a number of Valentine's offerings this year, including a Valentine's Tasting Menu (served warm for takeout, or dine-in), Take & Bake dinner options (with a choice of Salmon or Filet Mignon), and a Valentine's Day Takeout Brunch for Two, featuring quiche, sticky buns and mimosas. See the full menu online.
Cioppino
Celebrate Valentine's Day at home with a Dinner for Two takeout from Cioppino. Dinners are $80, and include Tomato Basil Soup, Beet Salad, two filets, lobster risotto, asparagus, and a choice of dessert. Wine or cocktails can be added for an additional cost. Order online.
DiAnoia's Eatery
DiAnoia's Eatery is offering a Valentine's Day takeout special on Sunday, February 14, with preorders available now. Each dinner is $68 per person, and includes Stracciatella e Fragola Insalata, Polipetti Affogati, Rigatoni al Ragù di Cervo Bianco, Costolette brasate al Chianti, and Pistachio Torta di Caprese, with Strawberry and Pistachio mousse. Each dinner will be packaged together family-style, and re-heating instructions will be included. Order online.
Eleven
The Valentine's Oyster Kit from Eleven offers a dozen Fisher's Island Oysters, plus house-made hot sauce, Mignonette sauce, lemon, and a shucking knife for $42 – plus a instructional video. They are also offering a Valentine's Day Takeout Brunch for Two on February 14. See the full menu online.
Forma Pasta
Forma Pasta's Valentine's Take-Home Kit is available for pickup starting on February 10. Each $75 kit includes a meal for two, with bread, salad, charcuterie, and ravioli (choose between White Truffle with Mushroom, or Tarragon with Lobster), and dessert – plus all heating instructions. Order online.
Khalil's
Khalil's Valentine's Day 'Candlelight' Takeout Package will be available February 12 through February 14. The $139 dinner serves two, and includes a bottle of Massaya Lebanese red wine, hummus, pitas, salad, Lamb Shank with marinated roasted chicken, Syrian rice, homemade chocolate baklava, chocolate candies, and candles and candleholders. Orders must be placed by Wednesday, February 10 by emailing [email protected].
Pane è Pronto
Enjoy a four-course Italian dinner for two from Pane è Pronto, available for pickup on Saturday, February 13. The dinners are $70, and feature whipped ricotta and house focaccia, a mixed greens salad with strawberry oregano vinaigrette, three-cheese lasagna and meatballs, chicken cacciatore and Italian cookies. Pane è Pronto is also offering house-made pane al cioccolato, an Italian chocolate bread, for purchase from February 9 through February 13. Order online.
Piccolo Forno
Piccolo Forno is offering a $60 (per person) takeout special on February 14 with four-courses, including Shrimp Bisque, Lobster & Ricotta Cannelloni, Pork Belly and dessert (all with take-home heating instructions). Dinners are also available dine-in, and guests can place an order for flowers from The Farmer's Daughter at the same time.
Pizzeria Davide
Pizzeria Davide will have heart-shaped pizzas on Valentine's Day at both its Strip District and Robinson Township locations. Small pizzas can be turned into a heart for an additional $2, and the restaurant is also offering pizza roses ($10), bud-shaped bites of pizza dough stuffed with mozzarella cheese, and prosciutto, spinach and artichoke or provolone.
Threadbare Cider
Enjoy a heart-shaped pizza for two meal from Threadbare Cider on Saturday, February 13. The $55 takeout meal for two features two heart-shaped pizzas, one bottle of Threadbare Cider, a shared appetizer (pickled vegetables or hummus) and a shared dessert. Dinners can be purchased online. The dinner is also available for dine-in.
Wigle Whiskey
Enjoy a Valentine's Drive-Thru dinner for two from Wigle Whiskey. Available February 11, February 12 and February 13, Wigle Whiskey is offering a choice of Scottish Salmon with grilled radicchio or New York strip steak drizzled with Wigle Apple Brandy Jus, plus a bottle of ready-to-drink Manhattan bottled cocktail. Dinners are $100 and can be ordered online.
Gift Ideas
a519 Chocolate
One of our favorite chocolitiers in town, a519 Chocolate, has just announced the flavors for their limited-edition Valentine's 2021 Box, including Pistachio Rose, Dark Dark Chocolate, Passion Fruit, and Champagne. Boxes are available in two-piece, nine-piece and 15-piece sets. Order online.
Allegheny Eats
Allegheny Eats has added an e-gift card to their offerings, just in time for Valentine's Day. The online platform features meal kits for two for sale from four restaurants/food businesses, along with free restaurant worker meals that can be redeemed through the website. The new e-gift cards allows the purchaser to select amounts ranging from $15-$200, and send the gift card digitally. More information is available online.
Bar Marco
Bar Marco in the Strip District is teaming up with The Farmer's Daughter and Mon Aimee Chocolat for a locally-produced gift pack to impress your sweetie this Valentine's Day. Gift packs are $75, and include a bottle of wine from Bar Marco's Nine O'Clock Wines team, a flower arrangement from The Farmer's Daughter, and a box of four single-origin chocolates poured by Mon Aimee Chocolate. Pickup dates will be on February 12 and February 13, and a photo ID is required. See details online.
Community Kitchen Pittsburgh
This Valentine's Day, Community Kitchen Pittsburgh is offering fresh strawberries, covered in semi-sweet chocolate with white chocolate drizzle. They're available in half-dozen ($12) and full-dozen ($24) sizes, and all orders can be picked up from Community Kitchen Pittsburgh on Friday, February 12. All proceeds directly benefit the work done at CKP. Orders can be made online.
Cobbler World
Cobbler World bakery is offering special Valentine's Day sweet treats for the holiday. Call them at 412-403-2158 to place an order for heart-shaped personalized cheesecakes.
Creatives Drink
Creatives Drink, Market Street Grocery and Mindful Hospitality have partnered together once again to bring a new experience to treat your significant other this Valentine's Day, with The Kiss: Valentine's Day Cocktail Box. The box features a passionfruit cocktail for two, two gold metal straws, and custom chocolate bars from The Milkshake Factory. Randomly-selected boxes will also include Golden Tickets with gift cards to local restaurants. Boxes are $50 and available in-store at Market Street Grocery.
Harrison's Fine Pastries
If you want to give your loved one something truly beautiful this year, look no further than a selection from Harrison's Fine Pastries 2021 Valentine's collection. From a toasted almond, Tahitian vanilla bean and raspberry tart, to a take-home soufflé kit, the patisserie has seriously showstopping desserts for the holiday. This year, they're also offering a chocolate box (made from the highly-regarded Cacao Barry couverture), filled with 30 of their signature bonbons, with flavors including Earl Grey, fresh ginger, and pistachio praline. Order online.
Lola's Eatery
Lola's Eatery has some super-sweet gift ideas for the holiday. They're offering house-made Creme Brûlée heart doughnuts, available two per box (and wrapped in a bow) for $10. Pre-order before February 7 for pickup on February 12 through February 14. They will also have heart-shaped Hot Chocolate Bombs for $10. Email [email protected] to order, and see more online.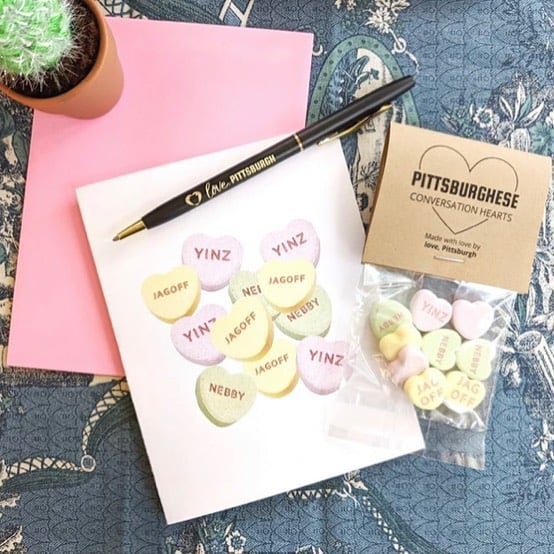 Love, Pittsburgh Shop
Send someone a very Pittsburgh Valentine to someone special this year with Love, Pittsburgh's 'The Burgh Valentine' gift set. The set includes their Conversation Hearts card and their Pittsburghese Conversation Hearts candy. They'll hand-write a personalized message inside the card, address the envelope, add postage, and mail it directly to your recipient for you. Order here.
Mediterra Cafe
From sugar-cookie pizzas to breakable chocolate hearts, Mediterra Cafe has you covered this Valentine's Day. They have loads for seasonal gift ideas, including gift baskets, chocolate-covered Oreo packs, hot chocolate bombs, cookie decorating kits, and more. Visit their social media to see all of their offerings.
Rosemary and Honey
Charcuterie-board company Rosemary and Honey is offering a selection of Valentine's Day boards for the holiday, including the Brie Mine with cheeses, meats, macarons and focaccia, the Charcuterie Gram with assorted meats, cheeses and candies, and a Valentine's Rose Box filled with eight charcuterie 'roses,' plus cheese, crackers and dips. See more information online.
Square Café
Not only is Square Café offering a number of takeout and dine-in additions to their menu for Valentine's Day (including Chocolate-Covered Strawberry Crepes and Surf & Turf with crab cakes), they also have a number of take-home kits and gift baskets available. Look for their Sugar Cookie decorating kit, the I 'Lava' You basket, with Molten Lava Brownies, Square Fortune cookies and mimosa fixings, and the No One Stacks Up To You Pancake Basket, with red velvet pancake mix, cream cheese icing, a maple syrup. Order online.
Date Ideas
Confections by Casey Renee Safe-Teas
Confections by Casey Renee is offering a private tea party experience for up to four people in their Wilkinsburg parlor. Book the parlor by the hour, and add tea service or a snack package, which includes Carrot Cake Truffles, Banana Caramel Cake, and Everything Buttermilk Biscuits. See date availability and book online.
Over Eden and TRYP Hotel Valentine's Package
Enjoy a Pittsburgh staycation with a one-night stay at the TRYP Hotel in Lawrenceville. They're offering a Valentine's Package on Friday night and Saturday night, which includes an overnight room at TRYP, free parking, a three-course dinner at Over Eden, local chocolates and more. Visit here for more details, or call 412-687-8797.
Threadbare Cider Frost 'n Sip Virtual Cookie Class
Threadbare Cider is hosting a Virtual Valentine Cookie Frost 'n Sip on Saturday, February 13. Join Threadbare's pastry experts over Zoom to learn how to decorate your own holiday cookies. Packages are $60, and include a cookie decorating kit for two participants with a dozen cookies, four icing colors, sprinkles and decorating tools, plus a bottle of Threadbare's Bouquet de Rosé Cider. Tickets are available online.
Know of any Valentine's Day 2021 in Pittsburgh specials we should share? Let us know in the comments or email [email protected].
Keep Reading