Instead of PA Wine and Spirits home delivery, try these options.
Last Updated: 4/27/20
Confused about how to order alcohol in light of recent shutdowns? Us too.
The state of PA has been in flux since the Pennsylvania Liquor Control Board closed all liquor stores in the state on March 17.
In lieu of in-person sales, state residents now have the option to purchase a restricted quantity of wine and spirits from a reduced catalogue on the Fine Wine and Good Spirits website, and have the option of getting PA wine and spirits home delivery.
But the story doesn't end there. As many residents have noted, the website is tricky and unreliable. There is a narrow window to make purchases before the site gets overloaded and displays a message that says, "Due to overwhelming demand, the online store is not available at this time. Please try again tomorrow or in the coming days."
So, what are PA residents doing? Short of driving for the border, they're shopping local! There is no better time to support local businesses! Distillers, beer distributors, and wine shops are able to continue operations, albeit without dine-in services.
Many have curbside pickup hours, delivery, and/or ship throughout Pennsylvania. Below are details on what a few Pittsburgh favorites are offering for PA wine and spirits home delivery and pickup options.
Alcohol Near Me: Where to Buy Liquor, Beer, Wine Online in PA
Pennsylvania Libations
PA Libations is a "Spirits Boutique" located on Penn Avenue in The Strip. They exclusively sell spirits and wine made in PA, giving Pittsburghers the opportunity to shop 17 different PA distilleries under one roof.
The shop is currently taking online orders for curbside pickup and home delivery in Allegheny County.
For curbside: Order anytime, and pick up during store hours at 2103 Penn Ave.
For Home Delivery in Allegheny County: Orders are delivered the next day. Must have valid ID upon delivery.
Be Sure to Try: Maggie's Farm Falernum, CJ Spirits Wilds Gin
Pennsylvania Libations (2103 Penn Ave)
Wigle Whiskey
Pittsburgh mainstay Wigle Whiskey is making Drive-Thru pickup easy with their online shopping portal. Just select "Pick Up" at check out. Orders are collected at their Strip District location. They are also shipping orders in PA and DC. Check out their discounted bundles to get a great deal on bulk spirits.
Be Sure to Try: Kilted Rye, Saffron Amaro, Bottled Old Fashioned
Wigle Whiskey (2401 Smallman Street)
Threadbare Cider & Mead
Are you craving some locally-made cider? Wigle Whiskey's sister cidery Threadbare Cider & Mead is selling their full lineup (including yaer-round favorites like Hopped Cider and Farmhouse Cider, and experiemential ciders, like Crafted Apple and Spiced) for pick up at Wigle Whiskey in the Strip District, or for shipping to over 40 states. They're also now offering cider bundles, with discounted prices.
Be Sure to Try: Bourbon Barrel Reserve Cider
Threadbare Cider & Mead (1291 Spring Garden)
Maggie's Farm Rum
Another Strip District favorite, Maggie's Farm Rum is offering pickup at the distillery for online orders place in advanced. Place an order and use the discount code "PICKUP" at checkout. There is no option to pay at the distillery at this time. Online orders can be picked up between 11am and 3pm Tuesday through Saturday only.
They are also offering $5 direct delivery to Allegheny County addresses. Enter coupon code "ALLEGHENY" just prior to completing your order. This enables a $20 discount, offsetting the standard shipping cost from $25 to $5. Someone 21 or older must be available to receive the order. All other Pennsylvania addresses will ship via Fedex at a flat rate of $25 per order.
Be Sure to Try: Maggie's Farm Coffee Liqueur, Hidden Harbor Overproof White Rum Blend, Maggie's Farm Spiced Rum
Maggie's Farm Rum (3212a Smallman St)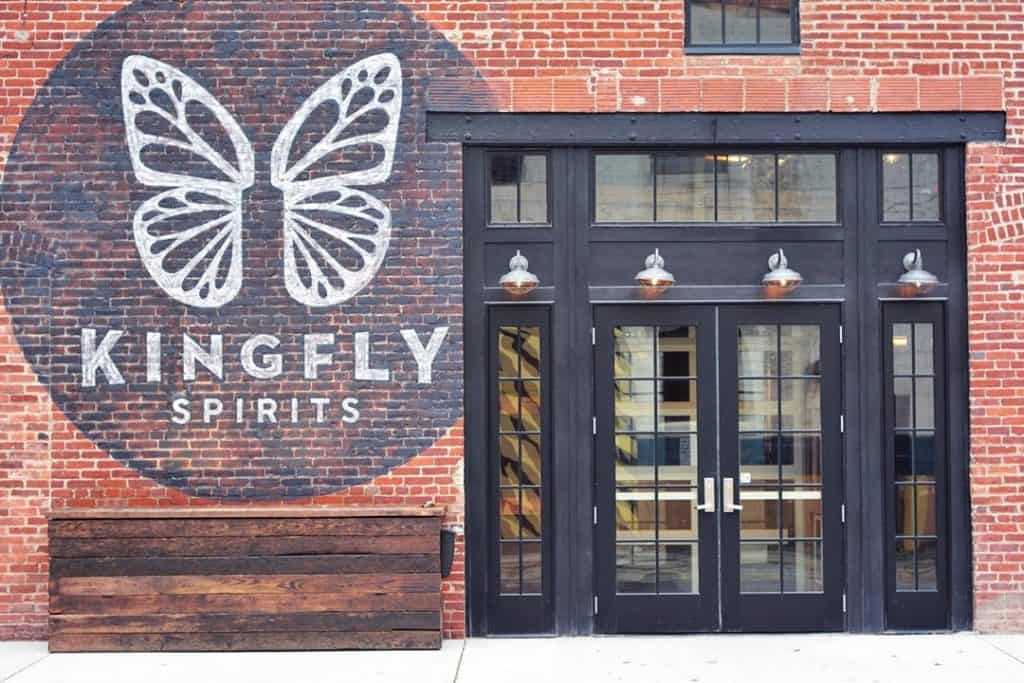 Kingfly Spirits
And just down the road from Maggie's Farm Rum, new favorite Kingfly Spirits has bottle sales available for pick-up at the distillery, Thursday, Friday and Saturday from 3-6pm. To order, email [email protected]. They will coordinate for credit card info, and your pick-up day/time will be confirmed. Pick up your order at the distillery at 2613 Smallman Street in the Strip! Remember to bring your ID for proof of 21+ age. Browse their selection online.
Be Sure to Try: White Rum
Kingfly Spirits (2613 Smallman St)
Pittsburgh Winery
And while you're in the neighborhood, how about wine? California grown and Pennsylvania made, Pittsburgh Winery is offering curbside pickup during limited hours, and local deliveries of 12 bottles or more. Orders can be placed online.
Be Sure to Try: 2018 Merlot
Pittsburgh Winery (2710 Penn Ave)
Cinderlands Beer
Or maybe beer is your thing? Cinderlands Beer in The Strip has a well-oiled curbside pickup operation going on at their Warehouse. The menu includes family meal options, beer (Crowlers & 4 packs), and house made bread. They also have same-day delivery for local, as well as weekly suburban pre-order beer delivery. All information and details can be found on their website.
Be Sure to Try: Squish (beer)
Cinderlands Beer (2601 Smallman St)
Boyd & Blair (Pennsylvania Pure Distilleries)
While the distillery is temporarily closed, you can order products like Boyd & Blair Potato Vodka and ready to drink cocktails to ship from their website.
Be Sure to Try: Lemon & Lavender (Vodka Based Cocktail)
Boyd & Blair (1101 William Flynn Hwy Old)
Quantum Spirits
Quantum Spirits is a tech-savvy distiller that makes all their products from scratch, mashing, fermenting, distilling, bottling and labelling in Carnegie, PA. They are currently offering free delivery on orders $60+ within 20 miles of Carnegie. View their products online and call 412-314-1853 to place an order. Oh, and they have mixers too!
Be Sure to Try: Barrel Rested Gin
Quantum Spirits (230 E Main St)
Mclaughlin Distillery
Located in Sewickley, Mclaughlin Distillery is open and operating under normal business hours. They are currently offering curbside bottle pickup for orders placed online, or they can ship to anywhere within PA. Free shipping on any order $63.00 and above. Peruse their full selection online, or call for more info 412-737-1840.
Be Sure to Try: 3799 Bourbon
Mclaughlin Distillery (3799 Blackburn Rd)
Country Hammer Moonshine
If you're looking for something fun and flavorful, Country Hammer Moonshine's selection of infused moonshines are available to purchase in-store and online. The store is open with up-to-date hours on their website. Locations are in Bethel Park, North Huntingdon, Robinson, and Clairton. They also ship. Fun flavors include: Banana Cream Pie, Peanut Butter Cup, Cinnamon toast, Dill Pickle, Orange Dreamsicle, and more.
Keep an eye out for their homemade hand sanitizer and sanitizer wipes, available in-store only.
Be Sure to Try: Adult Chocolate Milkshake
Country Hammer Moonshine (Multiple Locations)
Liberty Pole Spirits
Open for bottle sales only or curbside pickup. Shipping to PA Residents via online ordering.
Liberty Pole Spirits (68 W Maiden St, Washington)
Black Dog Wine Company
Open for carryout and bottle sales, Wednesday – Sunday from 12pm – 5pm. Wine delivery service with 3 bottle minimum. $2 delivery fee within a 15 mile radius of main winery. Call or text order to 724-485-WINE. Fee waived for 6+ bottles.
Black Dog Wine Company (7425 Steubenville Pike, Oakdale)
Voodoo Brewery
Offering beer to-go hours at all Voodoo Brewing locations (except Lancaster & The Compound, which are closed). Wednesday – Friday from 1:00 pm until 6:00 pm, and Saturdays from 11:00 am – 4:00 pm. Bottles, cans, crowlers and brand new/unused growler fills for you to take home and enjoy. Call and place order for pick-up. Delivery in Pittsburgh with Biermi service.
Voodoo Brewery (205 E 9th Ave, Homestead)
Mary's Vine
Wine available for purchase via pickup or curbside pickup. View entire wine list online. Also taking orders in advance, email: [email protected].
Mary's Vine (211 Kenmawr Ave, Rankin)
Hitchhiker Brewing
Hitchhiker is offering beer to-go, including 64oz Growlers, 16oz Cans, Disposable 1/6 kegs, and various Merchandise via "touchless" online ordering. Pickup is at their Mt. Lebanon location only. Order online to select your pick-up day & time.
Hitchhiker Brewing (190 Castle Shannon Blvd)
East End Brewing
East End Brewing has bottles and cans available for in-store pickup, curbside pickup, and weekly local delivery. Orders can be placed online.
East End Brewing (147 Julius Street)
Grist House Craft Brewery
Online ordering for pickup of cans of beer is available daily in Millvale and Collier. Pick up is between noon and 8:00 p.m. every day, and orders placed before 7:00 p.m. can be picked up the same day. Growlers are available in Millvale.
Hop Farm Brewing Company
Hop Farm Brewing Company has a full menu cans and growlers available for pickup. Order online, and pickup is available daily from 3:00 to 8:00 p.m. at the brewery. Select delivery is also available.
Hop Farm Brewing Company (5601 Butler Street)
23rd and Vine
Located in the Southside, 23rd and Vine has wine delivery and curbside pickup available on over 30 varieties of wine uniquely sourced from small vineyards globally. The shop is open seven days a week. Order directly here.
23rd and Vine (2333 East Carson Street)
Strange Roots Experimental Ales
Craving a wild beer? Strange Roots is offering curbside pickup in both Millvale and Gibsonia for new growler fills, bottles, and cans. Order online.
Strange Roots Experimental Ales (Millvale & Gibsonia)
Inner Groove Brewing
While the taproom is closed, Inner Groove is offering online ordering with curbside pickup for all available beers. Some scheduled food trucks are still planning to be on site for carry out/grab-and-go food.
Inner Groove Brewing (751 E Railroad Ave, Verona)
Insurrection Ale Works
You can order brews from Heidelberg's Insurrection Ale Works for pickup at the brewery, or home delivery. There's a small delivery fee, and orders must be more than $30 for delivery. Order online.
Insurrection Ale Works (1635 East Railroad Street)
SPiLL the Wine Bar
SPiLL the Wine Bar in Bloomfield is open for carry out and curbside pickup, and phone ahead orders are accepted. They're open daily from 1:00 p.m. to 8:00 p.m., and you can find a full list of available wines on their website. Call 412-888-9398 to order.
SPiLL the Wine Bar (4800 Liberty Avenue)
Eleventh Hour Brewing Co.
Lawrenceville's Eleventh Hour Brewing is doing same-day curbside pickup on all of their brews, along with next-day delivery. If you head to the brewery to pick up your beer, food trucks are usually outside Wednesday through Sunday.
Eleventh Hour Brewing (3711 Charlotte Street)
Lawrenceville Distilling Co
The makers of Parking Chair Vodka and Ginzer American Gin are selling bottles online and shipping to your door. FedEx delivery and free shipping for your first order of at least 2 bottles.
Lawrenceville Distilling Co (5410 Harrison St)
Brew Gentlemen
Brew Gentlemen in Braddock has cans available for pickup. Order by filling out an online form, and curbside pickup will be available on Thursdays, Fridays and Saturdays from 3:00 p.m. to 7:00 p.m.
Brew Gentlemen (512 Braddock Avenue)
PK Winery
PK Winery in McDonald is open for bottle purchases. They also currently offer free delivery, with a three-bottle minimum. Call 724-492-1569 to order.
PK Winery (116 East Lincoln Avenue, McDonald)
Beverages2u Local Delivery
beverages2u is a locally owned and operated delivery service with over 700 beers (locals, imports, craft, and domestics) plus bottled waters, mixers, and more. Will delivery to to doorsteps across PA. In the Pittsburgh Area, the business processes and delivers orders Tuesday through Saturday. Discounted subscription services are also available.
Did we forget your favorite spot? Let us know in the comments below, and we will add them to the post!
More Great Stories From Good Food Pittsburgh: