Looking for some of the best rooftop bars in Pittsburgh? We've got you covered – these bars are all open and ready for guests for the 2020 season!
Get ready for the warm weather, Pittsburgh. The best way to enjoy a Steel City weekend or afternoon is soaking up the sun on a rooftop bar. No matter if you find yourself on the South Side or Downtown, there is rooftop bar for you to enjoy. Look no further because we've got your guide to all the best rooftop bars in town.
Downtown
Notably the most well-known roof in the burgh, Il Tetto sits atop Sienna Mercato overlooking the cultural district. This is the spot for happy hour downtown and it is well equipped for Pittsburgh's variable weather. The retractable roof opens up on the sunny days and creates a cover for rainy season. (942 Penn Avenue)
Hotel Monaco is known for its eclectic style and boutique charm and you can enjoy the scenery even if you're not staying the night. The rooftop Biergarten is a perfect spot to have a beer and some appetizers for after work happy hour. Note: This year, the Commoner has taken over the Biergarten space, serving their full menu – plus Biergarten specialties, including their famous Biergarten pretzel. (620 William Penn Place)
The downtown Harris Grill location is complete with a full rooftop bar and plenty of seating. If you find yourself south of 5th avenue then pop in for happy hour food and drink specials. P.S. Tuesday is bacon night at Harris Grill. What better excuse to go rooftop drinking on a Tuesday is there? (5747 Ellsworth Avenue)
Shadyside
Need a place to watch the big game? Mario's in Shadyside is not known for its rowdy crowds like its Southside partner. Rather, this is the perfect place to soak up the sun and split a bucket of Bud for the game. The rooftop is complete with a full bar, tables, and standing room. (5442 Walnut Street)
Lawrenceville
Lawrenceville is slow to the rooftop bar scene but New Amsterdam makes up for it. Their charm? Instagram worthy aesthetics and fancy cocktails. If you want to go grab a drink with some pals or have a fancy evening out with scenery to take a million pictures, this is your spot. (4421 Butler Street)
With seriously some of the nicest views of Pittsburgh, Over Eden is open for rooftop dining and drinking, on the roof of the TRYP Hotel. Look for Mediterranean-style bites including Sweet Pea Hummus, Watermelon Gazpacho, and Seitan Flatbread. (177 40th Street)
South Side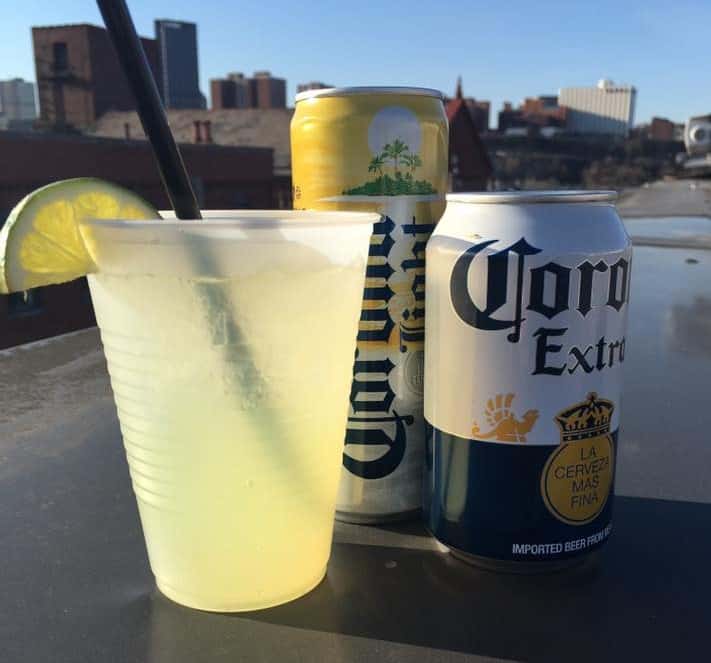 Photo: Carson City Saloon
The few times Pittsburgh actually has nice weather you need to take advantage of it no matter what time it is. A go-to rooftop to head to when you're having a night out in the town is Carson City Saloon. (1401 East Carson Street)
Note: Other rooftop bars that have not announced their openings yet this year include Terrace on Fifth, Eliza: A Hot Metal Bistro, Local Bar + Kitchen, and Sky Bar.
Know of any rooftop bars we missed? Let us know in the comments!
Looking for more Good Food Pittsburgh stories to read? Try these: