From thumbprints to snowballs, these bakeries and restaurants in Pittsburgh are making it easy to enjoy all of your favorite Christmas cookies this holiday season – just place an order, and enjoy!
Ordering deadlines are coming up, so make sure you get them while you can!
Where to order Christmas Cookies in Pittsburgh
Prantl's Bakery: Prantl's latest location in North Huntingdon is now open and taking orders (along with their Shadyside, Market Square and Greensburg spots) for Christmas cookies. Get their famous Thumbprints (using Kaufmann's original recipe!), or platters of decorated Santa, Snowman and Christmas Tree sugar cookies. See more updates online. (Various Locations)
DiAnoia's Eatery: Holiday cookie platters from pastry chef Rachel Walto are available from DiAnoia's Eatery, made with a mix of cookies, like Pignoli Nut Cookies and Italian Rainbow Cookies (both of which are also available by the dozen), Anise Biscotti and Chocolate Chip. Small platters are $36, and large platters are $64. They also have gingerbread cookies by the dozen, and cheesecake available, too. Order online for pickup from December 18 to December 24. (2549 Penn Avenue)
Cioppino: Cookie trays from Cioppino in the Strip District are $22 for two dozen cookies, and include tasty options like Gingerbread and Thumbprints. They'll need 48 hours notice, and orders can be made by calling 412-281-6593. (2350 Railroad Street)
Enrico Biscotti Company: Enrico Biscotti Cookie Trays are available with biscotti only (starting at $75), or a mix of biscotti and cookies (starting at $85). Macarons, chocolate chip and peanut butter cookies are also available. Call 412-281-2602 to order for pickup. (2022 Penn Avenue)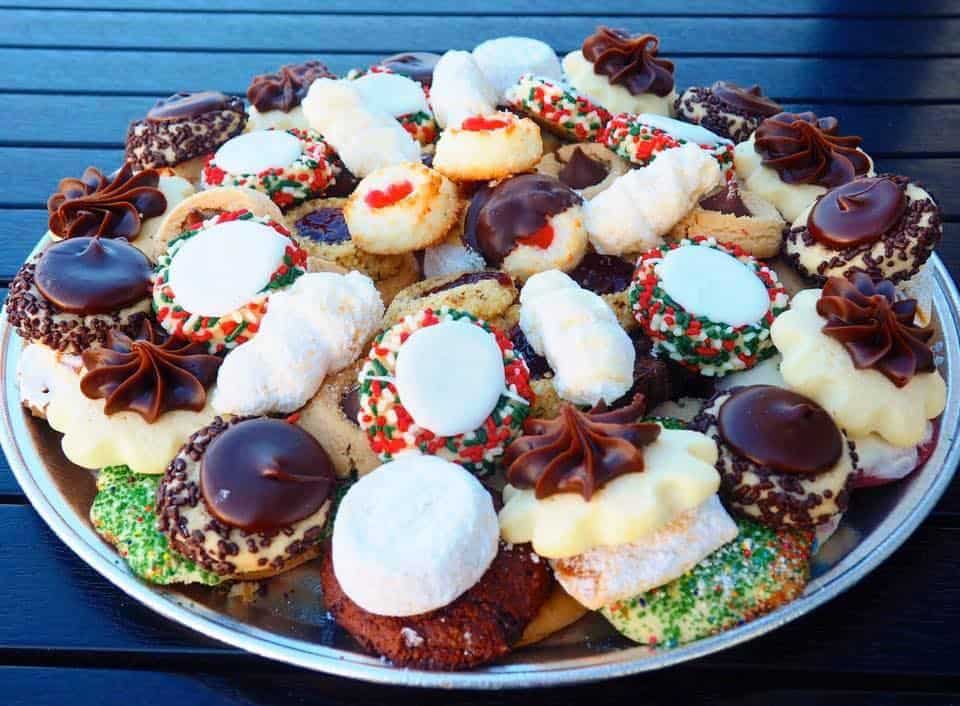 Oakmont Bakery: Get your orders in by December 18 for Oakmont Bakery's legendary cookie trays, which can be picked up from December 22 through December 24. Cookie trays are available in two dozen, four dozen and seven dozen sizes, and include sprinkle cookies, Thumbprints and more. Call 412-826-1606 ex. 3 to order. (One Sweet Street, Oakmont)
Wild Rise Bakery: Holiday cookie trays from gluten-free bakery Wild Rise Bakery are now available. Each tray is $27, and includes cookies like Lemon Crinkle, Rosemary & Pink Peppercorn, Chocolate Chip, Thumbprints with Persimmon Jam, and Oatmeal Raisin Sandwich with Marshmallow Cream Fluff. Orders are available online.
Confections by Casey Renee: In addition to her stellar Yule Log cake (made with chocolate cake and spiced cream cheese icing), baker Casey Renee is also offering a Holiday Cookie Platter for $20/dozen, with cookies like sugar cookies, candy cane brownies, cranberry macaroons, Lady Locks, Linzer tarts, Buckeyes and more. All orders must be in my December 18, and orders are available online.
350° Bakery: 350° Bakery has Holiday Cookie Boxes available for pickup on December 23 or December 24. Boxes are available with 15 cookies ($13) or 30 cookies ($25), and include Chocolate Chip, Ginger Molasses, Chocolate Mint, Vanilla Sprinkle and Snickerdoodle. Order online. (2427 S. 18th Street)
Flour & Sugar Cakery: In Seven Fields, Flour & Sugar Cakery is now taking orders for Cookie Trays. Trays with two dozen cookies are $25, and trays with four dozen cookies are $45. Pickup dates are through Christmas Eve, and two or three days advance notice is required for all cookie trays. The last day to pre-order is December 19. Email fsccakes@gmail.com to order.
Moio's Italian Bakery: Not only does Moio's Italian Bakery in Monroeville have assorted cookie boxes, filled with 21 different Italian cookies (available in 1-lb. boxes for $25 or 2-lb. boxes for $40, but they also have gorgeous marzipan. This year's shapes include avocado, eggplant, blueberries and pineapple. Call 412-372-6700 to order.
DeLucas Bakery: DeLuca's Bakery in Brookline has trays of Christmas cookies available in their shop for grab-and-go, or call 412-531-1942 to place an order for pick up. (546 Brookline Blvd.)
Bethel Bakery: The Bethel Bakery Christmas Cookie Tray features a variety of their homemade cookies, and come in two sizes: 2 1/2 dozen ($20) or five dozen ($41). Cookie variety varies, but other options available at Bethel Bakery include Anise Cookies, Christmas Wreath Cookies, Christmas Swirl Half-Dips and more. Orders must be made 48 hours in advance of pickup, and the last day for Christmas orders is December 18. (Various Locations)
Springhouse Market: In Washington County, Springhouse Market is offering Homemade Christmas Cookie Combination Trays, with varieties like Gingersnaps, Raspberry Horns, Orange Drop, Russian tea Cookies, Peanut Butter Kiss, Lemon Bars, Cherry Cheesecake Cups, Pecan Tassies, Lady Locks and more. Available in three-and-a-half dozen ($44.95) and five-and-a-half dozen trays ($59.95), they also have buns, rolls, pies and other Christmas goodies available for ordering. (1531 Route 136, Washington)
Keep reading…