You know what Fridays in Pittsburgh during Lent mean… fish sandwich specials. If you want a traditional church or fire hall takeout option this year, we've got you covered with our 2021 guide, but if you'd like to let one of the city's restaurants make your meatless meal, there are plenty of incredible options to choose from.
The Speckled Egg
For a limited time, The Speckled Egg's 'Not Your Church's Fried Fish Sandwich,' made with fried Alaskan cod, is back on the menu every Friday during Lent.
The Original Oyster House
It's fish sandwich season at the Original Oyster House. The recently-reopened restaurant is serving up their famous beer-batter dipped fried fish sandwiches daily.
DiAnoia's Eatery
DiAnoia's Eatery is offering a fish sandwich special every Friday during Lent: It's a Yuengling-battered cod filet, topped with Old Bay mayo, American cheese, lettuce, tomato, and onion for $13.
Pizzeria Davide
Pizzeria Davide locations (in the Strip District, Robinson Township and the newly-opened Carnegie spot) are offering a Yuengling-battered cod filet sandwich, topped with lettuce, tomato, onion, Old Bay aioli and their own house-made cheese whiz.
Square Café
Every Friday during Lent, Square Café is offering Fish & Chips, available with a choice of sides, including Mac & Cheese, pierogies, hush puppies and potato salad. The restaurant is partnering with East End Cooperative Ministry, and a percentage of all sales from Square Cafe's Friday Fish Fry menu will benefit EECM.
Coop de Ville
Every Friday during Lent, Coop de Ville has a beer-battered cod fish sandwich ($14) available, topped with Ranch slaw, Bread & Butter pickles, and tartar sauce – and you can add American, provolone or pimento cheese for another dollar. They also have a Fish & Chips special ($18) on Fridays, with Beer-battered Cod and crinkle fries.
Burgatory
All Burgatory locations (including the Waterworks, McCandless Crossing, Robinson and Cranberry Township) are serving up two special fish sandwiches every Friday during Lent: The Great Cod Almighty (beer-battered cod filet with apple & bleu cheese slaw), and the Crab Shack, a crispy crab burger with cole slaw.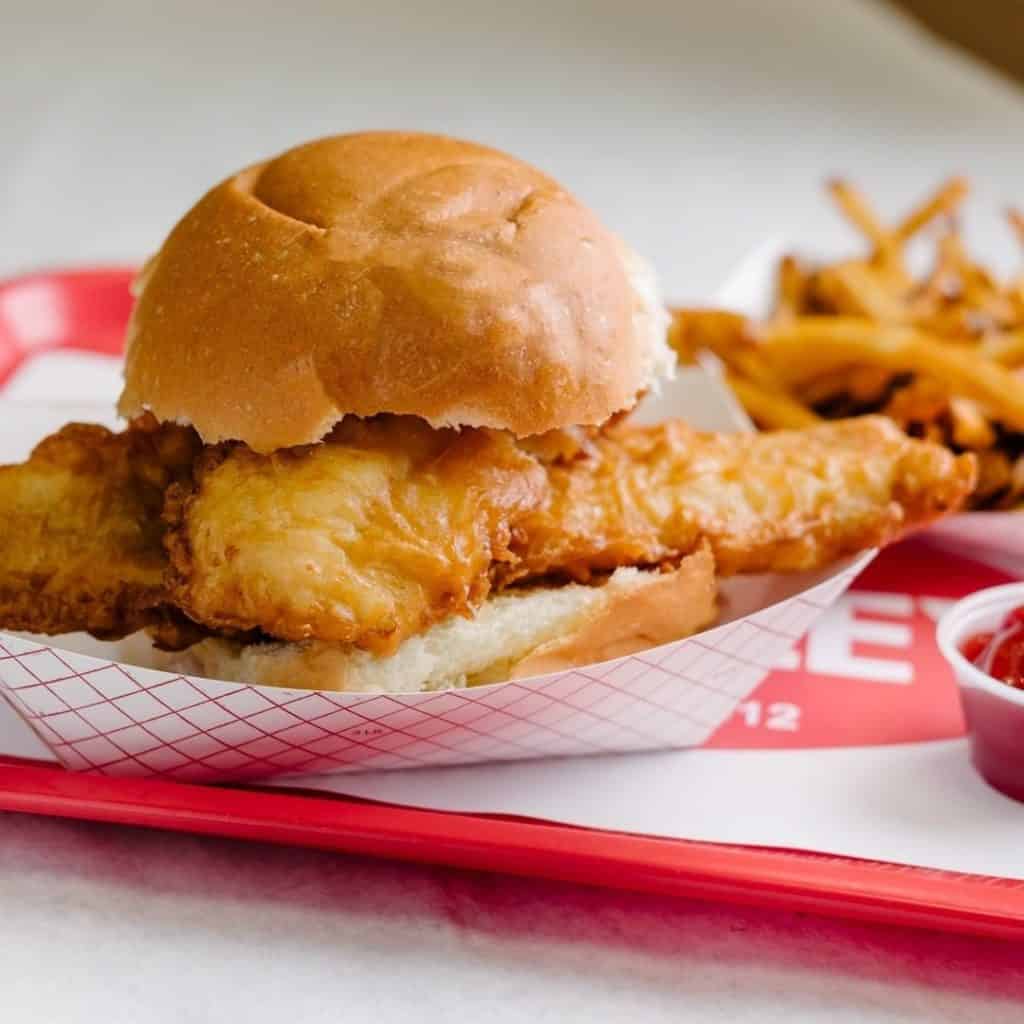 Wholey's
You know you're going to get a good fish sandwich at Wholey's! The Strip District destination offers their massive fish sandwiches all year long, with their batter-dipped Icelandic Cod option being the shop's most popular.
Spirits & Tales
Fish Fridays at Spirits & Tales offers a selection of meatless options during Lent, including Smoked Trout Dip, Baked Oysters, Fish & Chips, Lemon Fried Shrimp, Crabcake Sandwiches, and a Smoked Salmon Sandwich.
Bitter Ends Luncheonette
Bloomfield's Bitter Ends Luncheonette will have 100 fish sandwiches available this Friday starting at 5:00 p.m. Each battered Atlantic Cod fish filet sandwich comes with tartar sauce, lettuce, onions and herbs on a naturally-leavened seeded Ciabatta roll. Other options include Veggie Hoagies, classic macaroni salad, and more.
Redbeard's Bar & Grill
Redbear's Mt. Washington location is currently open, serving up a Fish Sandwich special (served with fries and cole slaw), along with a Fish & Chips special during Lent. The restaurant's downtown location is will be re-opening on Tuesday.
Mad Mex
Mad Mex locations across the city are offering Crispy Fried Fish tacos from now through April 3.
Krista's Deli
The newly-opened Krista's Deli in Carnegie is offering a Lenten fish special every Friday during Lent – it's a 9 oz. baked fish sandwich, served with homemade tartar and cocktail sauce for $12.
Off the Rails BBQ
Off the Rails BBQ in Oakmont is offering two Lenten fish specials every Friday, including a Blackened Mahi-Mahi sandwich and a beer-battered Haddock sandwich.
Bird on the Run
Fried Catfish sandwiches served with lettuce, tomato and lemon caper aioli on Brioche buns are on the menu at Bird on the Run in East Liberty.
Fat Head's Saloon
The Codfather sandwich, made with two pieces of battered North Atlantic cod, and topped with cole slaw and tartar sauce, is available at Fat Head's Saloon every Friday. Other meatless options including Fish & Chips, Beyond burgers, Buffalo cauliflower and more.
Ki Pollo
Every week, Ki Pollo (which now offers combined online ordering with sister restaurant Ki Ramen), is serving up a new Lenten fish special. Last week's offering included a fish sandwich (with haddock and a kim chi tartar sauce) and miso soup combination, and Shrimp Bao. Check their Instagram for the latest specials.
Union Brothers Brewing
The fish sandwich at Union Brothers Brewing in Harmony is made with a hand-breaded fresh Atlantic cod, and served on brioche with lettuce and tomato.
Mineo's Pizza House
The famous CodFather fish sandwich is back at Mineo's Pizza House every Friday during Lent. The sandwiches are $10.50 each, and platters, which include the sandwich, fries and cole slaw are $13.50.
Cornerstone Restaurant
Aspinwall's Cornerstone Restaurant is offering their Fish Sandwich specials right now, made with fried filets and topped with lettuce, tomatoes and pickles.
Osteria 2350
Lenten specials at Osteria 2350 in the Strip District include fried fish sandwiches, Manhattan seafood chowder, and a fried fish dinner special, served with Macaroni & Cheese and cole slaw.
Sprezzatura
Every Friday during Lent, Sprezzatura is serving up a different fish special option. Last week, they offered seafood chowder, and this week, it's a shrimp linguine with lemony herb cream sauce, or flounder with roasted potatoes and cauliflower parm.
Steve & Benny's
In Monaca, Steve & Benny's will have Jumbo Beer-battered fish sandwiches (with cole slaw, tartar sauce and cocktail sauce) for $12, which comes with Mac & Cheese or fries. They also have crawfish étouffée on special.
Keep Reading