Whether you like classic eggs, sausage and cheese on a soft roll, or want to get a little fancy with homemade biscuits and local bacon, there are some fantastic breakfast sandwiches in Pittsburgh right now.
While we can't help you find East Coast, bodega-style bites like you'd get in New York or Philly (but seriously… if you know where to find them around here, let us know), these spots around town offer some pretty great options for early-morning eats.
The Best Breakfast Sandwiches in Pittsburgh
Pear & the Pickle
Troy Hill
We love everything at the Pear & the Pickle in Troy Hill, but we're especially partial to their no-frills breakfast sandwich. Made-to-order with local farm eggs on a toasted egg Kaiser roll, choose from a selection of cheeses (American, cheddar, Swiss, Munster, 3-pepper Colby or provolone) and add house bacon or house sausage for a standout breakfast. The restaurant is operating on a takeout-only basis right now, with all orders available through their pick-up window on Tours Street. Order online, or call 412-322-0333.
Acorn
Shadyside
Not only does Acorn have classic breakfast sandwiches (with fried eggs, bacon and American cheese) on their own house-made everything bagels, they also have Lox sandwiches, made with citrus-cured Verlasso salmon, tomato, cucumber, red onions, capers and cream cheese. Get them for takeout as part of their weekend brunch menu.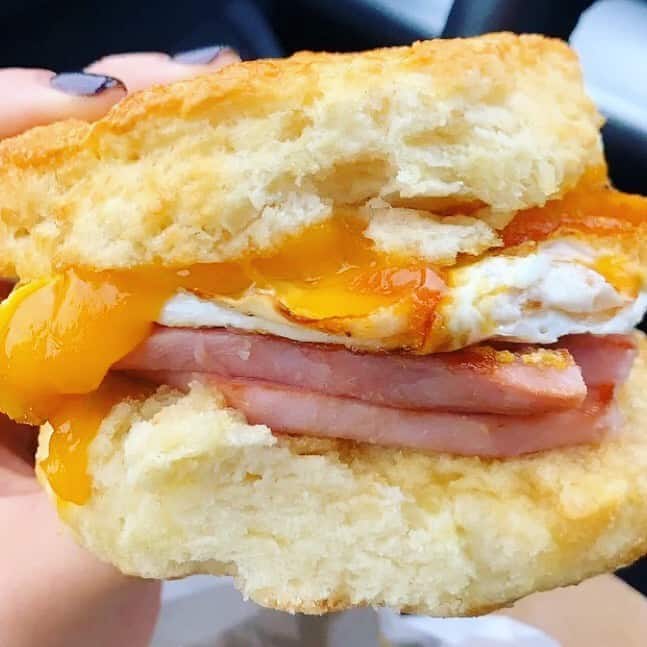 350° Bakery
Southside
If you haven't had the breakfast sandwich yet from 350° Bakery… you're going to want to try it immediately. They're open each weekend, serving up Bacon, Egg & Cheddar sandwiches on fresh-made biscuits, and Sausage, Egg & Cheddar sandwiches, too (usually with fresh pepper jelly). They also regularly have breakfast specials, including Hot Ham & Honey biscuit sandwiches – check their Instagram for the latest updates.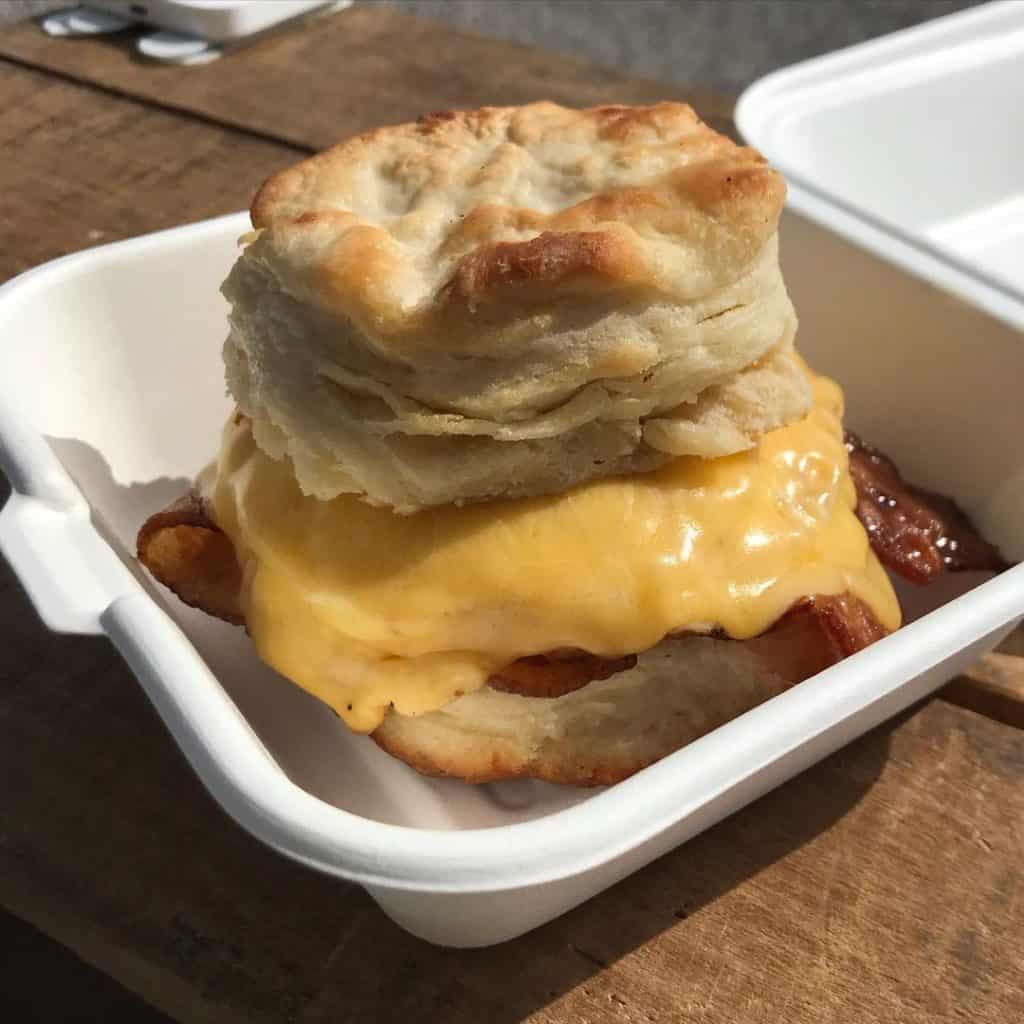 Wise County Biscuits
Farmer's Markets
Wise County Biscuits pops up at various farmer's markets throughout the year (check their Instagram for the latest updates, though you can usually find them at the Bloomfield Saturday Market throughout the year), serving their handmade biscuit sandwiches, stuffed with everything from crispy bacon and melted cheese to their own pimento cheese. You can also order their biscuits online for weekly delivery.
Lola's Eatery
Lawrenceville
Currently open for takeout only on Fridays, Saturdays and Sundays, Lola's Eatery (known for their fantastic doughnuts) serves up create-your-own 'Hangover Cure' breakfast sandwiches, served on their house-made bagels (including Everything, Hot Chili and Rosemary), croissants or Willow Bend English muffins. Add cheese, eggs and bacon or sausage, plus extras, including pesto aioli, caramelized onion, or avocado to make it your very own.
The Speckled Egg
Downtown
While you can get any kind of breakfast or brunch food you'd like at The Speckled Egg (don't sleep on their Poppy Seed Pancakes!), we're partial to their Breakfast Sando. The sandwich is made with medium-cooked eggs, cheese and lettuce on an Onion & Poppy Bun – and you can add bacon or sausage for some extra protein.
Fredo's Deli
Dormont
Fredo's Deli in Dormont is mostly known for their ćevapi (a Balkan beef sausage dish), but they also have a selection of breakfast sandwiches that are worth a try. Their Eggs & Sausage sandwich comes with mushrooms, onion and Swiss cheese, and their regular breakfast sandwich is available with bacon or ham, Colby Jack and green peppers.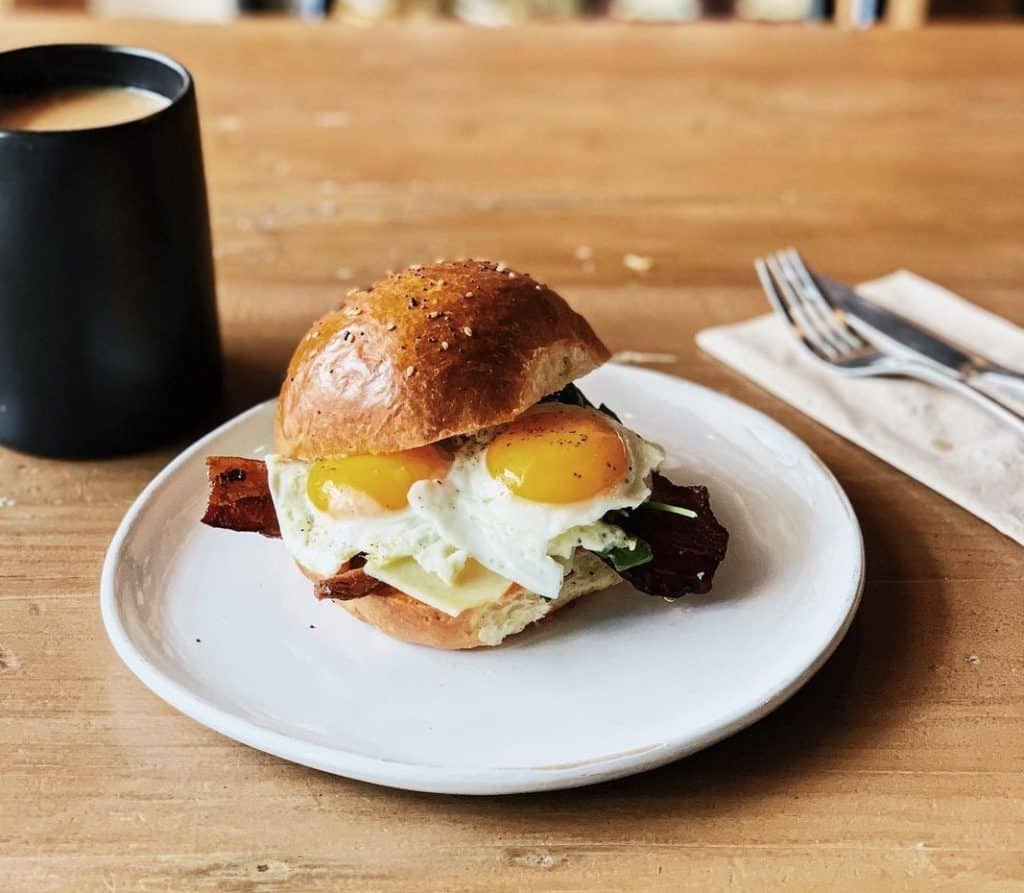 Mediterra Cafe
Sewickely & Mt. Lebanon
The Breakfast Sammy at Mediterra Cafe is one for the record books. Made with two fried eggs, aged cheddar, Sicilian pesto and arugula, it's served on their very own house-made English muffin – or, try it on one of their other house-made rolls or bread options.
My Goodness
Regent Square
Served on a homemade chive buttermilk biscuit, My Goodness in Regent Square (now in a new, bigger location in the former Square Cafe location), has sandwiches with Egg & Cheese (with local free range eggs and white cheddar), Bacon, Egg & Cheese and Sausage, Egg & Cheese (with house-made sausage). They also have gluten-free bread options.
Arancini House
Mount Lebanon
Sicilian Street Food spot Arancini House in Mt. Lebanon has a loaded breakfast sandwich on their menu that you've got to try. It comes stuffed with two eggs, fried in olive oil, and topped with melted American cheese. Add bacon, sausage or capicola, and choose if you'd like it on a croissant, toast, or a fresh-from-New-York plain bagel.
De Fer Coffee & Tea
Strip District
The Breakfast English Muffin is a masterpiece. This specialty sandwich from De Fer Coffee & Tea starts with a homemade buttermilk chive English muffin, which is topped with an egg baked with Parmesan cheese, crispy pancetta, Shelburne Farms cheddar cheese, and garlic chili oil.
Did we miss your pick for one of the best breakfast sandwiches in Pittsburgh? Let us know in the comments!
Keep Reading