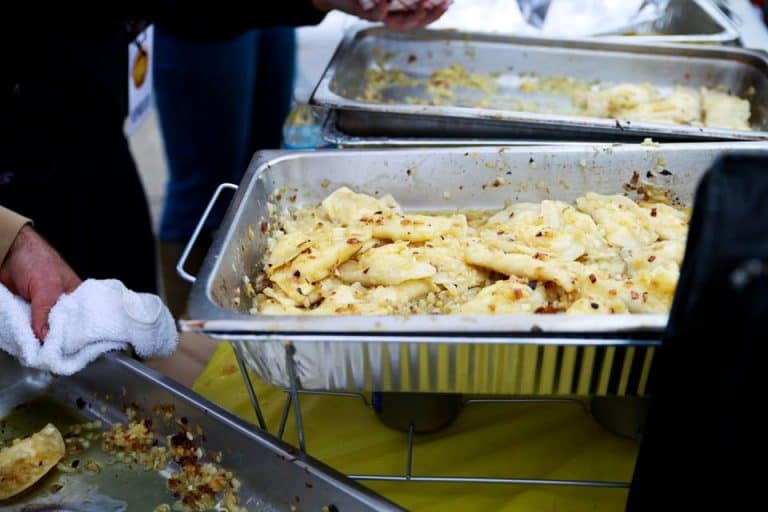 The Pittsburgh Pierogi Festival 2020 date has been set!
One of Pittsburgh's favorite food festivals is coming back!
The Pittsburgh Pierogi Festival will be returning to Kennywood Park in West Mifflin on September 27, 2020 and will feature some of Pittsburgh's favorite restaurants, chefs and food vendors serving their very best pierogies, and pierogi-inspired dishes.
The festival, now in its seventh year, is taking place from 1:00 p.m. to 6:00 p.m., and tickets are now on sale.
Early-bird tickets will be available through April 12, and are $19.99 for ages 13 and up, and $9.99 for ages 3-12.
After that, tickets are $24 for adults and $12 for children. Tickets at the door will cost $28 per person.
Tickets to the Pittsburgh Pierogi Festival don't include food or drinks – they're all pay-as-you-go. But, ticket holders will have access to a few select Kennywood rides (last year's open rides included The Jackrabbit, Racer, Thunderbolt, Carousel, The Turtle, Paratroopers, and the Steel Curtain), live music, a vendor market with pierogi-inspired crafts, tee-shirts and other merchandise, along with family-friendly activities and games. There will also be free parking in Kennywood lots.
The official vendor list hasn't been released yet, but the 2019 festival included 36 vendors, like PGH Pierogi Truck, Millie's Homemade Ice Cream, Gosia's Pierogies, S&D Polish Deli, Southside BBQ, and PGH Sandwich Society.
For more information about the Pittsburgh Pierogi Festival 2020, and to purchase tickets, visit the event page.
Kennywood Park (4800 Kennywood Blvd)
Looking for even more pierogi-related stories to read? Try these: