If you're looking for Pittsburgh holiday events in 2020, you've come to the right place.
Because even though the holidays in Pittsburgh are going to look different this year as we all stay home more, and do what we can to stop the spread of COVID-19 (keep wearing those masks, friends!), there are still ways to celebrate the season, and enjoy safe, socially-distanced events.
From virtual craft markets to selfies with the world's largest pickle ornament, here's what to put on your calendar this season.
The Ultimate Pittsburgh Holiday Events 2020
Phipps Conservatory Home for the Holidays
Daily, November 20 – January 3
The Phipps winter flower show and light garden is back for the holiday season! All tickets must be purchased in advance, and new safety protocols will be required.
Shadrack's Christmas Wonderland's Light Show
Daily, November 13 – January 3
Drive through a two-mile route filled with hundreds of thousands of brilliant LED lights harmoniously synchronization to holiday music at the Big Butler Fairgrounds. Tickets start at $25 per car.
City of Pittsburgh Gingerbread Competition
Friday, November 20 – Early January
This year's Gingerbread Competition has gone virtual, where you can check out the gingerbread house entries via the online gallery, and vote for the people's choice winner.
Peoples Gas Holiday Market
Friday, November 27 through December 23
Enjoy socially-distanced outdoor shopping at the Peoples Gas Holiday Market in Market Square, featuring dozens of vendors in wooden chalets. Open daily. Also featuring the Santa Zoom, an interactive meeting with Santa via video connection.
World's Largest Pickle Ornament
Starting Friday, November 27
Although Pittsburgh's Light Up Night has been canceled this year, there will still be plenty to do this holiday season downtown. The World's Largest Pickle Ornament will be lit on Friday, November 27, perfect for those holiday selfies. UPDATE: LOL, oh, 2020. Just kidding.
Handmade Arcade 2020: Virtual Market
Starting November 27
Handmade Arcade is committed to supporting Pittsburgh's creative maker community with nine days of virtual marketplace events. Starting on November 27, join them online for studio tours, demonstrations, panel discussions and more. See the full event lineup online.
The Grinch Did NOT Steal the Spirit of Christmas in Canonsburg
November through December
There are plenty of holiday happenings in Canonsburg this winter, including pop-up craft markets, fresh-cut Christmas Tree sales, life-sized gingerbread houses and more.
Christmas Pop-Up Craft Market in Canonsburg
Weekends in November and December
The Downtown Canonsburg City Mission is hosting four different Christmas craft, gift and goodie vendors each weekend throughout the holiday season.
Zoo Lights Drive Thru
Select Nights from November 27 to January 3
Drive through the Zoo at night while guided by a themed audio tour as thousands of environmentally-friendly LED lights transform the park into an unforgettable winter wonderland. Tickets are $60 per car for non-Zoo members, and $40 per car for Zoo members. Buy tickets online.
I Made It! for the Holidays 2020 at Tanger Outlets
Saturday, November 28
Another popular Pittsburgh vendor fair is I Made It! Market, with this edition being held at Tanger Outlets in Washington County from 11:00 a.m. to 4:00 p.m. They're also hosting another market at Tanger Outlets on December 12.
I Made It! Market Pop-Up Shop at the Galleria
Saturday, November 28 – January
The I Made It! Market team is opening a holiday pop-up shop at the Galleria of Mt. Lebanon, opening on November 28, and featuring local crafts and wares from Pittsburgh artists and makers.
Winter Wonderland at The Terminal
Starting Saturday, November 28
Enjoy Winter Window Displays from local nonprofits this holiday season at The Terminal in the Strip District. Grab a hot chocolate, and take a stroll down the Terminal walkway to see what they've designed – and how you can support them this holiday season.
Small Business Saturday
Saturday, November 28
Support small businesses in Pittsburgh! Shop for your holiday presents at Pittsburgh's plethora of locally-owned businesses. Many stores will have discounts and treats.
Holiday Shopopoly at Market Square
Friday, November 28
More than 25 Downtown retailers and holiday destinations are teaming up for a socially-distanced shopping excursion, where you can win prizes and giveaways. See more details online.
The Joy of Cookies: Cookie Rewards Program
Starting Friday, November 28
Though Lawrenceville isn't hosting their normal Joy of Cookies tour this year, they're offering a Cookie Tour Rewards Card program, where you can earn prizes (cookies, gift cards and more) for shopping local in Lawrenceville during the holiday season.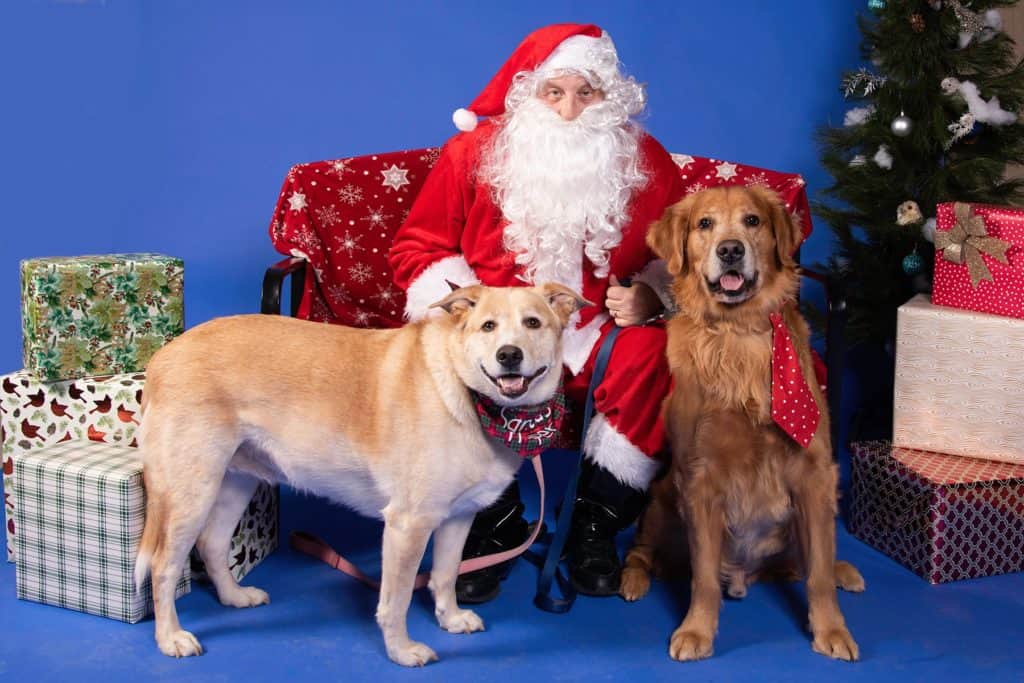 Virtual Pet Photos with Santa
Monday, November 30
Animal Friends is hosting a virtual pet photo event! For a $5 donation, their group of designers will photoshop your pet, or pets with Santa. For an additional $10 per pet, you can add printed photos to share with family or friends. Register online.
12 Days of Santa at The Waterfront
Various dates, December 1 – December 20S
Santa will be at the Waterfront for in-person pictures… though he'll be standing six-feet away from all guests. Reservations must be made in advance, and donations benefit Beverly's Birthdays.
Joy-Thru Fairview in South Fayette
Friday, December 4
Drive through Fairview Park in South Fayette to see holiday lights, live reindeer, carolers, business booths, Santa Claus and more. Tickets are free with one toy donation per vehicle to Toys for Tots and registration is required.
Penguins on Parade
Saturdays and Sundays starting December 5
Every Saturday and Sunday in December, head to the PPG Aquarium outdoor patio between 10:30 a.m. and noon to "parade" past the aquarium's penguins as they enjoy the winter weather during Penguins on Parade. The temperature must be 45 degrees or colder for the penguins to come out.
Bloomfield Saturday Winter Market
Various Saturdays starting December 5
The winter edition of the Bloomfield Saturday Market is back the first and third Saturdays of the month, starting December 5. Shop for local produce, food, crafts and more at 5050 Liberty Avenue.
Holiday Date Night at Carnegie Museum of Art
Thursday, December 17
During date night, each couple can pick up an art-inspired winter-themed bag of activities to share in the galleries while enjoying lively performances by The Joint Commission, members from the Pittsburgh Symphony Orchestra, Shana Simmons Dance, and more. Tickets are $19.95 per person.
Tapestry of Light: A Holiday Celebration
Friday, December 18
Enjoy the magic of the holiday season with the Pittsburgh Symphony Orchestra and Principal Pops Conductor/Soloist Byron Stripling with this virtual event called Front Row: Tapestry of Light. This program will "Celebrate music, faith, peace and light." The event is free, but registration is required.
Pittsburgh Restaurant Week Winter 2021
Monday, January 11 – 17
The "Most Delicious Time Of Year" in Pittsburgh is Restaurant Week, where restaurants across the city offer special menus and items.
Did we miss your favorite event? Let us know in the comments, and we'll add it to the list!
Keep reading…