There's a lot to look forward to in 2020… including over a dozen new restaurants in Pittsburgh!
Below we've listed all the info you need on tacos in Millvale, shaved ice Downtown, and barbeque in Verona.
Want to be the first person to know the latest Pittsburgh food news? It's simple: sign up for the Good Food Pittsburgh email list!
The Best New Restaurants Opening in Pittsburgh in 2020:
The Coop Chicken & Waffles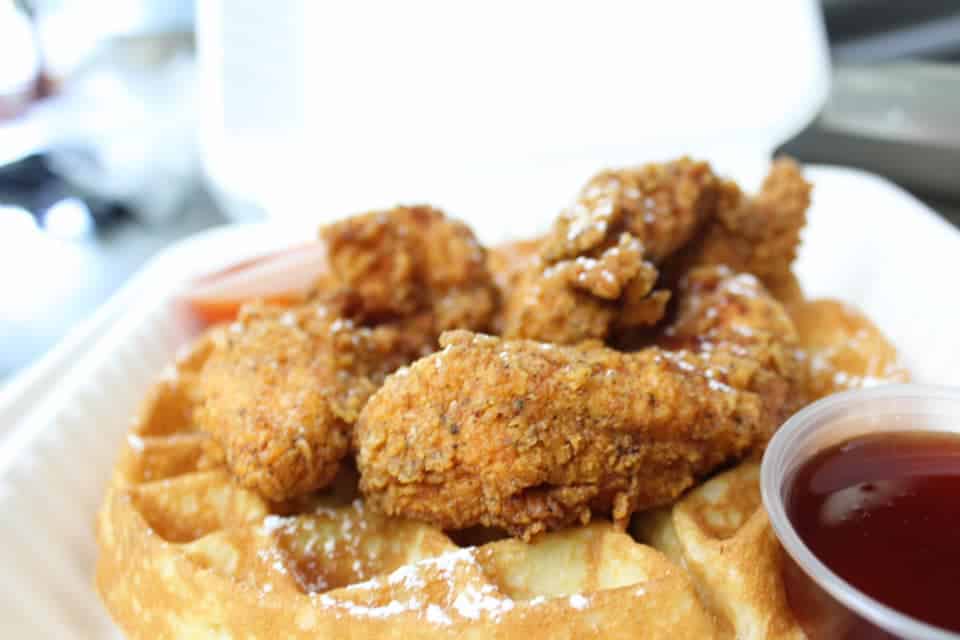 We reported in November that beloved Pittsburgh food truck The Coop is transforming the former Rita's on East Ohio Street in the Northside into a brick-and-mortar location. The business is known for their fluffy Belgian waffles and hand-breaded chicken, served plain or in unique flavor combinations. The space will have a "barn feel" with white-washed wood and concrete floors. Once the shop is open, the menu will be very similar to the food truck, but with a few additions.
The Coop (401 East Ohio Street)
gi-jin
Pittsburgh has been anxiously awaiting gi-jin since the concept (a raw fish and gin bar) was announced in 2017. Once open, gi-jin will serve an upscale menu of raw fish, unique Japanese dishes, and craft cocktails with a focus on gin. Construction on the space is completed, and the website states that the restaurant will be "taking reservations soon," so… it should be open soon!
Gi-jin (208 Sixth Street)
Bae Bae's Cafe
The team behind Bae Bae's Kitchen is opening a second Downtown business dubbed "Bae Bae's Cafe." The cafe will offer variety of drinks and small bites. Guests can expect boba tea, coffee, kimbap, sandwiches, soup, pastries, and Pop Bing Soo, a fluffy shaved ice treat. The space is located four doors down from Bae Bae's Kitchen.
Bae Bae's Cafe (945 Liberty Ave)
Gordo's Tacos
A gourmet taqueria is coming to Mount Washington's Shiloh Street! This family-friendly restaurant will offer a menu inspired by the street foods of Mexico City. Guests can expect handcrafted tortillas and unique tacos like Nashville Hot Chicken taco and a Baha Tempura. There will also be burritos, bowls, and quesadillas. Can't wait? Head to their Mt. Lebanon location to try the menu now.
Gordo's Tacos & Tequila (131 Shiloh St)
Cadence Clubhouse Cafe
Local fitness shop chain Pro Bike+Run is expanding to the world of healthy dining with their new Cadence Clubhouse restaurant, bar, market, and event space. Located inside their new North Park shop, customers will be able to grab a smoothie or coffee before a workout, or stop by after for a post-workout beer and bite. And with their market component, customers will also be able to pick up fresh produce and kitchen staples to take home. Full details can be found online.
PRO BIKE+RUN (9999 Kummer Rd)
Off The Rails
Pittsburgh food truck Oakmont Barbeque Company is opening Off The Rails, a new BBQ restaurant in Verona. After three years on the streets of Pittsburgh, the popular food truck is heading to the neighboring neighborhood of its namesake. The restaurant will offer an extension of their truck menu, including dishes like St. Louis Ribs, Brisket Nachos, Brisket Mac, and the Pulled Pork Sandwich. After a successful campaign with Honeycomb Credit (a local crowd-funding business), the restaurant is currently putting the finishing touches on their new space.
Off The Rails (549 Allegheny River Blvd)
St. Johannes and Bambina
Celine Roberts reports for Pittsburgh Magazine that Joey Hilty and Emily Slagel, co-owners of The Vandal and The Bureau, are working on two new restaurant concepts inside the Pitt Building on Smithfield Street Downtown. Saint Johannes will be a evening supper club-inspired restaurant, and Bambina will be a daytime sandwich shop and espresso bar.
St. Johannes and Bambina (213 Smithfield St)
Mi Empanada
Pittsburgh's empanada popup, Mi Empanada, is opening on Butler Street in Lawrenceville. The brand has previously operated as a mobile operation, popping up at Pittsburgh spots like Grist House, Hitchhiker Brewing, East End Brewing, and more. The new space will be an "empanada bakery," offering an expanded menu of traditional Argentinian flavors and unique options. They will also serve homebrewed Yerba Mate and fresh desserts.
Mi Empanada (4034 Butler Street)
Shorty's Pins x Pints
North Shore goers will soon have a new option for pregame drinks and weekend nightlife. Shorty's Pins x Pints is taking over the spot formerly occupied by the Tilted Kilt, and transforming into a gaming mecca. Attendees can expect games like bowling, cornhole, shuffleboard, ping-pong, arcade games, and much more. And, as the name suggest, there will also be plenty of beer.
Shorty's Pins x Pints (353 N Shore Dr)
Brick & Barrel
WPXI reports that a new concept will open in the former Andora Restaurant space in Fox Chapel in January. The restaurant – named Brick & Barrel – will offer a menu of wood-fired brick oven dishes like pizza, as well as burgers, soups, and salads, There will also be more than 100 bourbons and locally brewed beer.
Brick & Barrel (599 Dorseyville Rd)
Coop de Ville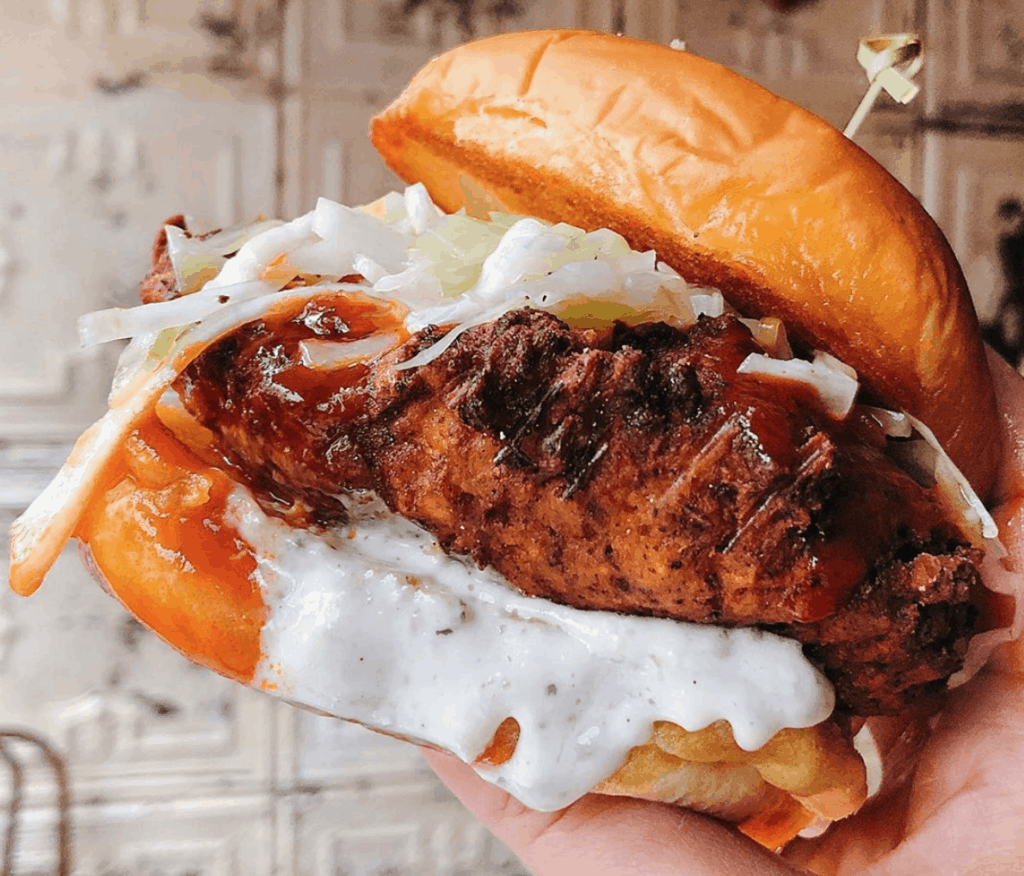 Coop de Ville has been teasing Pittsburgh with their fried chicken sandwiches at pop ups all over the city for the past couple of years. Soon you'll be able to get your hands on one of these decadent sandwiches anytime you want. The restaurant promises to be a "southern table featuring chicken as the headlining ingredient."
Coop de Ville (2301 Smallman Street)
The Speckled Egg
Downtown Pittsburgh will soon be home to a new, breakfast-centric restaurant, The Speckled Egg. The restaurant is co-owned by Jacqueline Schoedel, who previously owned and operated Josephine's Toast in the Smallman Galley. Located inside of the Union Trust building, The Speckled Egg will offer breakfast, lunch, and happy hour, as well as grab-and-go and catering options. The menu will have a strong local coffee program, full bar, and dishes like pastries, salads, soups, and sandwiches. More information can be found on their Honeycomb page.
The Speckled Egg (501 Grant St)
Fig & Ash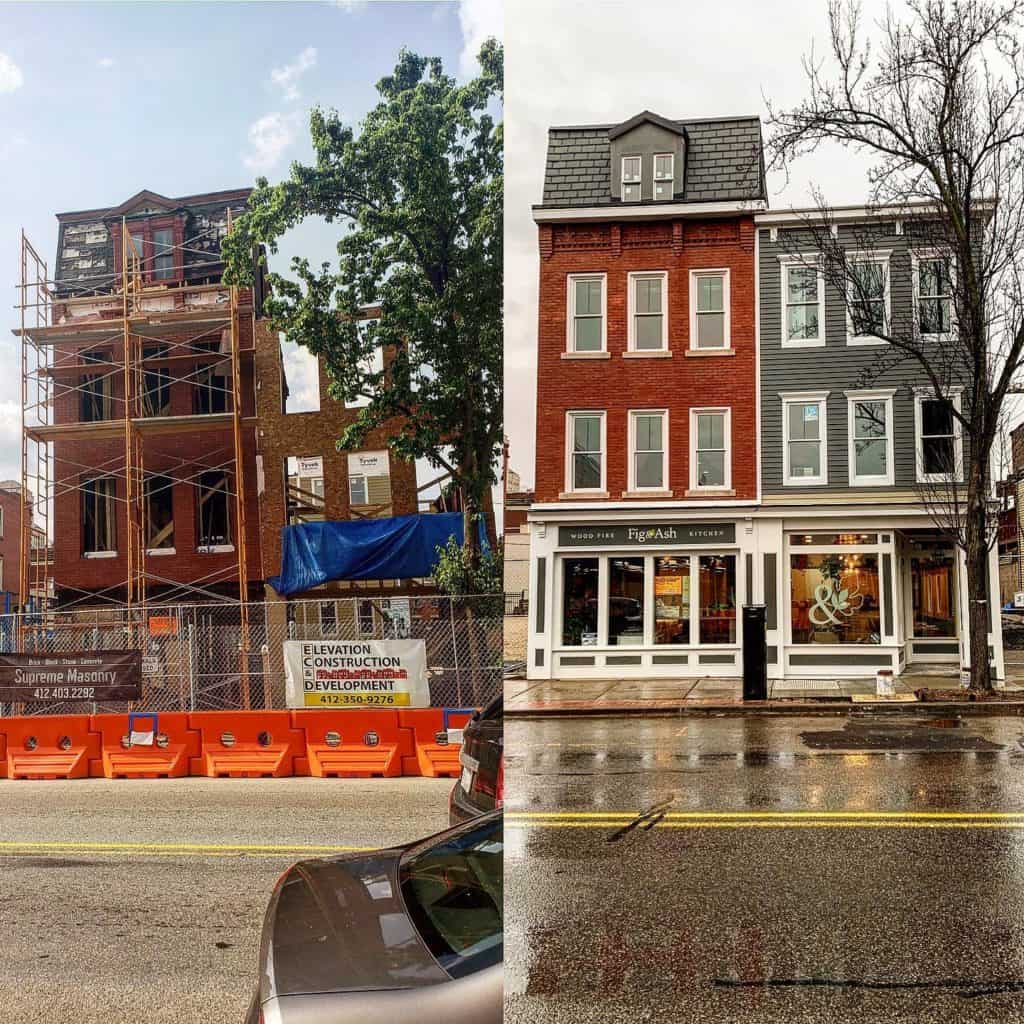 Long-anticipated Northside restaurant Fig & Ash is gearing up to open soon! Located on East Ohio Street in the Northside, a highlight of the restaurant will be the woodfired cooking.
"It's the food I cook on Sunday's in my home kitchen for my family and neighbors," chef and owner Cory Hughes told Good Food Pittsburgh.
Keep an eye on their social media for opening announcements.
Fig & Ash (514 East Ohio Street)
Baby Loves Tacos Millvale
Baby Loves Tacos is coming to Millvale! The beloved Bloomfield taco shop is taking over the former Tazza D'oro location on Grant Avenue in Millvale. In addition to a taco shop, the space will feature a market where patrons can purchase all of the ingredients that they use to prepare their dishes, as well as a rotating offering of additional fruit, vegetables, and basic pantry food items. The taqueria will feature eat-in seating, with tacos, burritos, salads, and burrito bowls.
Baby Loves Tacos (524 Grant Avenue)
Did we forget an upcoming restaurant? Don't fret! Please leave it in the comments below!