It's almost the end of the year, and you know what that means… time to place an order for your Pittsburgh New Year's Pretzel!
The large, sweet pretzel is a tradition in Pittsburgh, and said to give you luck for the coming year – if you enjoy a bite or two at midnight on New Year's Eve.
If you'd like to order your own fresh-baked New Year's Pretzel, you'll need to get those orders in quickly (like… today!).
Where to Find Pittsburgh New Year's Pretzels
Prantl's Bakery: The Prantl's New Year's Eve pretzel available in nut, cinnamon or Danish (orange iced). They're $13.99 each, and can be ordered online, or by calling 724-837-3706 for pickup at any of their locations.
Father & Son Family Bakery: The newly-opened Father & Son Family Bakery in Observatory Hill is taking orders for their New Year's Eve Pretzels, which are made with the same recipe as the former Schorr Family Bakery. Call 412-321-4900 to order.
Potomac Bakery: Potomac Bakery, with locations in Mt. Lebanon and Dormont, is ready to take your New Year's Eve Pretzel orders. Call 412-531-5066 (for Dormont) or 412-531-5067 (for Mt. Lebanon) to place and order.
The Pretzel Shop: South Side institution The Pretzel Shop has New Years Pretzels (made with pretzel dough, not sweet dough) available to order right now. Pretzels with icing and sprinkles, or with icing and nuts are $15 each, and Pretzels with salt (or unsalted) are $12 each. Call 412-431-2574 to order.
The Pie Place: In addition to their classic, cinnamon-filled New Year's Pretzel, the Pie Place in the South Hills also has a New Year's Pretzel Kit, for make-your-own fun. Pretzels are $20 each, and can be purchased online.
Oakmont Bakery: December 29 is the last day to place an order for pickup on December 31 (they'll be open from 6:00 a.m. to 5:00 p.m.). Pretzels are available in Plain, Cinnamon, Raspberry, Cherry Nut and Raising, and are $14 each. Smaller Danish pretzels are also available. Order online, or call 412-826-1606.
Valdiserri's Bakery: Located in Belle Vernon, Valdiserri's Bakery is now taking orders for the sweet dough New Year's Pretzels. Pretzels are available plain or with raisins, and are topped with white icing, cherries and nuts, and come in small, medium and large. Call 724-929-8040 to order, or order online.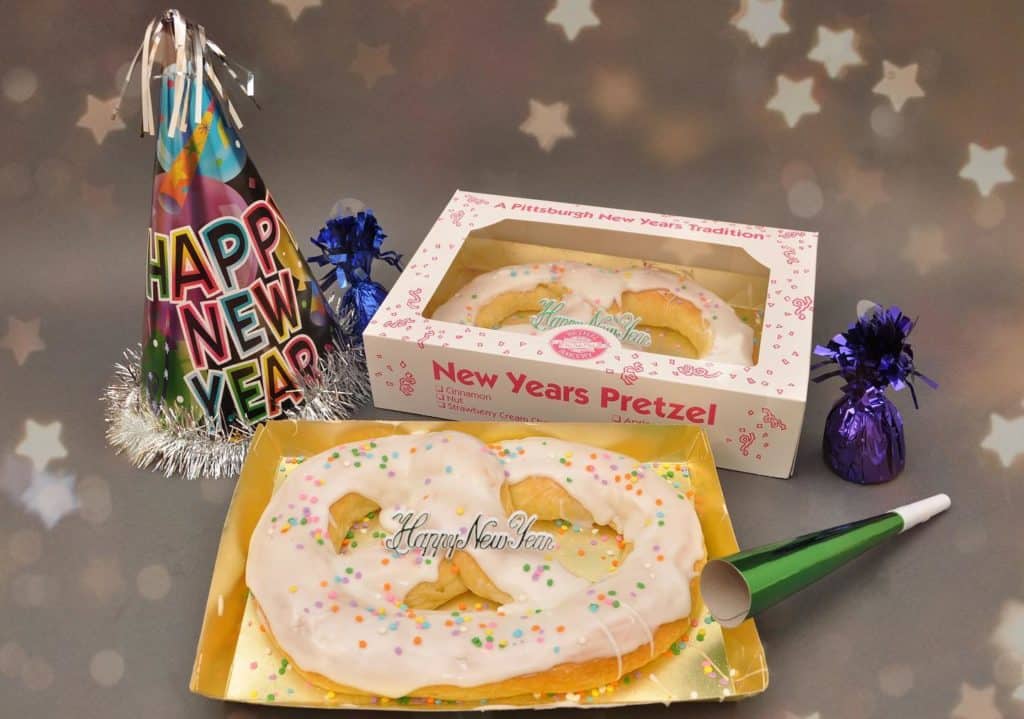 Bethel Bakery: Available in Danish, cinnamon, apricot, or nut, Bethel Bakery's famous Pittsburgh New Year's Pretzel is available to order now. Call 412-835-6658 to place an order for New Year's Eve pick up.
Signature Desserts: New Year's Pretzels from Signature Desserts in Castle Shannon are available for pickup on December 31. These freshly-baked treats are made with cinnamon bun dough, and glazed with icing, and covered in chopped walnuts (also available without nuts). They're $14 each, and available for pre-order only. Call 412-882-9960 to order.
Cibrone Bakery: Italian Bakery Cibrone Bakery, located in Castle Shannon, is now taking orders for their New Year's Pretzel. Call 412-885-6200 to order.
Pastries A-La-Carte: At Pastries A-La-Carte in Pleasant Hills, you can order New Year's Pretzels in Cinnamon, Nut, Apricot, Cheese & Nut, Apricot & Nut and Strawberry & Cheese. Call 412-653-2236 to order, or stop into the bakery to pick one up today.
Jenny Lee Swirl Bread: Though you can no longer place pre-orders for Jenny Lee Swirl Bread's New Year's Pretzels online, you can find them at Pittsburgh-area Costco Warehouses, Safran's Supermarket in Sewickley, and Silver Star Deli in McKees Rocks.
Barton's Flowers and Bake Shop: In Elizabeth, Barton's Flowers and Bake Shop is taking orders for New Year's Pretzels. They're available in Cinnamon, Cinnamon & Raisin, Cherry, Cheese, Walnut, Apricot, Walnut & Apricot, Blueberry with Maple Glaze, Raspberry, Pineapple & Walnut, Cherry Cheese and Apple Cinnamon, and are $12.50 each. Call 412-384-9370 to order.
As always, the bakery departments at some of Pittsburgh's favorite grocery stores are also fully stocked with New Year's Pretzels for grab-and-go pickup. Giant Eagle and Shop'n Save locations around the Pittsburgh area both will have them available through December 31.
Keep reading…