Restaurants and catering companies want you to leave the cooking to the professionals this Easter! From family-sized meals to individual portions, here's where you can order Easter brunches and dinners to go.
Please note: Many of these places have order deadlines, so if place your orders soon!
DiAnoia's Eatery: DiAnoia's Eatery is offering Easter Takeout meals for pickup on Saturday, April 3, which includes Beets & Eggs (pickled-beet carpaccio, hard-boiled eggs, mint and fried capers), Cacio e Pepe Artichokes, Pasta Primavera, Agnello Romano (braised lamb with spring pea and Calabrian chili salad), and Pane de Pasqua (Italian Easter Bread). Dinners cost $48 per person, and optional wine pairings are available. Dinners will be packaged cold with reheating and preparation instructions. (2549 Penn Avenue)
Pane è Pronto: Pane è Pronto in the Strip District is offering an Easter Dinner for Two, with a Kale Salad, Greens and Beans, Roast Lamb Leg over Pasta with Red Sauce, and Pane di Pasqua (Italian Easter Bread). Each dinner costs $48, and serves two. (2627 Penn Avenue)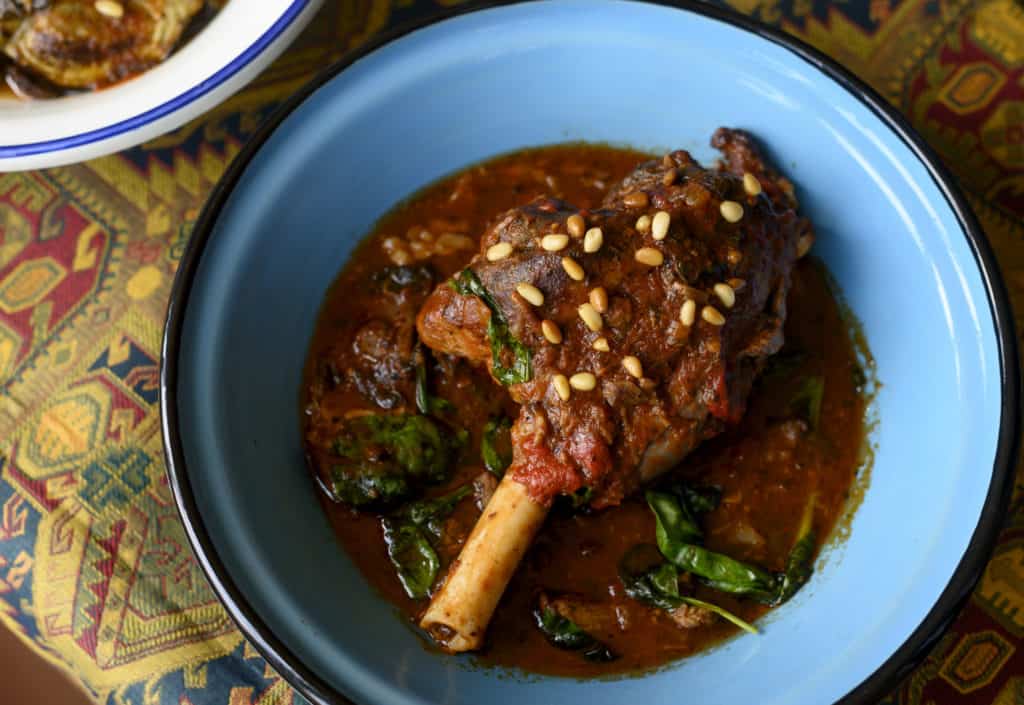 Khalil's: The Easter Feast at Khalil's includes Lamb Shank, Ouzie (a Syrian specialty with rice peas, beef, raisins, and toasted almonds), salad, laban, Kibbee Saynee, grape leaves, hummus, baklava and pita bread. Orders must be placed by Wednesday, March 31, and can be made by emailing info@khalilsrestaurant.com. Pickup is Friday, April 2 and Saturday, April 3 between 4:00 p.m. and 8:00 p.m. (4757 Baum Blvd.)
Chef's Table: Chef's Table in Ross Township is offering Easter Dinner to go this year, featuring apricot-glazed ham, au gratin potatoes or Mac & Cheese, green salad, green bean casserole, and more. Each dinner is $135, and serves up to six people. Orders must be placed by Thursday, March 31 for pickup on Saturday, April 3. Find out more information here, and call 412-821-8100 to order. (2193 Babcock Blvd.)
Forma Pasta: Trays of Easter lasagna from Forma Pasta are now available to order. They're offering traditional cheese lasagna, or vegetable lasagna with bechamel sauce. Each tray is $35, and feeds six to eight people. Call 412-586-7195 to order, and pickup is available April 2 and April 3. (708 E. Warrington Avenue)
Sprezzatura: Sprezzatura in Millvale is offering Easter dinner, available for pickup Easter Day from 11:00 a.m. to 1:00 p.m. Options include Easter Dinner for two, four or six people ($60 – $156) with lamb, scalloped potatoes, eggplant almond mint salad and more, and additional options like pans of lasagna ($60), Asparagus quiche ($8), and platters with dips and cruidite ($45). Order online. (112 E. Sherman Street)
Bigham Tavern: Pre-order Easter takeout by March 31. Bigham's 'Big Ham' takeout Easter Brunch is $13.95 per person (includes sliced ham, French toast, eggs and home fries), and Easter Dinner is $15.95 per person (with a choice of soup or salad, sliced ham, scalloped potatoes, roasted vegetables, and more). (321 Bigham Street)
Eleven: Options for take-and-bake dinners for four from Eleven include Elysian Fields Lamb Loin Chops for Four ($225) and Beef Tenderloin ($185), which both come with goat cheese whipped potatoes, haricot vert and three greens salad. Dinners are available for pickup Saturday, April 3 and Sunday, April 4, and are served cold with heating instructions. Orders must be made by Friday, April 2 at 5:00 p.m. (1150 Smallman Street)
Cioppino: Easter Brunch at Cioppino includes a choice of Prime Rib with Mac & Cheese ($125) or Gruyere cheese and spinach quich with smoked salmon gravlax ($80), along with soup, salad and desserts. Last orders for pickup must be made by Thursday, April 1 at 5:00 p.m., and pickup is on Saturday, April 3 from 1:00 to 5:00 p.m. (2350 Railroad Street)
Luma: Luma in Mt. Lebanon has an extensive Easter menu available for takeout, with options that include salmon, slow-braised lamb shank, roasted duck, filet mignon, crab cakes and more. All orders must be placed 24 hours in advance of pickup, and the full menu is available online. (186 Castle Shannon Blvd.)
Station: Enjoy an Easter Dinner for Two from Station in Bloomfield. This pickup-only meal is $70, and includes two whole smoked pork shanks, BBQ lentils, roasted broccoli, au gratin potatoes and lavender pound cake. Station is also offering additional side menu items, and batched cocktails to go. Pickup is April 3. (4744 Liberty Avenue)
Alta Via: In addition to dine-in service on Easter Sunday, Alta Via will also be offering take-and-bake meal options to feed four. Menu items include Braised Beef Short Ribs ($185) and Lasagna ($125), both served with salad, rapini and house-made focaccia. Their dinner menu is also available for takeout. (46 Fox Chapel Road)
Casbah: Take-and-bake options for four at Casbah for Easter Dinner (they'll also be open for in-person dining for brunch and dinner) include Roasted Leg of Elysian Fields Farm Lamb ($175) and Crispy Gerber Farms Chicken ($155), which each includes sides, salad and bread. You can also order a whole cheesecake ($20) and pitchers of red sangria. (229 S. Highland Avenue)
Square Café: The Eater Dinner Kit at Square Café is $40, and is available for pickup on Friday, April 2 and Saturday, April 3. Each kit serves two people, and includes a choice of baked ham or stuffed zucchini, scalloped potatoes, green beans, macaroni salad, dinner rolls and a dessert. (134 S. Highland Avenue)
Know of any other restaurants offering great takeout meals for Easter? Let us know in the comments!
Looking for more Good Food? Read these: