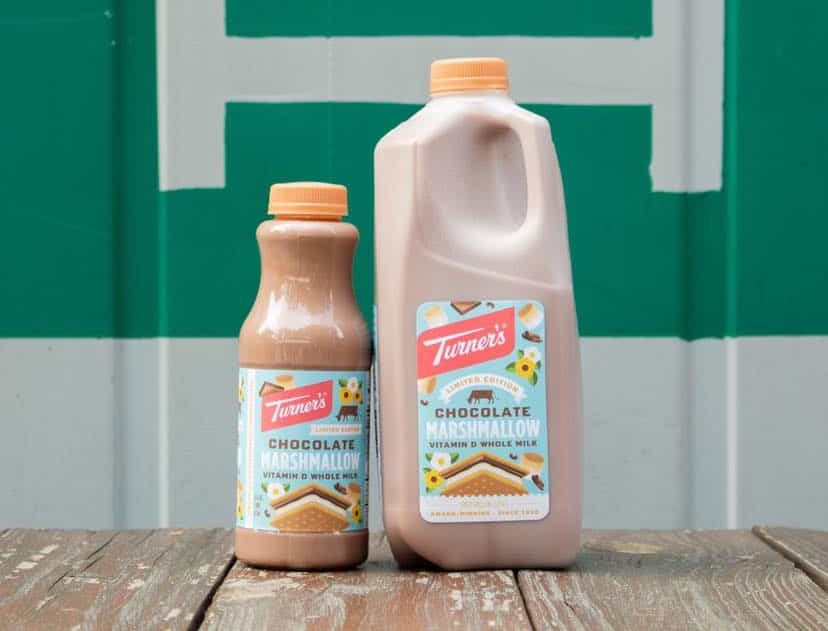 Every month in Pittsburgh, there's new dishes to try, drinks to enjoy, and tasty events to go to – and we're kicking off this October (like we do every month) with our absolute must list of what should be on your radar right now.
1. Get your hands on a limited-edition jug of Turner's Chocolate Marshmallow milk.
Want to try a new twist on s'mores? Pittsburgh's Turner Dairy Farms has something special you've got to try. They just released their seasonal, limited-edition Chocolate Marshmallow milk, made with their award-winning chocolate milk infused with the sweet flavor of marshmallow. It's available in groceries and specialty stores around Pittsburgh, check online to find a location near you.
2. Support one of Pittsburgh's greatest non-profits at a top chef-led gala dinner.
412 Food Rescue's annual Sunday Supper gala dinner is happening on Sunday, October 6 – and tickets are still available. It's one of the city's best events of the year, for one of the city's best non-profits (seriously, they've rescued millions of pounds of food over the last four years, and distributed it to thousands of Pittsburghers in need). This year's event will feature a multi-course dinner from a variety of chefs, led by Jamilka Borges (the Independent, Hidden Harbor, Lorelei), and will be emceed by the one and only Sally Wiggin. Tickets are available here.
3. Handle the heat with the Hot Fries at CHiKN.
Oakland's CHiKN is best known for their fried chicken sandwiches, but they also have a number of different side dishes, including massive baskets of fries. For a limited time, you can combine the two, with their Hot Fries dish – a basket of their crinkle-cut fries, topped with hot peppers, melted cheese, and crispy hot sauce-topped chicken bits. Get it while you can! (CHiKN, 3712 Forbes Avenue)
4. Go to a Fall Festival.
Because there are so many to choose from. We found more than 100 fall festivals happening in and around western Pennsylvania, including pumpkin picking events on local farms, haunted nights at the museum, and lots more.
5. Celebrate all things smokey at Smoketoberfest.
Roundabout Brewery wants you to get your smoke on. Their 6th annual Smoketoberfest is happening on Sunday, October 13 at their Pop-Up Beer Garden location on the Ohio River, and will feature smoked cuisine from Blowfish BBQ, Driftwood Oven, Black Sheep BBQ, and Campfired, along with lots of local vendors, live music, and plenty of Roundabout brews. Tickets are $32, and include a pint glass, one full beer, live music and samples from food vendors.
6. Upgrade your Halloween candy game.
Sure, candy corn and fun-sized Snickers bars are Halloween classics, but if you really want to treat yourself well on this sweet holiday, turn to the best candy-makers in Pittsburgh. a519 Chocolate has insanely delicious seasonal flavors available now, like Toddy truffles with cinnamon-spiced cider, honey, lemon zest and whiskey, Balsamic-glazed fig in dark chocolate, and Pumpkin & Brown Butter in dulcey chocolate. Sarris Candies in Canonsburg is turning their sweet chocolate into spooky ghosts, goblins and witches. And Sinful Sweets has hand-poured chocolate bars topped with candy, fruit, and nuts, candy apples, edible cookie dough, and deep-dish brownie bites. Want even more hand-made candy options? These 20 old-school candy shops in Pittsburgh will definitely satisfy your sweet tooth.
7. Make your weekends even better with some of Pittsburgh's best pancakes.
If brunching is your thing, then you probably already know where to find some of Pittsburgh's best pancakes. But this month, go out of your comfort zone and try something new. A few of our favorites include the buttermilk pancakes at Pie for Breakfast, the weekend-special pancakes at Square Cafe (like Pistachio Cream and Heath Bar), and the ever-popular crepe-style 'cakes at Pamela's Diner. And if you need more inspiration, you can always take our Pancake Road Trip to find even more of the city's best.
8. Get a taste of the city at the Best Bites Pittsburgh Restaurant Crawl.
On Saturday, October 12, the Pittsburgh Post-Gazette is hosting an epic downtown restaurant crawl, featuring stops at 20 restaurants, including BRGR, Bridges & Bourbon, Millie's Homemade Ice Cream, Molinaro Restaurant, Union Standard and Wigle Whiskey. Tickets are $50 per person, and include tastings at each spot, cocktail samples, and more.
9. Enjoy the last bit of summer weather with a rooftop drink.
The calendar may say October, but it's going to be about 90° for the next few days, so let's enjoy this extra-long summer while we can. Head to one of Pittsburgh's best rooftop bars, like Biergarten, il Tetto, Over Eden or New Amsterdam, and soak up the sun – and the views.
10. Lean into the season with a pumpkin-spiced (or chai-spiced, or apple-spiced) treat.
There's really no better time of year to be a bakery-goer than right now. Bakers are going out of their way to bring the hungry masses what they really want: Autumn-inspired cupcakes, doughnuts, cookies, breads and more. From the Chai Tea cupcakes at Flour and Sugar Cakery to the 31-days of pumpkin confections at The Pie Place, there's plenty of seasonal treats to choose from. Other favorites include: Pumpkin pudding cakes with cream cheese frosting from Oakmont Bakery, pumpkin drop cookies at Prantl's Bakery, and Caramel Apple cupcakes at Bethel Bakery.