From restaurants to coffee houses, and ice cream shops to cocktail bars, new spots have been opening up like crazy in the last few months. Here's all of the best new places to try right now.
The Standard Market & Pint House
Downtown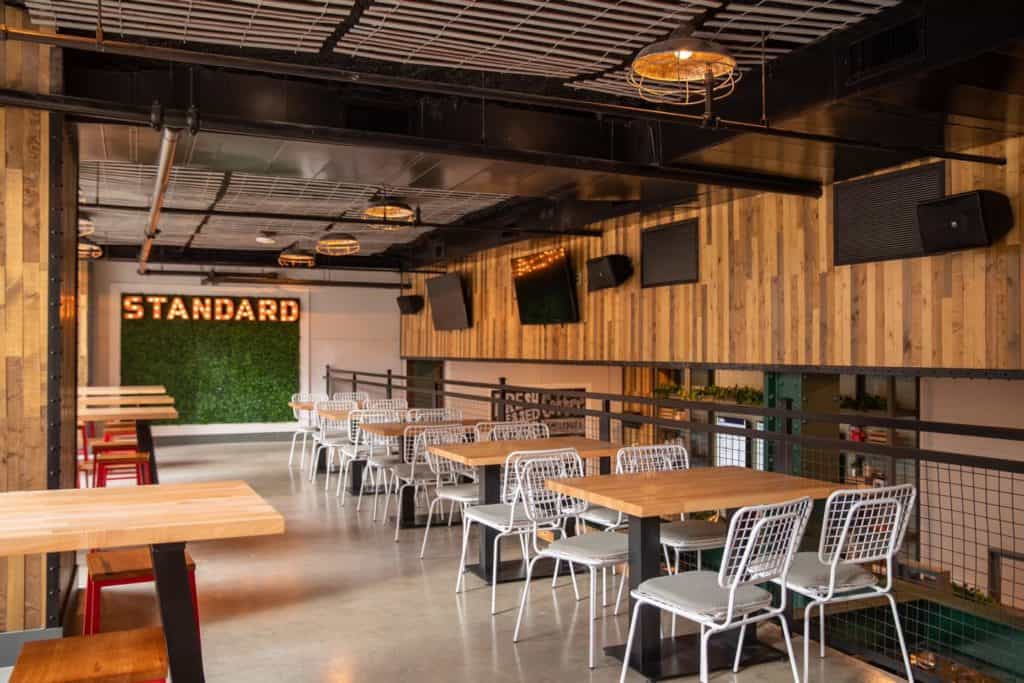 There's a lot happening at The Standard Market & Pint House, the brand new spot from AMPD Group (Steel Cactus, Local Bar + Kitchen, Ten Penny) that just opened downtown in the former Sonoma Grille location. It's a grab-and-go cafe, a full-service restaurant, a bar, and a game room – basically, everything you'd want, morning, noon and night. They have a focus on healthy options in the cafe and restaurant (sushi, salads, sandwiches, avocado toast and wraps), 44 beers on the self-service tap system, more than two dozen televisions, pool tables, and more.
The Standard Market & Pint House (947 Penn Avenue)
The Speckled Egg
Downtown
There's a brand new spot to get brunch all day, every day. The Speckled Egg opened earlier this year, tucked inside the Union Trust Building downtown. Serving everything from omelets to French Toast (and the best poppy seed pancakes around right now), The Speckled Egg also has a full bar with breakfast-inspired cocktails and fresh juices.
The Speckled Egg (501 Grant Street)
BrewDog Pittsburgh
East Liberty
Scotland-based BrewDog has opened their very first Pittsburgh brewery outpost. The brewery is owned by more than 100,000 beer fans from around the world who invested through a crowdfunded campaign, and has dozens of locations internationally and in the United States. Look for 24 brews on tap, a grab-and-go section, a full food menu featuring "elevated bar food" (like their cauliflower wings), and a dog-friendly outdoor patio.
BrewDog Pittsburgh ( 6144 Centre Avenue)
Millie's Homemade
Lawrenceville
The latest Millie's Homemade Ice Cream Scoop Shop has landed in Lawrenceville. Located at 3808 Butler Shop, Millie's Lawrenceville offers all of the best ice cream flavors of their other shops, like Chad's Vanilla, Pistachio, and Peanut Butter Banana.
Millie's Homemade Ice Cream Lawrenceville (3808 Butler Street)
Baby Loves Tacos
Millvale
The second Baby Loves Tacos in Pittsburgh has opened in Millvale (in the former Tazza d'Oro spot), serving their beloved tacos, burritos, and bowls and nachos in an expanded space. Earlier this week, they also launched a small market in the space, providing "accessible and affordable grocer[ies] for residents who don't have access to a car," according to owner Tom Shell. The first phase offers select produce, herbs and dry items like rice and beans, and eventually they plan to host a weekly farmers maret.
Baby Loves Tacos (524 Grant Avenue)
Spello
Mars
Spello Restaurant & Wine Bar is now open in Mars, serving from-scratch Italian food, including a variety of homemade pastas and build-your-own Bruschetta boards. The menu also includes a lot of salads, shared plates, and larger entrees, and the bar is loaded with Italian wines, European spirits, and wine on tap.
Spello (100 Adams Shops, Mars)
DD's Dinner and Desserts
Springdale
Hidden gem DD's Dinner and Desserts recently opened in Springdale, serving weekly prepared dinners made daily that are ready to be picked up and heated at home, along with fresh-baked desserts. The menu changes weekly, but past selections have included Chicken-stuffed Peppers with mashed potatoes, Grilled Salmon Salad, Pork Tenderloin with apricot ginger sauce, and Pot Roast with potatoes and carrots.
DD's Dinners and Desserts (551 Pittsburgh Street, Springdale)
Butterjoint All Day
Oakland
If you love the Butterjoint, you're going to love Butterjoint All Day. It's the new concept that has landed in the recently-closed Legume space, and it takes Butterjoint's menu, and expands it (with a few Legume-like touches). Until the restaurant officially opens, you'll find the Butterjoint Test Kitchen throughout the month of March, where each night, the team tests new menu items, like Stuffed Cabbage, House Corned Beef and Boiled Lobster, plus a few Butterjoint favorites, like salads, burgers and pierogies.
Butterjoint All Day (208 North Craig Street)
Off The Rails BBQ
Verona
The Oakmont BBQ Company has opened their own brick-and-mortar location in Verona. Off The Rails BBQ opened this week, serving BBQ favorites like ribs, beef brisket and pulled pork, along with house-made side dishes like Mac & Cheese, baked beans and cole slaw. They also offer a bar with 12 beer taps, featuring local brews from Grist House, Hitchhiker and Dancing Gnome.
Off The Rails BBQ (549 Allegheny River Blvd., Verona)
Ispirare Coffee
Kittanning
Downtown Kittanning now has a new coffeehouse. Ispirare Coffee opened their first cafe in a corner shop earlier this month, serving their own coffee, plus tea, lattes, cappuccino and hot chocolate. They also have fresh-baked pastries, to-go salads and breads, and sweets.
Ispirare Coffee (140 Market Street, Kittanning)
Five Points Artisan Bakeshop
Squirrel Hill
Beloved bakery Five Points Artisan Bakeshop has just introduced a new, expanded space. The Five Points Artisan Coffee Shop opened at 6520 Wilkins Avenue in Squirrel Hill last month, serving all of their delicious baked goods, including croissants, cookies, cinnamon buns, Danishes, tarts and pies, plus specialty coffee from Espresso a Mano.
Five Points Artisan Bakeshop (6520 Wilkins Avenue)
Hapa Hawaiian Grill
Downtown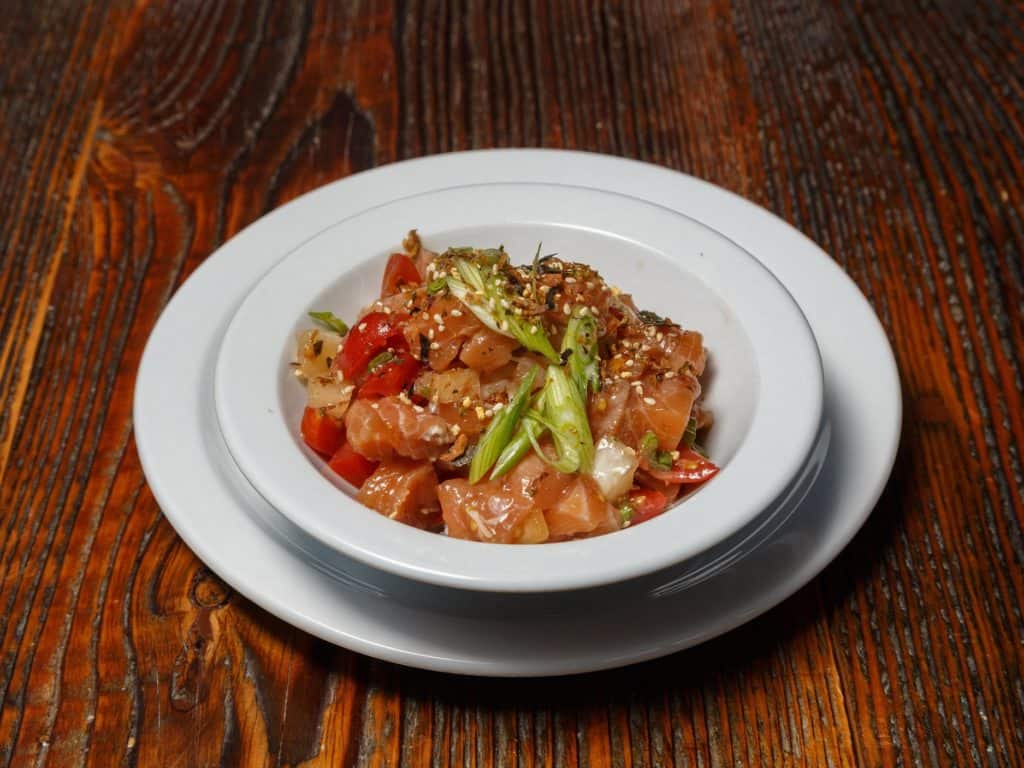 Fast-casual restaurant Hapa Hawaiian Grill is now open downtown, serving Hawaiian-inspired dishes like saimin noodles, poke bowls and mixed plate specials. Additionally, you'll also find burgers and salads on the menu, and entrees that include BBQ Short Ribs, Mahi Mahi, and Hawaiian BBQ Chicken, all served with rice and a potato-macaroni salad.
Hapa Hawaiian Grill (1334 Fifth Avenue)
Chef's Table
Ross
You'll find fresh, made-to-order healthy options at the newly-opened Chef's Table in Ross Township. Chef Kevin Watson's restaurant serves an eclectic menu with options from around the globe, including Vietnamese, Indian and North American cuisine. The restaurant is also launching a "Buy a Meal, Give a Meal" program with an emphasis on feeding homebound seniors.
Chef's Table (2193 Babcock Boulevard)
Cobra
Bloomfield
Cobra in Bloomfield is a Korean barbecue restaurant that offers tableside grilling, plus a bar, lounge, and private karaoke rooms. Book a BBQ table, and enjoy their smokeless Shinpo Yakiniku grills, with beef, pork, seafood and seasonal vegetables.
Cobra (4305 Main Street)