It was a great year for restaurant openings in Pittsburgh… though, you could say the same thing about 2018 and 2017, too.
From a South Side bakery with the best breakfast sandwiches to a rooftop lounge with some of the most picturesqye views in the city, we've rounded up our favorite restaurant (and bar) openings of the year.
Did we miss your favorite? Let us know in the comments!
Alta Via
big Burrito's Alta Via in Fox Chapel Plaza is easily one of the best new restaurant openings of the year – if not the decade. The restaurant's menu is inspired by California wine country and the mountain towns in the Italian Alps, and features fresh-made pasta, seasonal vegetable dishes, and wood-hearth cooking. It's been so popular, in fact, that big Burrito has recently announced plans to open a second location in McCandless. Alta Via (46 Fox Chapel Road)
Two Sisters Vietnamese
East Liberty's Two Sisters Vietnamese was a welcome addition to the neighborhood when it opened in January. The menu features a variety of Vietnamese dishes with a focus on pho, offering four types: beef, chicken, seafood and vegan. Two Sisters (216 N. Highland Avenue)
Farmer x Baker
Farmer x Baker opened this summer for breakfast and lunch in Aspinwall Riverfront Park, serving farm-fresh dishes like breakfast arepas, roasted turkey sandwiches with fresh cranberries, and ebelskivers, a special Danish pancake pastry. The restaurant is closed for the season, but will be back later in the spring. Farmer x Baker (285 River Avenue, Aspinwall)
Iron Born Pizza
The second Iron Born Pizza location in Pittsburgh just opened in the Strip District, serving Iron Born's famous Detroit-style pizza, plus a new menu of fresh-made pastas, salads and sandwiches. The Strip District location also has a full (and quite large) bar. Iron Born Pizza (1806 Smallman Street)
Larder of East End
Going to grab a beer at East End Brewing Company got a little tastier this year with the addition of Larder of East End this summer. Justin Severino's counter-service restaurant (connected to the brewery) serves elevated bar food, like Smoked Harissa Chicken Wings (with za'atar and apricot honey), steamed mussels, and a brisket sandwich. Larder of East End (147 Julius Street)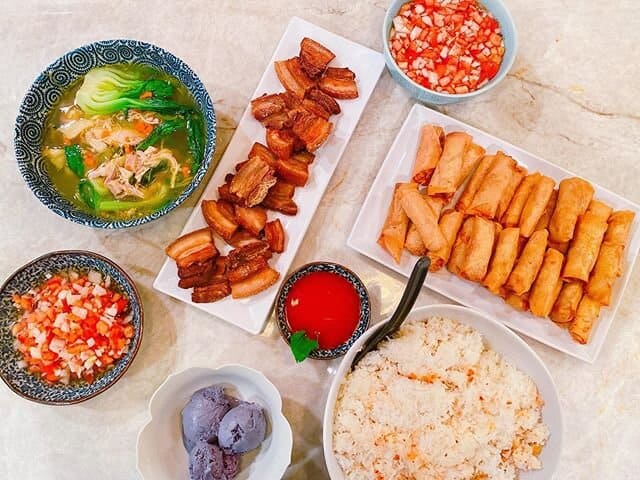 Lola's Eatery
This new brunch spot in Lawrenceville has only been open for a few weeks, but it's already making a big impact. Located inside the historic Engine House 25's Tasting Room, the restaurant's menu features Mexican and Filipino-inspired dishes and fresh baked goods. Lola's Eatery (3337 Penn Avenue)
Kingfly Spirits
Kingfly Spirits opened in the Strip District last winter, offering up a brand new space for craft cocktails (made using the distillery's own spirits, of course), and regular live music and special events. Kingfly Spirits (2613 Smallman Street)
Garbarino's
The restaurant space under The Twisted Frenchmen became Garbarino's this year, a fourth-generation Italian restaurant, serving classic dishes from Garbarino family recipes, including house-made pasta, veal chop Parmesan, chicken piccata and Roman Gnocchi Primavera. Garbarino's (5925 Baum Boulevard)
KIIN Lao & Thai Eatery
The owners of Silk Elephant have opened KIIN Lao & Thai Eatery in the former Bangkok Balcony space, serving traditional Laotian and Thai cuisine. Look for dishes like Laab (a dish made with minced chicken, pork or tofu, fish sauce and toasted rice), and a selection of curries and salads. KIIN Lao & Thai Eatery (5846 Forbes Avenue)
Con Alma
Con Alma in Shadyside offers live jazz music nightly, and a unique Latin-inspired menu. Look for tasty bites like ceviche, tacos, and empanadas, along with heartier fare like classic ropa vieja. Con Alma (5884 Ellsworth Avenue)
Brick Shop
Brick Shop opened in the TRYP Hotel in Lawrenceville, and offers a menu of seasonal contemporary dishes with Central and Eastern European flavors. The restaurant is open for breakfast (menu items include Borscht Toast and Cinnamon Babka French Toast) and dinner (with dishes like Pelmeni Dumplings and "Romanian" Steak). Brick Shop (117 40th Street)
Over Eden
You'll find stunning views of Pittsburgh at this rooftop restaurant and bar, located in the TRYP Hotel in Lawrenceville. Over Eden's Mediterraneal-influenced menu is meant to be shared, with dishes like halloumi, hummus, tabbouleh, za'atar chips and pita sandwiches. Over Eden (177 40th Street)
Cinderlands Warehouse
Cinderlands Beer Co. opened a brand new space in the Strip District earlier this year, turning the former Spaghetti Warehouse into Cinderlands Warehouse. The two-story venue feature a full bar, dining room, lounge, outdoor patio and open concept kitchen, serving an eclectic menu of shared plates, sandwiches, and entrees, including Dan Dan Noodles, Beer Can Chicken, and Veal Bratwurst. Cinderlands Warehouse (2601 Smallman Street)
Bar Botanico
If you're looking for a unique dining experience, you've come to the right place. At Bar Botanico in Lawrenceville, instead of a standard menu, the restaurant offers a set of "chef curated meals," where you can tell your server your protein and vegetable preferences, and the kitchen will send out dishes that are made for you. They also offer a stellar bar program, with the same concept. Bar Botanico (4325 Butler Street)
Spirits & Tales
This modern brasserie opened in The Oaklander Hotel in Oakland this year, serving breakfast, lunch and dinner daily. The vegetable-forward menu features dishes like Citrus-Cured Salmon and Eggs en Cocotte for breakfast, and Radish Toast, Baked Ricotta, Laurel Hill Trout and Horseradish Gnocchi for dinner. Spirits & Tales (5130 Bigelow Blvd.)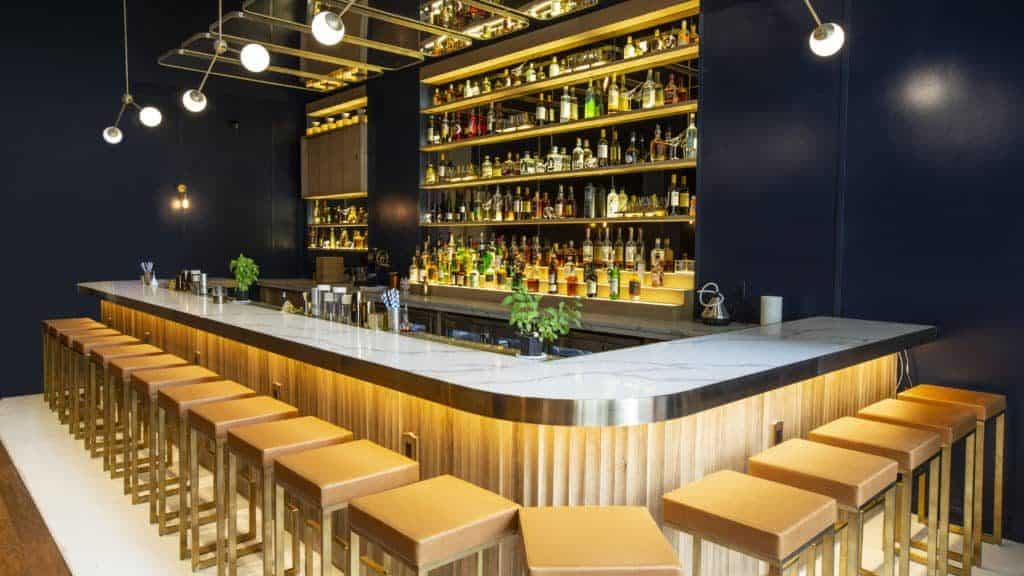 Bridges & Bourbon
One of Pittsburgh's fanciest places to get a cocktail opened earlier this year, serving elevated libations like the "Appalachian Trail," made with rye, bourbon, apple, cinnamon and presented with a campfire smoke element. There's also a full food menu, with shareable snacks like fried olives and warm roasted nuts, and dinner options, including slow-cooked lamb ribs, gnocchi with mushroom cream, and a New York Strip steak. Bridges & Bourbon (930 Penn Avenue)
Supper on Penn
Supper was originally a concept in the Federal Galley, and earlier this year, owner Vincent Perri moved the restaurant to its own space in the Strip District, serving "carnivores, vegans and everyone in between." The menu changes regularly, and everything, from the sourdough bread to the ice cream, is made in-house. Supper on Penn (1211 Penn Avenue)
Frick Park Tavern
Located in the former Ease Modern Comfort space in Regent Square, Frick Park Tavern serves a classic American menu in a relaxed tavern atmosphere, with favorites like meatloaf, handmade fettuccine, burgers, and PEI mussels in white wine. Frick Park Tavern (1100 S. Braddock Avenue)
Tocayo
Upscale Mexican taqueria Tocayo is open in Shadyside, serving nearly a dozen taco options, including Chicken Chorizo, Shrimp, Beets, Carnitus, and Octopus. Other menu items include burritos, salads, soup and Mexican desserts, and more than 20 varieties of tequila and mezcal. Tocayo (810 Ivy Street)
Took Took 98
Find fantastic Thai street food at this Squirrel Hill spot, with a menu centered around noodle plates, noodle bowls, rice dishes and curries. Signature dishes, like the 'Ba Mee Keaw Koong' noodle soup are standouts, and the restaurant also offers an extensive menu of Thai beverages. Took Took 98 (2018 Murray Avenue)
Pizzeria Davide
From the team at DiAnoia's Eatery, Pizzeria Davide is a pizza take-out spot located just outside of the Strip District restaurant that opened earlier this summer. The spot serves truly awesome Old World-style pizza, both by the slice and whole pie, plus sandwiches and Italian snacks, like fried dough with anchovies, garlic knots, and a "meatball bomb." Pizzeria Davide (2551 Penn Avenue)
Sålł
Located inside TMD Holdings in Oakland, Sålł is a true hidden gem in Pittsburgh. Chef Blair Hohn III serves lunch during the work week, with a rotating menu featuring specials that change daily, but have included dishes like Italian roast beef sandwiches, classic grilled Reubens, smoked jerk pork, and a selection of walking tacos. Sålł (461 Melwood Avenue)
350° Bakery 
Popular Pittsburgh wholesale bakery 350° Bakery opened the doors to their new public bakeshop in September, located inside their kitchen in the South Side Slopes. Not only will you find cakes, cream pies and savory scones, but they're also serving some of the very best breakfast sandwiches in the city. Trust us! 350° Bakery (2427 S. 18th Street)
Sugar Spell Scoops
Vegan ice cream shop Sugar Spell Scoops is now open in Sharpsburg, selling their own plant-based ice cream, in flavors like Rainbow Vanilla, Mocha Chip and Peanut Butter Cup. They also sell gorgeous custom ice cream cakes, and take-home ice cream by the pint. Sugar Spell Scoops (1014 North Canal)
Love Rocks Cafe
This McKees Rocks cafe brings breakfast and lunch options in the Sto-Rox Library at the Father Ryan Arts Center. The menu changes daily, but options regularly include comfort food favorites, like Kielbasa and sauerkraut, Jerk chicken, and stuffed flounder. Love Rocks Cafe (420 Chartiers Avenue)
Pigeon Bagels
After making the farmers market rounds for a few years, Pigeon Bagels officially opened their own brick-and-mortar in July. They serve fresh bagels (in plain, poppy, sesame, garlic and sea salt, and everything), spreads (tofu schmear, hummus) and extra toppers, including lox, carrot lox, capers, cucumber and microgreens, and bagel sandwiches. Pigeon Bagels (5613 Hobart Street)
Commerce Bar
New East Liberty speakeasy Commerce Bar is a little tricky to find – but worth it. Located in the alley behind sister restaurant Bird on the Run, look for the black door with the light on overhead. Knock on the door, and you're in, and able to enjoy an elevated cocktail menu, with a number of twists on classic favorites. Commerce Bar (128 South Highland Avenue, rear entrance)
Big Rig's BBQ
This Monroeville BBQ spot serves up dishes like pulled pork, Baby Back ribs, sliced pork belly and Texas-style Brisket, along with over-stuffed sandwiches and house-made sides, including collard greens, Mac & Cheese, cole slaw and corn bread. Big Rig's BBQ (226 Center Road, Monroeville)
Mary's Vine
Wine lounge and restaurant Mary's Vine is housed in a former Croatian church in Rankin, with more than 350 bottles, and 74 wines available by the glass. There's an extensive food menu, with dishes like Horseradish-crusted salmon and Rosemary lamb chops, and live music is regularly scheduled. Mary's Vine (211 Kenmawr Avenue, Rankin)
SYN Taqueria + Pizzeria
SYN Taqueria + Pizzeria is a build-your-own taco and pizza bar, serving pan pizza and soft tacos that you can make with your favorite toppings. The restaurant also serves a healthy selection of margaritas, and has 40 beers on tap. SYN Taqueria + Pizzeria (302 South Saint Clair Street)
CHiKN
Fast-casual restaurant CHiKN opened earlier this year in Oakland, serving super hot chicken sandwiches (you can choose-your-own level of spiciness), Chicken & Waffles, tenders, and sides like crinkle-cut fries, cole slaw and Mac & Cheese. CHiKN (3712 Forbes Avenue)
The Forge
A brand new craft cocktail lounge has just opened in Lawrenceville, with an elevated cocktail list and Mediterranean small plates. Look for lots of Pittsburgh and Pennsylvania-sourced spirits on the cocktail menu, and a 16-tap beer list. The Forge (3345 Penn Avenue)
Sprezzatura
Sprezzatura is a BYOB cafe now open in the Millvale Food & Energy Hub. The menu features hearty Italian dishes, with a small selection of salads, soups and entrees that rotates regularly. Sprezzatura (112 East Sherman Street)
Dish Osteria
After taking a couple of years off, Dish Osteria officially re-opened for business earlier this year, much to the delight of hoards of hungry Pittsburghers. The restaurant is still serving stellar Italian dishes, with an emphasis on Sicilian amd Mediterranean specialties. Dish Osteria (128 S. 17th Street)
Zorros
New Dominican restaurant Zorros opened this fall in Mt. Lebanon, with a menu of  empanadas, sandwiches and Dominican and Cuban-inspired entrees, like Cuban pork sliders and Bacalao, along with a selection of house-made sangria and cocktails. Zorros (1573 McFarland Road)
Did we miss any 2019 Pittsburgh restaurant openings? Let us know in the comments!